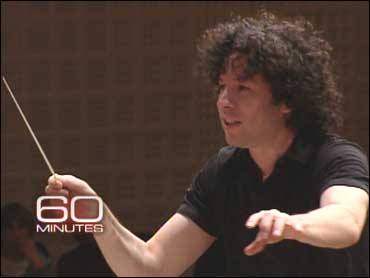 Who's the world's greatest conductor? You could debate that question for days. Who's the world's most precocious conductor? Hands down it's Gustavo Dudamel, a shaggy haired prodigy from Venezuela, who has become classical music's newest rock star.
Gustavo started taking music lessons when he was four. When he was 15, he was named conductor of Venezuela's national youth orchestra. Ten months ago, at the ripe old age of 26, the Los Angeles Philharmonic hired him as its next music director.
Gustavo Dudamel is simply the hottest thing to hit classical music since Leonard Bernstein. But in the world of music, why talk? Better to look, and listen.
---

Aside from the hair, the first thing you might notice about Gustavo Dudamel is the joy, the exuberance, the passion, the energy, with which he conducts. The hair bounces, the arms fly. He is a man possessed, conducting Beethoven, but doing a ballet. Watching Dudamel conduct is mesmerizing, and audiences around the world can't get enough of him. But don't think of him as a talented newcomer. Despite his youth, Gustavo sees himself as a weathered veteran.

"I'm not too young," he tells Simon. "I'm 26."

"You're an old man," Simon remarks.

"I'm a very old man, Dudamel says, laughing. "No, you know. I feel you know, I start to conduct orchestras when I was 12 years old."

But Dudamel says it's not true when he sees himself described as a genius, prodigy, or wunderkind. "I think that I need to learn a lot, a lot. I think that this is my beginning," he says.

Gustavo exploded onto the international stage in 2004, with a lot less hair but just as much energy. He was one of 16 people invited to compete for the Mahler Prize, the world's most prestigious competition for young conductors. And he won. One of the judges was the L.A. Philharmonic's conductor, who after seeing Gustavo, called Los Angeles to talk to his boss, Deborah Borda.

"And he said, 'Well, actually, I just saw the most amazing young conductor. He's a 24-year-old Venezuelan kid. He barely speaks English. And Deborah, he's a real conducting animal,'" Borda recalls, laughing.

It was the beginning of a global phenomenon known as "Dudamel-mania." Newspapers and magazines started covering his every move. A German company signed a recording contract with him. He was sought after to conduct orchestras around the world. Even the pope commanded a performance. But the music world was stunned when the Los Angeles Philharmonic hired him to be its next music director.

"I think that the atmosphere exists here for him to really change musical history," Borda says. "Gustavo has an ability to communicate what is passionate and vital about music in a very 21st century way."

And there's no place better to showcase those abilities than Lucerne, Switzerland, home to the world's most revered orchestra festival.

Gustavo was in town with his wife Eloisa to conduct the Vienna Philharmonic. In between rehearsals, he cloistered himself in his hotel room studying the score for one of the biggest performances of his life.

"Is this the first time you're conducting the Vienna Philharmonic?" Simon asks.

"It's my first time in real version of the orchestra. I was conducting when I was a kid," Dudamel says.

"In your imagination," Simon asks.

"In my imagination yes, I remember, when I was six years old, I was conducting all this concert in my house. But now it's real," Dudamel explains.

Every conductor knows what he wants from an orchestra and it's his job to get it. So here was this kid from Venezuela telling musicians from the venerated Vienna Philharmonic, many of whom were old enough to be his grandparents, that what he wanted from them was blood!

"Is good this but the blood is not coming. You know, you are killing really good, really wild but it's without blood. The blood need to be in your face - wham - wham - wham - now we have blood. A lot!" he told them.

"When you're conducting you look like you're utterly transported. Can you describe what's going through your mind?" Simon asks.

"It's depends about how I feel. You know you can make different pictures of what is happening. But always is different," Dudamel says.

Gustavo doesn't rely only on his hands to let the orchestra know how he wants them to play. He tells the musicians what he wants them to feel.

"But this is like, it's beautiful but, it's like you are telling something like 'You know, I love you. I want to kiss you, hey.' No. It's something like you are here very close, and you say: 'I love you!' And she will be 'Ooh! Yes!' We are telling, we are speaking to her or to him, whatever, really normal and we need to convince her to go to the church. And…," he told the musicians.

The performance was a triumph, and it brought even the taciturn Swiss to their feet.

When it was over, the wunderkind was drained.

"This was a big party , I feel very happy, I have more energy now," Dudamel tells Simon.

The party continued in Gustavo's dressing room with Daniel Barenboim, the celebrated conductor and piano virtuoso and one of Gustavo's most important mentors. Barenboim had advice for his protégé: "Give it up. Become a shoemaker, a carpenter, a plumber. But don't conduct."

Asked if he was nervous for him, Barenboim tells Simon, "No. No. He knows what he's doing. He knows what he wants. And he knows how to get it. What more can you say? I hope America doesn't spoil him."

Spoil him? In a place like Hollywood? Not a chance.

The L.A. Philharmonic's board of directors threw a welcome party for the Dudamels in a house that could have been a theme park for the super-rich and super-cool.

"We're a long way from Barquisimeto. Hum?" Simon asks.

"Long way, but wonderful way," Dudamel replies.

Barquisimeto, Venezuela, is 3,500 miles and several worlds away from Los Angeles.That's where Gustavo was born and raised. His father played trombone in a salsa band.

Dudamel says he "absolutely" considered playing the trombone. "But my arm was too short, you know? It was very sad because and then I start to study violin. Crazy," he says.

Gustavo was still studying the violin when 60 Minutes first met him 8 years ago. But he was beginning to switch to conducting. He was a little nervous, he admits, but he had a steady hand.

He was in a music program, which is a Venezuelan innovation. It is called El Sistema, the system, and it takes children - a quarter of a million children - almost all from poor neighborhoods, and teaches them how to play instruments.

This has led to hundreds of youth orchestras sprouting up all over the country.

But El Sistema is less a music program than a profound social movement that takes kids off the streets, takes them away from crime and drugs and despair.

"The music saved me. I'm sure of this. With all these bad things around you, you are exposed to these things, very close. The music give me a way to be far of these things," Dudamel says.

Gustavo and Eloisa go back to Venezuela whenever they can these days.

But when he's in his hometown of Barquisimeto, where does he hang out? With one of the orchestra's he's been conducting for the last decade.

Here was the conducting animal, back in his natural habitat, the Venezuelan system of youth orchestras.

The best musicians from the system make up the Simon Bolivar National Youth Orchestra. They were preparing for their first American tour. They're all under 25 years old.

The first stop on the tour was Disney Hall in Los Angeles. This stage becomes his when he takes over the L.A. Philharmonic in 2009. But much of his work, he told us, will be offstage.

"Now we will start a project with the young people from the poor communities here in LA, like in Venezuela," he says.

Asked if he feels like the ambassador of "the system," Dudamel tells Sumon, "In a good way, yes. I think that it's not Gustavo Dudamel. It's the Venezuelan system."

Members of the orchestra went into schools throughout the city to show California kids what the Venezuelan system is all about. That evening they would show everyone.

"What do you want the people, the audience to see and hear and feel?" Simon asks.

"The joy to play music," Dudamel says. "We will show to the people. And the people can see that you can change the life of people with music."

The music that night was worth waiting for - composed by Leonard Bernstein -- that other child prodigy Gustavo is often compared to.

If you've never heard Gustavo Dudamel make music before, remember in years to come, you saw him on 60 Minutes first.
Produced By Harry A. Radliffe II
Thanks for reading CBS NEWS.
Create your free account or log in
for more features.