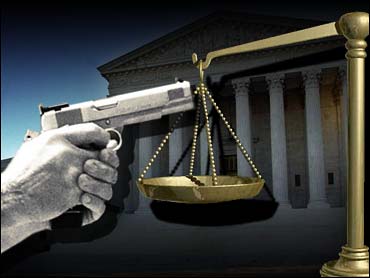 Gun Giveback: Man accused of threatening to shoot Conn. co-workers gets back 13 guns in judge's ruling
(AP) TORRINGTON, Conn. - Last December, Robert Zordan was charged with threatening and illegal possession of an assault weapon, after employees at Connecticut Spring and Stamping in Farmington told police he had threatened to come to work with a gun and "take them out."
Now, a Superior Court judge has ordered the state to return the 13 guns they seized from Zordan.
Judge Elizabeth Gallagher ruled last week that police and prosecutors had failed to follow the proper protocol in seizing the weapons without a warrant Dec. 27, the Republican-American of Waterbury reported.
Police said they took the guns because they believed Zordan posed an imminent threat to himself and others. But state law requires that a hearing must take place within 14 days after guns are seized under those circumstances. A two-day hearing involving testimony by several police officers and Zordan's coworkers began Jan. 15, approximately two weeks after the deadline.
"Unless they are being withheld from the respondent for any other legally valid reasons, his weapons must be returned to him," Gallagher wrote in her decision. "The hearing was not held within the time period mandated."
Zordan, the former public safety commissioner in Torrington, told police he felt he was being treated unfairly at work, but has denied making the threat.
His attorney, Rachel Baird, said she believes evidence resulting from the gun seizure should be thrown out of the criminal case.
"Anything they found should be suppressed, including any firearms that were seized," Baird said. "For whatever reason, the Farmington police department didn't follow procedure, and rushed the process. They didn't follow the letter of the law."
Zordan remains free on a $250,000 bond.
photo: ctspring.com

Thanks for reading CBS NEWS.
Create your free account or log in
for more features.