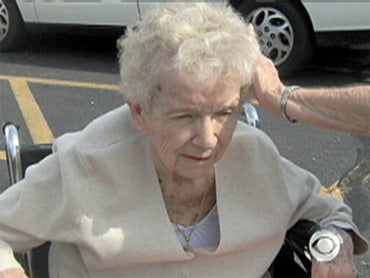 Guardianship Agency Costs Elderly Woman Dearly
You're supporting Marie Log with your tax dollars - even tough she had plenty of money on her own.
Then a court appointed guardians to look out for her best interests. But her relatives say the guardians had only one interest - enriching themselves.
CBS News investigative correspondent Sharyl Attkisson reports.
As children of the Depression, Marie and Cliff Long lived frugally and invested wisely. Cliff died in 2003. Madelon and Jenette are Marie's sisters.
Jeanette said her sister had about $1.3 million saved up - enough to last the rest of Marie's life - or so the couple thought.
With Marie in declining health, there were no children. Her daughter died of cancer at age 16, and her son died in Vietnam.
To make decisions on her finances and care, the court appointed a guardian - an agency called "The Sun Valley Group."
First, as Guardian, Sun Valley's owners Peter and Heather Frenette hired themselves to provide Marie's personal care. That way they collected not only guardian fees, but up to $15,000 a month in companion care fees, too.
Read the GAO report on Guardianships
When a Sun Valley worker started a fire in Marie's kitchen, Marie was charged for four employees to "confer" about it. The rate? Up to $105 dollars per hour for each worker.
When another Sun Valley worker locked herself out of Marie's house: $85 dollars an hour for each employee who conferred about that.
Sun Valley found a dozen ways to charge Marie to get her own weekly petty cash. They charged to prepare the cash, to confer about it, to review the status, to draft a letter to the courier, to call the courier, to pay the courier - you get the idea.
To send Long and their worker to a Phoenix Suns basketball game, Sun Valley charged over $1,000 dollars for "research," phone calls, and a limo.
Sun Valley even charged Long $228 to "determine (the) effect (of the game) on (her) mood."
When her sisters complained, Sun Valley hired lawyers, and charged Marie for that, too. Attorneys got $409,000 of Marie's money in just four years.
And Sun Valley walked away with $430,000.
Jeanette says her sister's financial status today is "Zero. Everything's been taken from her."
CBS News wanted to talk to Sun Valley CEO Peter Frenette, so we visited his Phoenix office. He wasn't available.
In writing, Frenette said he can't discuss Marie because of litigation. He did say guardians often "parachute into family battlefields; this surrounding conflict can create extraordinary fees to be incurred."
The court official who appointed Sun Valley in 2005 and an Appeals Judge defended Sun Valley's performance. They said the limo, the grease fire, all the expenses were "reasonable, necessary and for Marie's benefit." The court even blamed Marie's sisters for complaining about it and running up costs.
"We wanted my sister to have good health care," Jeanette said. If that's what run up the cost, then I'm guilty. I'm guilty."
"Then so am I," her sister Madelon added.
Sen. Herb Kohl (D-Wisc.) chairman of the Committee on Aging, says it's a national problem. His Investigators found millions of dollars allegedly squandered or stolen by court-appointed guardians. They say Long's case shows why new laws are needed to protect the vulnerable from their own guardians.
"Unfortunately, nobody told Marie that in Arizona, as the widow of a veteran, she could've gotten a guardian for just $75 a month," Kohl said.
Long is too frail to talk to CBS News now, but she spoke to a newspaper reporter from the Arizona Republic last year.
The reporter asked her, "do you wonder about your money?"
"Yes," Long replied. "But from what I hear there isn't any."
Today, Marie is 89 and now lives on Medicaid at taxpayer expense. Sun Valley withdrew as her guardian twelve days after her money ran out.

Thanks for reading CBS NEWS.
Create your free account or log in
for more features.