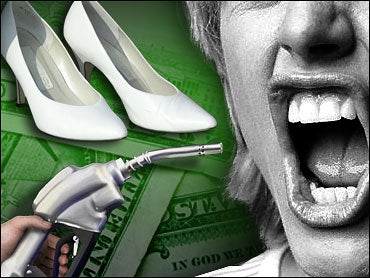 Gripe About Companies, Products: Free Web Sites
Sometimes we all just want to vent -- and make sure someone's listening.
On "The Early Show" Tuesday, CBS News Correspondent Business and Economics Correspondent Rebecca Jarvis shared great finds for every disgruntled consumer (and we've all been there!) -- free websites that enable you to complain about companies and products, and help others avoiding the same mistakes you did.
Of course, you can also air your gripes by going to Better Business Bureau.
Jarvis says you could use these sites if you're angry: They're a place to vent. You may not get a refund or even an apology from the company you're complaining about, but if you're joined by multiple other angry customers, it could turn into a class action lawsuit (lawyers troll these sites for suits), and some companies do respond to complaints. Also, you're doing the public a service by warning others about your bad experiences. To maximize your complaint impact, post your complaints on all the sites.
Jarvis adds you could also use the sites if you're shopping around: The sites make it easier for consumers to learn about companies and their products. The kind of information you'll get on the sites is much more detailed than what you'd get from the Better Business Bureau. Most complaints are remarkably objective. They're most useful when many consumers are complaining about the same problem. Also, complaintsboard.com and my3cents enable shoppers to contact complainers who agree to receive emails.
SOME OF THE MOST ACTIVE AND USEFUL COMPLAINT SITES:
My3Cents.com
- Sends your e-mail to company
- Provides class action updates
- Guides you to federal offices for help
- A one-stop complaint shop, covering everything from food to phones, cars to computers, travel to banks. It's free, and requires you to register with your e-mail and password, user name, and zip code. The site has seen had the most volume among complaint websites since 2008.
ConsumerAffairs.com
- Watches for trends among complaints
- Lawyers check it out
- Offers scam alerts
- Lots of complaints about banks on this one.
ComplaintBoards.com
- Focuses on airline, appliance, and insurance complaints
- Lists international companies
- Lists companies suspected of fraud
- Covers lots of businesses and products, but is known for airlines, appliances and insurance complaints.
There are plenty of other complaint destinations online, Jarvis says, many of them with very specific areas of coverage, such as CarComplaints.com.
Thanks for reading CBS NEWS.
Create your free account or log in
for more features.