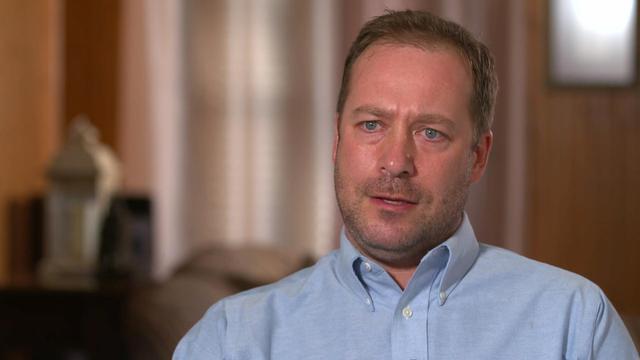 Grieving dad buys Super Bowl ad in Palm Beach to reach Trump
A Tennessee man is hoping to catch President Trump's attention this weekend and raise awareness about a safety issue that changed his family forever. Steve Eimers paid $1,000 to run a message in West Palm Beach during the Super Bowlwith the hope that the president is watching from his Mar-a-Lago resort, reports CBS News correspondent Kris Van Cleave.
Eimers' 17-year-old daughter Hannah was killed when she struck an X-LITE guardrail in Tennessee in 2016.
"It was worth taking that shot to see if maybe the president will see this," he said.
Eimers is suing the maker of the X-Lite, claiming the device failed to operate properly. According to the Tennessee Department, the force of the collision caused the guard rail's end terminal to penetrate the driver's door, hitting Hannah in the chest and head.
"Nothing prepares you to be the parent of a dead child. And to discover that, well one, the nature of this accident was horrific," Eimers said.
In at least two other crashes, where three people were killed, TDOT found the X-Lite failed to collapse backwards upon itself as designed.
"It's one thing to lose your child to an innocent accident but we lost our daughter to a defective product. And to see the Federal Highway Administration be this dismissive it is – it's insulting," Eimers said.
The Federal Highway Administration says safety is the top priority and points to new, more stringent safety criteria that went into effect in January. But lawsuits claim there are more than 14,000 X-LITE's on U.S. roads nationwide
Since Hannah's death, Tennessee has begun removing its guardrails, complaining of "installation deficiencies." Ten other states now say they too will get rid of the X-LITEs.
In a statement to CBS News, Lindsay Transportation Solutions said the "X-LITE has successfully passed crash and safety tests in accordance with federal standards" and noteed no road safety equipment can prevent injury in every crash scenario.
Editor's note: This story has been updated with additional information provided by the Tennessee Department of Transportation.
Thanks for reading CBS NEWS.
Create your free account or log in
for more features.