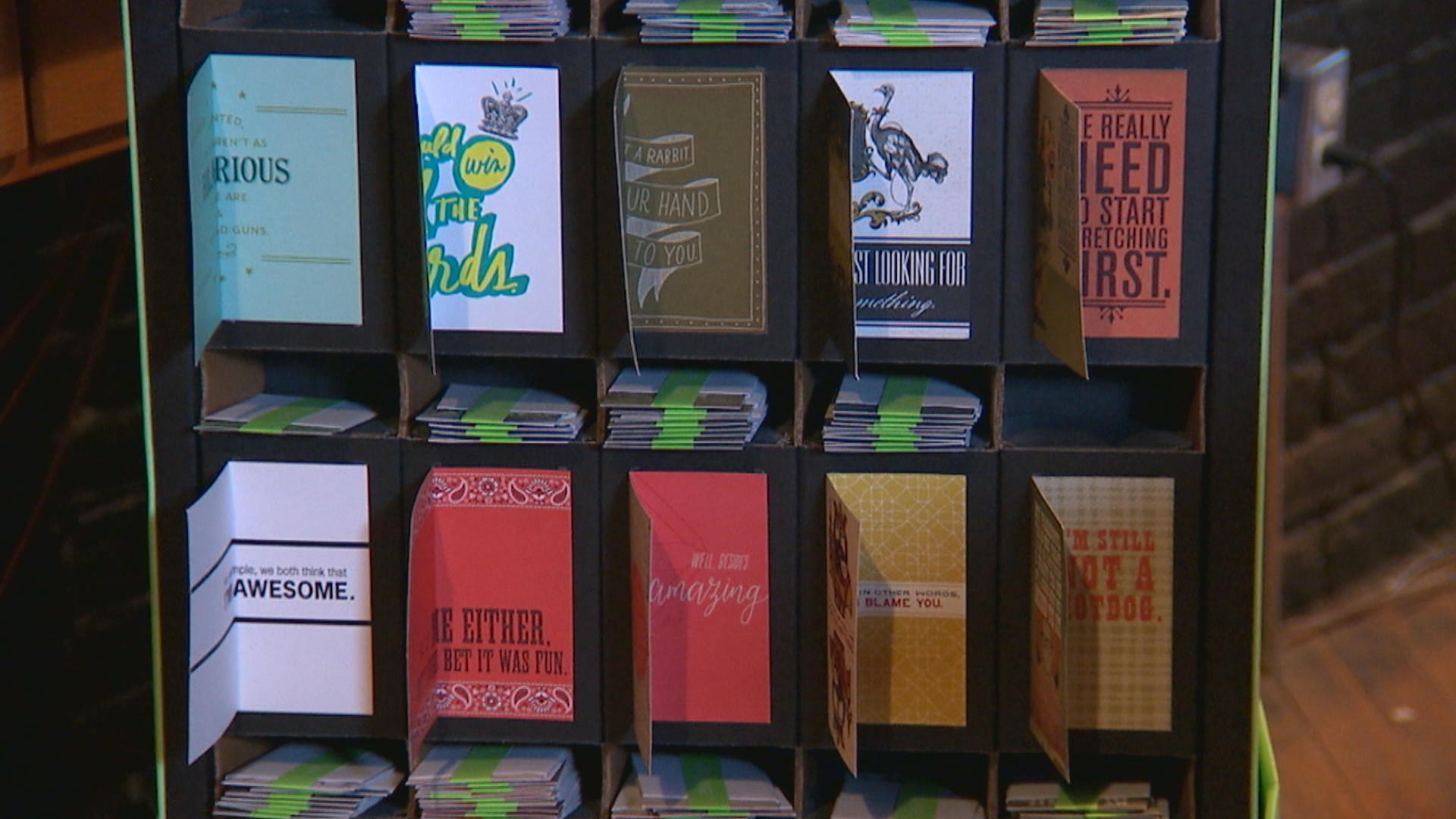 Card companies take on a new look and tone to attract millennials
Americans will spend nearly $20 billion this Valentine's Day and millennials are shelling out the most. On average, they will spend about $200 on cards, gifts, and other celebrations. With many of that generation growing tired of impersonal text messages and social media posts, greeting card companies are seeing an opportunity, reports CBS News' Meg Oliver.
"We should throw a party…but let's not invite anyone else," reads one card. "I love that one little thing you do…you know, existing," reads another. Easy, Tiger's cards aren't exactly your grandmother's greeting card. No flowery designs and sappy messages that have long been a staple of card aisles.
Mike Sayre and Melanie Bridges started their company, Easy, Tiger, in 2013. They wanted to strike a more casual and ironic tone with a new kind of card.
"Sell greeting cards to people who weren't looking to buy greeting cards," Bridges said.
But how does that work?
"If we can inspire the people to send a card….When they don't have to the relationship gets stronger, people value it more. And so we had to change a lot of things in order to do it. And so part of that was vending machines," Sayre explained.
He said the idea was about bringing the product to where the people were – like coffee shops.
At Quay Coffee in Kansas City, Missouri, they tucked their first bright green vending machine into the corner.
Bought off Craigslist, Sayre and Bridges refurbished and repurposed vintage snack machines to sell their cards around town.
"We want them to feel real conversational. So I like to observe people," Sayre said. "Observe the way that they say things and put little twists on it."

Gone are the holiday-specific captions. Bridges is in charge of the artistic vision while Sayre writes the messages.

"Actually, our best-selling card today is: 'Help me understand. How are we so much better than everyone else?' And so people love to have that experience of together we're awesome," Sayre said.
A sentiment they believe appeals to a younger generation.
"I feel like it's part of that kind of casual, ironic kind of sense of humor that a lot of millennials have," Sayre said.
Peter Doherty, who leads the industry's trade organization, said companies like Easy, Tiger have "absolutely" filled a void.
"The way that the cards speak to you have changed. The snarky movement is connected in many ways to millennials," he said. "The bigger companies, they have seen what the millennials are doing and what smaller companies are doing in general and they are learning from that."
More than 6.5 billion greeting cards are still sold a year, but the industry's revenue is declining.
Lindsey Roy is hallmark's chief marketing officer. She says, in terms of card spending, millennials are the fastest growing group because when they buy cards, they spend more money on them.
"We've seen that millennials are really growing into that magic life stage for card sending," Roy said. "Maybe you're setting up households or having kids or doing the kinds of things that really just expand your relationships."
Although you won't see it anywhere on their cards, Easy, Tiger is fully funded by Hallmark, launched out of a project to target millennials.
"Millennials as a group are seeking cards that speak to them in a more authentic way," said Emily McDowell, an independent card company founder.
Her first attempt at an authentic greeting card read more like an awkward text message.
It read: "I know we're not, like, together or anything but it felt weird to just not say anything so I got you this card. It's not a big deal. It doesn't really mean anything. There isn't even a heart on it. So basically it's a card saying hi. Forget it."

Now her biggest customers, women 25 to 34, can buy cards that feel and sound more like them.
"I think millennials are revitalizing the industry," she said. "We want a card to be kind of a stand in for what the best version of our self would say, and so I think that you know the more that we can speak to millennials, the more they'll buy them."
It might also surprise you millennials are not just buying cards at a record pace. Even in this digital age, 80 percent of millennials are holding onto their cards as keepsakes.
CBS News' Meg Oliver reported live from Papyrus in Manhattan.
Thanks for reading CBS NEWS.
Create your free account or log in
for more features.