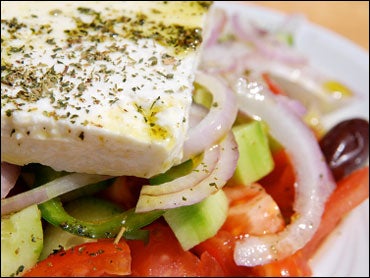 Greek Food From Top Greek Chef, In Greece!
Few countries have as rich and fascinating a culinary history as Greece.
It's grounded in thousands of years of farming and cooking.
With news anchor Russ Mitchell in Athens for his leg of the Early Show series, "Destination Unkown," what better time -- or place -- for a sampling of some traditional Greek fare?
Russ was lucky enough to have it prepared for him by no less than Alexia Alexiadou -- chef, cookbook author, and publisher of Real Food magazine -- the top-selling food magazine in Greece.
She also discussed the important role of olive oil in Greek cuisine -- and how healthy it is.
RECIPES
Greek Pita with Souvlaki
Makes 8 sticks of souvlaki
Preparation time 1 hour
2 pounds pork loin with fat cut in 1 inch cubes
6 pieces of lard cut cubed
Salt, pepper, oregano
30 wooden sticks
1/2 cup olive oil
8 Greek pita breads
2 ripe tomatoes sliced
1 onion thinly sliced
1 portion of Tzatziki (recipe follows)
Season the meat and cover it with 1/3 cup olive oil. Refrigerate for 2 hours. Stick the marinated pork meat pieces on the wooden sticks together with the pieces of lard. Season the meat sticks.
Grill the meat sticks on charcoal or grill in the oven, 3 inches away from the heat.
Brush the pitta breads with a little olive oil and toast under the grill, on charcoal or in a toaster. Serve with freshly cut tomatoes and onions and tzatziki. The Greek method is to wrap the pitas around the stick, pull out the stick and fill the pita folder with slices of tomato, onions and some tzatziki.
Greek Cucumber and Yogurt Salad: "Tzatziki"
Serves 8
Preparation time 10 minutes
3 cups plain Greek yogurt (called: strained)
1 cucumber peeled and chopped in small cubes
4-5 garlic cloves crushed
a little salt
4-5 tablespoons olive oil
4 tablespoons finely chopped fresh dill
1. Drain the yogurt in a sieve lined with double-thick absorbent paper for some time in the refrigerator. The yogurt must contain no water.
2. Transfer the drained yogurt in a bowl and stir in the cucumber, garlic, oil and dill. Season to taste. Cover and chill. The more it stays in the refrigerator the tastier it becomes. Keep up to a week refrigerated.
For more recipes, go to Page 2.
Platter with Meze (appetizers): Taramosalata (Fish roe pate on toasted pita bread), Cretan Dakos, Dolmadakia (stuffed vine leaves)
Taramosalata (Fish roe pate)
8 portions
Preparation time 10 minutes
8 thick slices of stale dry bread, crusts removed
10 oz fish roe (red or white)
4 tablespoons minced onion
1 cup olive oil
1/3 cup lemon juice
black olives to serve
1. Soak the bread in water for 5 minutes, then squeeze gently.
2. Put the fish roe, onion and 1/3 cup of olive oil in a food processor and process for a few seconds. Add the wet bread, little by little, crumbling it with your hands.
3. While processing, pour the remaining olive oil with a slow steady flow until all is absorbed by the mixture. Finally add the lemon juice. Adjust to your taste. Serve with pita bread and black olives. Accompany with ouzo.
Cretan Dakos
8 appetizers
8 pieces of Cretan paximadi (or stale toasted bread)
2 tablespoons Ouzo or vinegar
5 oz anthotiro or Mizithra soft white cheese (Greek unsalted light fresh white cheese from Crete)
2 small tomatoes peeled and cored, finely chopped
1 small clove garlic crushed
3-4 tablespoons extra virgin olive oil
salt and oregano
1. Prepare the tomato mixture. Chop up the tomatoes and put them in a sieve. Mix with the cloves and a little salt and let them drain for 30 minutes.
2. Drizzle the paximadi (very dry bread pieces) with a little water, ouzo or vinegar. Arrange on a platter.
3. Top each paximadi with a tablespoon of anthotiro cheese and a tablespoon of the tomato mixture. Drizzle with olive oil and sprinkle with oregano. Excellent appetizer with ouzo or Cretan Tsikoudia or Raki.
Dolmadakia (stuffed vine leaves)
8 portions
Preparation time 2 hours
Cooking time 30 minutes
1 lb fresh or preserved vine leaves
1 lb short grain rice
4 cups finely chopped onion and fresh onions
2 cups finely chopped parsley and dill
1 cup olive oil
salt and pepper
1/4 cup pine nuts
1/4 cup currants
2 1/2 cups boiling water
1/3 cup lemon jucie
1. Wash the vine leaves and cut the stems. Blanch them if they are fresh. Drain and let cool.
2. Prepare the stuffing. Mix the rice with the onion, herbs, half the olive oil, pine nuts and currants. Season with salt and pepper.
3. Lay the vine leaves one by one the working surface and put about one tablespoon of the rice mixture in the middle of each leaf. Fold the sides over and roll up into a neat oblong parcel.
4. Continue stuffing until you finish up with all the ingredients. Cover the base of a heavy based pan with a few leaves. Arrange the stuffed vine leaves on top packing them, in more than one layers if necessary. Pour over the remaining olive oil, boiling water and lemon juice.
5. Cover, bring to a boil and simmer the food until all the water is absorbed, around 40 minutes. Serve with Tzatziki. An excellent Greek appetizer. They are delicious served cold even the next day.
Baklava
30 small pieces
Preparation time 1 hour and 15 minutes
Baking time 40 minutes
For the pastry and filling:
2 1/2 cups coarsely chopped almonds
2 1/2 cups coarsely chopped walnuts
3 teaspoons cinnamon
1/2 teaspoon cloves
1 cup unsalted butter
1 lb ready made phyllo pastry
30 whole cloves for garnishing
For the syrup:
3 cups sugar
2 cups water
1/2 cup honey
the rind of one orange or lemon
1. Prepare the filling. Mix together walnuts, almond, cinnamon and cloves in a bowl. Set aside.
2. It is preferred to use a baking sheet the size of the phyllo pastry. Generously grease the baking sheet with butter.
3. Lay 4 phyllo sheet over the bottom of the pan one on top of the other brushing generously each phyllo with melted butter before you cover with the next. Sprinkle with 1/4 cup of the filling and cover with another couple of phyllo sheets, brushing each one as you go along. Continue until you finish up with all the filling and all the phyllo sheets.
4. Score the top layers with a sharp knife into small diamond or triangle shaped pieces. Brush generously with the rest of the melted butter. Enter on clove on each piece.
5. Bake in a preheated oven at 350°C, for 40 minutes.
6. Prepare the syrup. Mix all the ingredients in a heavy pan and heat until the mixture boils. Stop stirring and boil for 5 minutes.
7. As soon as you remove baklava from the oven, pour over it the syrup with a ladle and let it stand until it absorbs the syrup and cools completely. The desserts keeps up to two weeks at room temperature.
Greek Salad
5-6 portions
Preparation time 20 minutes
The traditional way:
3 large tomatoes peeled
1 cucumber
1 large white onion
10 black Kalamata olives
1/4 lb feta cheese cubed
1/3 cup extra virgin olive oil
3 tablespoons vinegar
salt and oregano
The modern touch:
2 tablespoons capers
2 Cretan paximadi chopped
baby rocket leaves
1 green bell pepper cubed
1. Peel the tomatoes and cut in 8 wedges each. Peel and slice the cucumber. Combine in a salad bowl with the rest of the ingredients and mix. Season with salt. Drizzle with vinegar and finally pour over the olive oil.
2. If you want a more modern Greek salad, add capers, ouzo drenched Cretan paximadi, some rocket leaves and a few pieces of green pepper or even hot Greek green pepper from Macedonia.
Thanks for reading CBS NEWS.
Create your free account or log in
for more features.