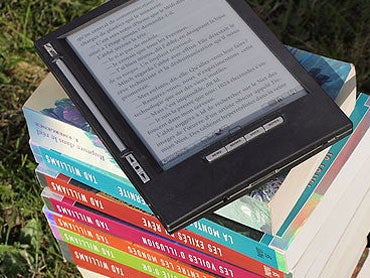 Great Freebies All Around You
If the best things in life really are free, this is going to be the best story you'll read for some time!
Saving money is one thing, but getting things for free - at 100 percent discounts - is as good as it gets!
And on "The Early Show," CBS News Business and Economics Correspondent Rebecca Jarvis pointed to all sorts of things you can get without spending a dime. All you have to do is ask. Prescription drugs, e-books, classes -- Jarvis shared word on getting them for nothing. Free stuff - the ultimate!
FREE ANTIBIOTICS: GROCERY STORES
We all know how quickly the cost of drugs can add up. Some free help: Many grocery store pharmacies offer free 14-day supplies of common antibiotics.
All you need to do is bring in your prescription, and you can get up to a 14-day supply of select generic antibiotics free at Giant, Meijer, Publix, Stop & Shop and Wegmans.
Target, Kroger and Wal-Mart do 30-day refills for $4, which is the reason these grocery stores have made the prescriptions free. They take the "loss" in pharmacy, but make up for it in grocery sales, because people come to the store for their free drugs, and leave with a bunch of food purchases.
FREE CAR-REPAIR PRICING INFO: REPAIRPAL.COM
We always talk about arming yourself with information before spending mucho dinero. Well, RepairPal.com is exactly that kind of FREE service. It's a website that will tell you exactly how much your car repairs should cost you. The website will ask you for standard info: make, model, year, a few more car specifics, then it will ask you for a description of the problem. Once you've entered that, along with your zip code, it will tell you exactly how much parts and labor should cost. Irt can also tell you where the nearest mechanics are in your area.
FREE BOOKS FOR YOUR E-READER
E-books commonly sell for $9.99.
At Gutenberg.org, you can get FREE DOWNLOADS OF 33,000 classics whose copyrights have expired, including "War and Peace," "Moby Dick" and "Little Women."
FREE AUDIO BOOKS
Get them at Librophile.com and BooksShouldBeFree.com.
AND OF COURSE, THERE'S THE PUBLIC LIBRARY!!
FREE EDUCATION
FOREIGN LANGUAGE LESSONS (could come in handy for job seekers!)
While programs such as Berlitz and Rosetta Stone can be very useful in learning a new language, they can also be very expensive. But you don't have to pay to learn.
At FSI-language-courses.org, you can access courses developed by the U.S. Foreign Service Institute in 41 languages.
At OpenCulture.com, you'll find a list of several free language lessons you can download to your MP3 player. Or go to MangoLanguages.com to see whether your public library grants you free access to its courses in 22 foreign languages and 14 courses in English as a second language.
UNIVERSITY WEBSITES AND APPLE'S ITUNES U
Many colleges and universities, such as Johns Hopkins, Notre Dame and MIT, post course material and lectures on their Web sites. You won't get credit toward a degree, but you can pursue an interest, or fine-tune your skills. This comes in especially handy when you're applying for jobs. And Apple's iTunes U enables you to access more than 250,000 free lectures, videos and other materials from 600 universities, including Oxford, Stanford and Yale.
For a many more freebies, spotlighted by Kiplinger.com, click here.
Thanks for reading CBS NEWS.
Create your free account or log in
for more features.