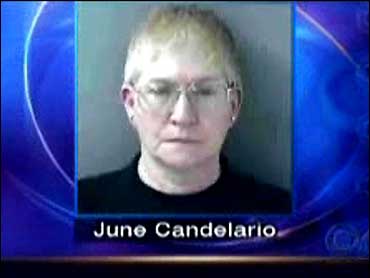 Granny Sentenced For Caging Grandson
A 62-year-old woman was sentenced to three years in prison for locking her grandson inside a dog kennel every night for three years while she went to work as a jail counselor.
Under a plea bargain, June Candelario was also sentenced Friday to one year of probation.
"I cannot imagine any society that would say it is just and fair to inflict this harm on a child that cannot protect himself," Adams County District Court Judge Harlan Bockman said.
Candelario, a former state trooper, put the boy in a 4 foot by 3 foot (1.2 by 1 meter) kennel each day at 4 p.m. and let him out hours later when she returned from work, authorities said.
She pleaded guilty to one felony count of conspiracy to commit child abuse that resulted in bodily harm and a misdemeanor count of child abuse.
The boy was 10 when the abuse began and 13 when Candelario was arrested last May.
"I felt like I was in a prison in my home," said a letter from the boy, which was read in court. "When I was in the cage, I felt scared and lonely and that I was not loved by my grandma."
The boy's foster mother said the boy refused to attend sentencing because he remains afraid of Candelario.
CBS Station KCNC in Denver reports investigators said Candelario told them the boy was safer in the kennel than on the streets.
Candelario addressed the court before sentencing.
"I meant no harm to my grandson," she said. "I love him very much. I regret my actions. I made a mess of things."
Candelario's lawyers asked the court for mental health services for their client.
Thanks for reading CBS NEWS.
Create your free account or log in
for more features.