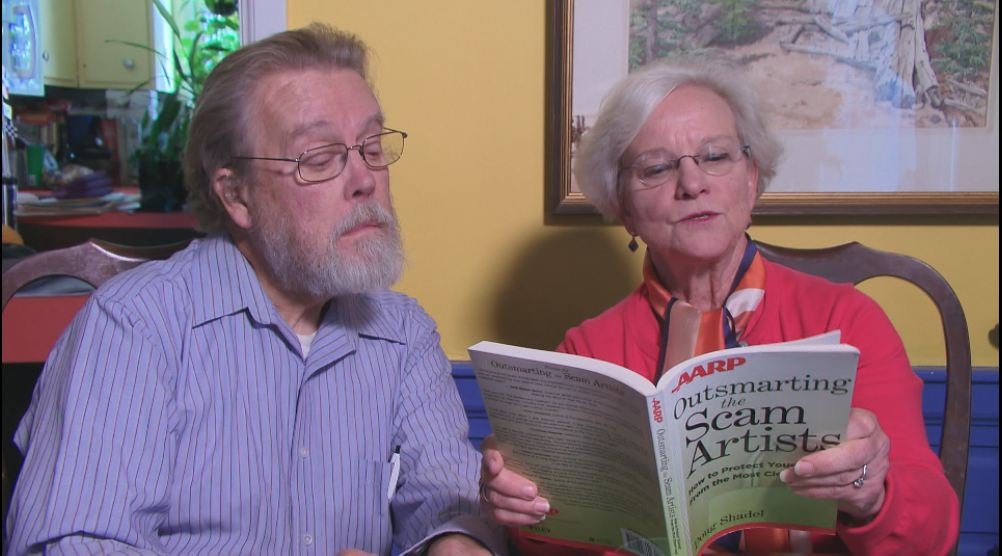 "Granny scam" tricking elderly out of billions
They're known as "granny scams." Each year, older Americans lose millions of dollars to scam artists pretending to be loved ones who need money while traveling.
But a new weapon is being used to stop the scammers in their tracks. The ammunition comes from a place much closer to home, reports CBS News' Peter Greenberg.
Last January, Art Hurme, a retired government worker, received a frantic phone call from someone he thought he knew.
"It didn't sound quite right, but I have these hearing aids and I don't hear so good," Hurme said. "I said, 'Who is this?' and she said, 'Don't you know?' and so, I said my daughter's name, Kirsten."
The woman, now pretending to be his daughter, claimed to have been arrested for drunk driving in Los Angeles, more than 2,500 miles away from her home in Virginia.
"I said, 'You don't drink,'" he recalled. "And she said, 'Well, we went out for a party.' Okay, that seemed conceivable."
Despite his initial doubts about her, the woman on the phone -- his so-called daughter -- sounded desperate.
"They wanted $3,000 to drop the reckless charges," Hurme said. "I said, 'well that sounds like bribery,' and he said, 'you want your daughter outta jail tonight or not?'"
Hurme followed instructions and purchased $3,000 worth of gift cards and relayed the account information over the phone.
Hours later, Hurme's wife Sally, herself an expert in fraud prevention, realized what happened.
"I knew full well that once you wire money to one of these professional criminals the money is absolutely gone," she said.
The "granny scam" accounts for a growing part of the estimated $2.9 billion seniors lose in financial scams each year.
Scammers now use social media to zero in on their potential victims. They often strike during school holidays and target seniors whose grandchildren are traveling and posting details of their trip.
One of the key components of these scams is the notion of long distance travel. Now law enforcement in one state has decided to battle these scammers closer to home.
In New York State, prosecutors have launched a campaign where grandkids are being enlisted as virtual fraud fighters. New York Attorney General Eric Schneiderman said the goal is to have grandparents and their grandkids prepared before the scammers hit.
"Part of this istrying to get them to take down some of the information that they leave hanging around social media, but the other is as simple as having a password saying, 'Look, if I'm ever in trouble grandma and grandpa, I will use the following word or phrase -- if you don't hear it -- it's not me," Schneiderman explained.
After he was scammed, Art Hurme got to work, reading up on the tactics used by the scammers. When they tried to dupe him again, he was ready.
"They called me up, like, a day or two later, and said my son-in-law had vandalized a car, or a house," he said.
He hung up and never heard back.
Thanks for reading CBS NEWS.
Create your free account or log in
for more features.