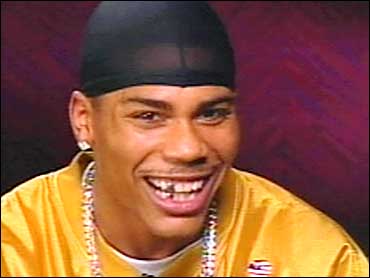 Grammy Preview With Nelly
With two solo albums to his credit, rap star and pop icon Nelly is on his way to stardom.
His first album, "Country Grammar" sold eight million copies, and his sophomore follow-up, "Nellyville," closed out 2002 with just under 9 million copies sold.
And that's just the beginning. He's launched his own clothing line and has a television development deal in the works. With his funky rap style, this St. Louis native sports a Midwestern twang that sets his sound apart from others on the radio.
He is among eight artists who each earned five Grammy nominations this year, a surprising tie for the lead number of Grammy nominations. A dream come true?
"I think you dream it," Nelly told The Early Show co-anchor Rene Syler. "I didn't pretty much know the nature of how business went as far as album sales as a kid. I just thought like, you know, once you got on TV and you had a video, you had made it."
But what has been overwhelming for him, he said, is the love he has received. "You can't explain that."
Nelly and Eminem took top honors in rap categories. If he should win one, he said, "At this stage, I'll take any. But if they want to give me that Album Of The Year, I'll definitely take it. It's big to be in the company that you're in.
"You know, everybody in that category has had big years, albums still selling, still at the top of the charts, still doing well. So it's going to be a crunch-time decision, I think. up until the buzzer," he said.
Bruce Springsteen, Sheryl Crow and Avril Lavigne dominated rock; Norah Jones had the most pop nominations; and Ashanti and Raphael Saadiq locked up R&B.
"And the Dixie Chicks? Come on, man. They sell albums when they feel like it. You know, to be in that company, that's crazy right there. I don't even think Michael Jackson beat out the Boss. I'm like, come on. You understand? The Boss," Nelly noted.
Syler's favorite is his performance with Kelly Roland in "Dilemma." What was like to work with her?
"Kelly is very beautiful, very talented, too," Nelly said. "I think, for her, it was just a chance for her, showing her individual skills opposed to being in a group. I think everybody knew her talent as well as in a group, Destiny's Child has sold numerous amount of albums and so successful together." And "Dilemma," Nelly said, was the perfect song for her to step out.
As for what his thoughts are when people call him a role model, Nelly said he wouldn't take that title.
"I feel I can be an inspiration for those who've kind of did the things or been through certain things that I've been through." Nelly said. "You don't know the role of my life. You only know the role of my success. So I can't be a role model for you. I can be an inspiration as far as someone taking a bad situation, making it good."
Don't miss Nelly's performance during the Grammys Sunday night at 8:00 p.m. /ET 7:00 p.m. Central on CBS.
Thanks for reading CBS NEWS.
Create your free account or log in
for more features.