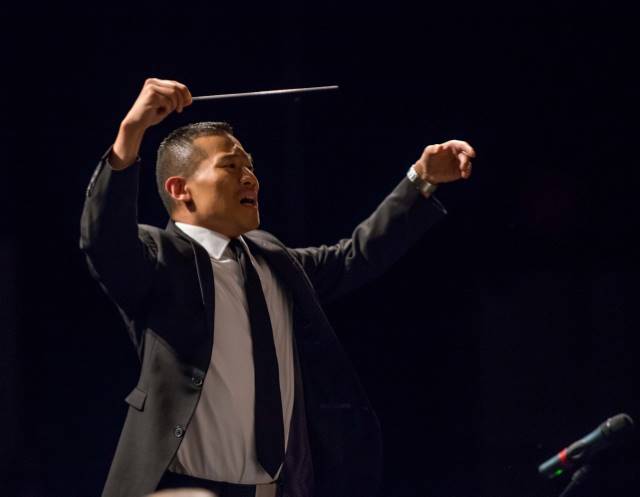 N.H. teacher claims Grammy Music Educator Award
For the second year, the Recording Academy and Grammy Foundation are recognizing a teacher for outstanding contribution to music in the classroom.
The list of Grammy nominees is full of familiar names, but one musician worthy of recognition, few people outside of Windham, New Hampshire would know. This year, students and staff at Windham High School will be happy to know their own Jared Cassedy earned top honors, reports CBS News correspondent Anthony Mason.
When the school opened in New Hampshire six years ago, Cassedy was hired to lead the music program. His students quickly nicknamed him "The Energizer Bunny."
"I talk fast. Believe it or not I'm actually a lot more calm than I was 10 years ago when I started," Cassedy said." "I have so much going on in my head. I just get so excited. I love, especially when I talk about music and my students and education, I'm so passionate about it."
His passion has been highly contagious.
"We're getting so much done and we're working so hard, yet it feels like we're having the best time of our lives doing it," Windham High School bassoonist Cierra Cowan said.
Some attribute it to how he treats the students.
"He constantly tells us, 'I don't see you as high school musicians. You are professional musicians to me.' And he's the kind of person you want to meet those expectations and it makes it incredibly exhilarating when you can," clarinetist Jillian DiPersio said.
"It becomes something you want to do, because you want to impress him. You do it for him really," tuba player Adam Consentino said.
Cassedy's parents had him taking piano lessons early. In his high school band, he played the clarinet.
"I loved being part of a collaborative group of people," Cassedy said.
He started Windham's band with 40 students. Today it has 87. Anyone can join and Cassidy doesn't believe in auditions.
"One of my biggest beliefs in music education is I want to provide access to all students," Cassedy said.
Even if you've never played a note, Cassedy said, you can play in the band. But they take music seriously. In 2012, Cassedy took the band to New York to participate in the World Strides Heritage Festival and placed as the top group. The next year, they entered the World Strides Heritage Festival in Chicago and won again.
"I was shocked," Cierra said.
That earned Windham an invitation to perform at a recital last year on the main stage at Carnegie Hall.
"I remember looking at Mr. Cassedy and we're looking at each other and we're laughing because we couldn't believe it," Jillian said.
After the concert, when Cassedy returned to the hotel, his musicians were waiting.
"He turned around and his face lit up," Adam said. "And it was wonderful."
Jillian said he gave a hug to every single person in the room.
"If I could just freeze that moment in time, I don't think I could ask for another moment like that," Cassedy said.
His students agree that Cassedy has created an environment where everyone feels like they belong.
"We don't feel like band geeks here," Jillian said.
"I would be proud to be a band geek and be part of this band," Cierra added.
"I will straight up say it. I am proud," Adam said.
It was a former student, Tim Raymond, and his mother who wrote the letter to the Grammy committee.
"I couldn't think of anyone more deserving of the honor," Raymond said "I learned music lessons. I learned life lessons. He was one of my biggest mentors."
When he found out, Cassedy said he was taken aback.
"It's a wonderful recognition. I see it more as a recognition of the students," Cassedy said. "Without the students coming back every single day, giving it 110 percent. Their lips are falling off, and exhausted and they're studying for midterm exams and they have a lot of pressure on them but they're the ones. I could be up there waving my arms around, but they're the ones making the music."
Thanks for reading CBS NEWS.
Create your free account or log in
for more features.