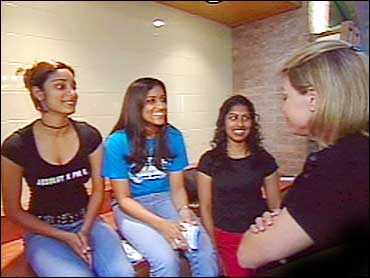 It turns out that at public universities, a professor's grading history is a matter of public record.
So, it was only a matter of time before some bright students started posting the information on the Internet.
Now, co-eds can access a wide array of information about their professors, and some of it is downright embarrassing, says CBS News Correspondent Tracy Smith onThe Early Show's latest Study Hall report.
When Professor Michael Brandl gives a lecture, he's the one being graded. Hundreds of pairs of eyes watch his every move, record his every word and judge everything — from the way he talks, to the way he dresses. And he gets a report card.
Pick-a-Prof.com is one of several Internet websites that students use to investigate their teachers. It categorizes the educators on everything from grading history to sex appeal.
"The initial response was, this is not a good idea," says Brandl.
Which is why students love it.
"I don't register without it. So I would give it an A-plus," says student Meredith Heck. "[It gets] five out of five stars, absolutely."
But professors, such as Brandl, have come to accept the grading of educators.
"Why would it be any different when it comes to the university than for toothpaste or automobiles?," he questions. "More information leads to better decision making, on both sides."
That's fine in theory, but the critiques can be harsh. Some students say Brandl talked "way too fast." And Brandl has taken the criticism in stride. He says he tries to talk a little slower.
However, he may find himself in an awkward position when one critique started off: "he's weird."
And Brandl got off light. Some professors drew comments like: "The book was a better teacher, and had a better personality." One teacher is said to: "breathe sleeping gas."
On one site, there's even a rating for physical attraction, where a chili pepper icon by a professor's name marks them as a "hottie" — subject to personal taste, of course.
On another site, Professor Brandl had a chili pepper by his name.
"Chili peppers can also give you indigestion," laughs Brandl.
Creators of the websites say they are about more than helping students find which professors will grade the easiest. But, college students say, if you believe that, then you probably also think fraternities are all about charity work and Spring Break is all about studying.
Here are some popular sites to rate professors:
www.pickaprof.com
www.ratemyprofessors.com
www.professorperformance.com
And, for people who aren't in college, try the following Web sites to get into the ratings fun:
www.ratemypicture.com
www.ratemypooch.com
www.amiannoying.com
www.amialookalike.com
www.modernhumorist.com
Thanks for reading CBS NEWS.
Create your free account or log in
for more features.