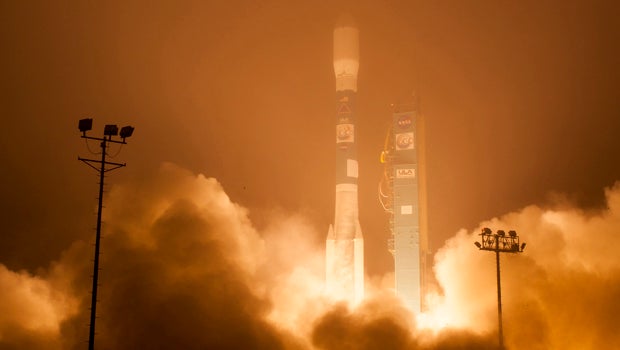 Government argues for dismissal of SpaceX rocket contract complaint
The U.S. government has filed a motion with the Court of Federal Claims to dismiss a key element in a lawsuit by SpaceX challenging a sole-source multi-rocket contract awarded to United Launch Alliance last December. The motion argues SpaceX knew about the sole-source contract well in advance, never protested until well after it was awarded and was not qualified to compete for it in the first place.
"SpaceX's complaint is amorphous," the motion claims. "Rather than challenge a single procurement action, SpaceX broadly protests any sole-source purchase of single-core evolved expendable launch vehicles (EELV) and associated launch services. This challenge appears to implicate the United States Air Force's entire EELV program -- including past and future purchases under various contracts."
Space News and Bloomberg first reported the government motion Tuesday.
The $11 billion contract in question was awarded to United Launch Services, a ULA subsidiary, last December. In its final form, it covers the acquisition of some three dozen rocket bodies, or cores, needed to build boosters for a wide variety of military payloads ranging from navigation beacons and communications relay stations to highly classified spy satellites.
United Launch Alliance is a partnership between Boeing, designer of the Delta 4 family of rockets, and Lockheed Martin, which developed the Atlas 5 series of boosters. The Atlas 5 is a single-core rocket while the Delta 4 comes in single-core versions as well as a heavy-lift variant made up of three cores. The contract in question includes three Delta 4 "heavies," which account for nine of the cores in the contract.
SpaceX founder and chief designer Elon Musk announced a lawsuit challenging the contract during an April 25 news conference in Washington. Musk believes his company's Falcon 9 v1.1 rocket is a viable option for military payloads that fit its lift capability and that the sole-source contract unfairly restricts competition.
"What we feel is that this is not right, that the national security launches should be put up for competition, and they should not be awarded on a sole source, uncompeted basis," he told reporters.
The SpaceX lawsuit was filed three days later. Along with challenging the block-buy contract, SpaceX also raised questions as to whether ULA's purchase of Russian rocket engines for use in the Atlas 5 violated Obama administration sanctions imposed in the wake of the Ukraine crisis.
The Falcon 9 v1.1 rocket, which has completed four flights to date, was not certified to carry military payloads at the time the block-buy contract was announced or even when it was awarded last December. Certification requires three successful flights in a row and a detailed engineering and business review.
SpaceX completed its third and fourth successful Falcon 9 v1.1 flights earlier this year and while eventual certification is expected, the review process is not yet complete. Company officials have said it is their belief that certification is required to launch a military payload but not required to bid on a contract.
In its motion to dismiss the SpaceX challenge to the block-buy contract, the government claims SpaceX has no grounds for protest.
"SpaceX knew about the agency's intent to award a sole-source contract to ULS, and received a copy of the RFP [request for proposals] less than a month after it was issued," the motion says. "Yet SpaceX failed to object -- or to indicate that it too could compete for the eventual contract.
"Although SpaceX may have ongoing concerns regarding the EELV program that it wishes to explore, SpaceX's own failure to timely object to the RFP means that it does not have standing to bring those complaints to this Court by challenging what it calls the 'block buy' contract."
The motion states that in May 2011, "the Air Force released a Request for Information, in which it asked prospective bidders to describe their space-launch capabilities. Based on all the information received, the Air Force determined that ULS was the only 'responsible source' and the 'only launch provider' that could meet the Air Force's requirements from Fiscal Year 2012 until Fiscal Year 2017."
The Air Force posted its findings and its intent to award a sole-source contract to ULS. The posted notice also said the Air Force did not "expect that SpaceX would be capable of competing for EELV launches until fiscal year 2016."
The motion to dismiss states that SpaceX did not protest the finding at the time or "at any other point in the two years before it commenced this action."
Before issuing a "sole-source" solicitation in March 2012 for what would eventually evolve into the multi-core block-buy contract, the Air Force set up a secure website for prospective rocket providers, known as "new entrants," where technical requirements and other information could be shared. SpaceX was given access to the on-line library in November 2011.
The block-buy solicitation was posted in the library on April 13, 2012, according to the government motion to dismiss.
"Members of SpaceX thus had access to the RFP 40 days before the deadline for ULS to submit a proposal for launch services, and 70 days before the deadline for ULS to submit a proposal for producing launch vehicles," the government motion claims.
"The contracting officer did not receive any response to the solicitation from SpaceX representatives. SpaceX did not submit a capability statement to indicate that it could compete for the contract. Nor did SpaceX submit any protest to the contracting officer, the Government Accountability Office, or this Court during the proposal period. Indeed, SpaceX's first challenge to any aspect of contract No. FA8811-13-C-0003 was this protest, which SpaceX filed in April 2014 -- two years after it first received a copy of the solicitation."
The block-buy contract was finalized on Dec. 18, 2013, and added seven rocket cores orders for fiscal 2014. SpaceX flew its third Falcon 9 v1.1 flight, a major part of the requirement for Air Force certification, on Jan. 6.
"SpaceX's argument appears to be that any sole-source purchase of single-core launches from ULS is improper," according to the government motion. "In SpaceX's view, all such launches must be competed now that SpaceX has performed the third certifying flight of its single-core Falcon 9 v1.1 launch vehicle and submitted test data to the Air Force.
"To the extent that SpaceX challenges purchases under that contract, it is, in fact, challenging the Air Force's decision to enter into the contract itself."
The government motion claims a procurement can only be challenged by an "interested party," in this case "an actual or prospective bidder" with a "direct economic interest."
SpaceX fails to meet either of those standards, the government says, because the company was not an actual or prospective bidder for the contract in question and that its "failure to timely indicate an interest in competing for the RFP" shows a lack of direct economic interest.
To prove the latter, the government argues, citing other federal cases, SpaceX would have to show that it had a "substantial chance" of winning the contract in question. Given SpaceX's failure to "timely respond" to the original solicitation, the company "cannot possibly make this showing."
"It is too late for SpaceX to try to bring a challenge to that procurement now," the government said.
In addition to its failure to meet the standards for being an actual or prospective bidder with a direct economic interest, SpaceX effectively waived its right to challenge the contract by waiting until after it was finalized to file a protest, the government said.
"As the Federal Circuit has recognized, a protester's right to challenge something that was provided in the solicitation is limited: any allegation that, by acting in accordance with the solicitation, the agency violates a statutory provision must be raised prior to contract award. After award, such challenges are barred."
Summing up its motion, the government asked the court to dismiss any portion of SpaceX's complaint that involves the block-buy contract in question.
"Simply put, the fact that SpaceX did not find it necessary to challenge the procurement at the time it was issued does not give SpaceX license to now go back and seek to undo two years of planning and work by the agency," the government said. "To the contrary, SpaceX's failure to timely object to the Air Force's chosen contract vehicle bars SpaceX's standing to challenge that vehicle now."
Thanks for reading CBS NEWS.
Create your free account or log in
for more features.