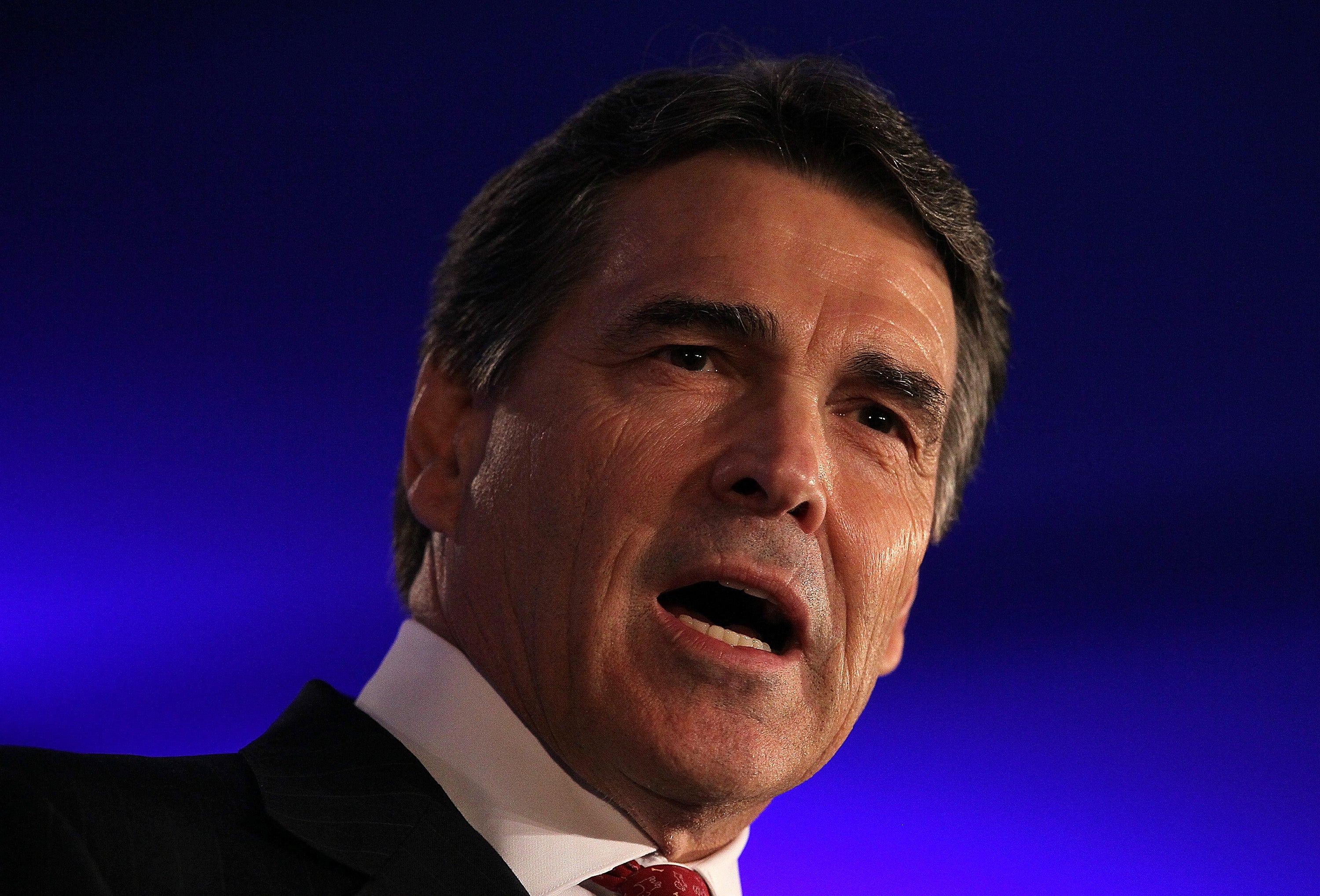 Gov. Rick Perry deploying up to 1,000 National Guard troops to border
Gov. Rick Perry, R-Texas, announced Monday that he is activating up to 1,000 National Guard troops to the U.S.-Mexico border as he accuses the federal government of offering "lip service" on border security.
The announcement comes as the Obama administration is still struggling to deal with the influx of more than 50,000 unaccompanied minors, most from Central America, who have crossed into the United States in the past year. The additional resources are not aimed at the children themselves, Perry said, describing them instead as a "force multiplier" to help the Texas Department of Public Safety (DPS) "combat the brutal Mexican drug cartels that are preying upon our communities."
"I will not stand idly by while our citizens are under assault and little children from Central America are detained in squalor. We are too good of a country," Perry said.
The troops could detain people if asked, Texas Adjutant General John Nichols said at the press conference with Perry, but they are planning to play a "referring and deterring" role by deterring cartels with their visible presence and referring any immigrants suspected of being in the country illegally to DPS.
Perry argued that the elevated response at the border by DPS personnel has already has already acted as a deterrent force and reduced apprehensions. That operation comes at a cost of $1.3 million per week. A state memo obtained by the McAllen Monitor, which first reported Perry's plan to deploy the National Guard, indicated the new efforts will cost the state of Texas $12 million per month.
Perry said he expects the federal government to eventually reimburse the state of Texas for the costs it has incurred protecting the southern border.
White House Press Secretary Josh Earnest said prior to Perry's announcement that the administration has not yet received the formal request from Perry to activate the troops, but he downplayed it as a merely a symbolic measure.
"What we're hopeful is that Governor Perry will not just take these kinds of steps that are generating the kind of headlines I suspect he intended, but will actually take the kinds of steps that will be constructive to solving the problem over the long term," Earnest told reporters. "To be specific that means that we hope that Governor Perry will support the supplemental appropriations request that this administration put forward a few weeks ago and that that Governor Perry will use his influence with congressional Republicans in Congress an urge them to stop blocking comprehensive bipartisan legislation in the House of Representatives."
He added that National Guard troops would be best deployed in coordination with a broader request for $3.7 billion in emergency appropriations the administration has requested to deal with the crisis.
But the White House is already seeking to claim at least a small victory in the immigration crisis. Earnest announced that the president would meet with his Homeland Security Council - including Vice President Joe Biden and the secretaries of the Departments of Homeland Security, Defense, and Health and Human Services - to discuss what they say is a reduction in border crossings.
Preliminary data shows that Customs and Border Patrol (CBP) apprehensions have dropped from around 355 children a day last month to 150 children or less per day in recent weeks. CBP did not return a CBS News request to confirm those figures.
"While the reasons for the reduction and the number of unaccompanied children and adults traveling with children apprehended by CBP cannot be attributed to any one factor, we do believe that the administration's response and efforts to work with Central American leaders to publicize the dangers of the journey and reinforce that apprehended migrants are ultimately returned to their home countries in keeping with the law, as well as seasonal flows, have all played a part," Earnest said.
Thanks for reading CBS NEWS.
Create your free account or log in
for more features.