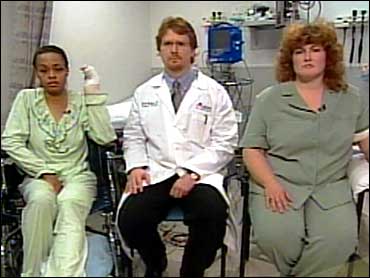 Gorilla Escapes, 4 Injured
Officials at the Dallas Zoo are trying to determine how a 300-pound gorilla escaped from its cage Thursday, sending zoo visitors scurrying for safety.
The animal injured four people, including a toddler, before being shot and killed by police.
Rivers Noah, 3, suffered multiple bites to his head and chest. His 26-year-old mother, Keisha Heard, tells The Early Show co-anchor Rene Syler Friday morning, "Rivers is doing OK. He's sleeping right now and he's still in a lot of pain, as myself, but we'll be OK. I think we're going to make it through this."
The gorilla bit Heard on the legs and threw her and the toddler against a wall Thursday. Dr. Todd Maxson, who treated Rivers, says, "I think he's going to do very well from all this. He should make a full recovery." Dr. Maxson is director of trauma services at Children's Medical Center in Dallas.
Cheryl Reichert also was injured; she was shielding several children when it snatched her in an aviary exhibit.
"We were in the bird aviary, which is an enclosed area and we heard people screaming and running," she says. "At first, we thought it was a prank. Then, we heard more people screaming and running. People went into the bird aviary and then they ran out. Then we heard the door slam open. There was a female zookeeper there at that time but she disappeared."
Zoo officials are unsure how the gorilla, named Jabari, got loose. It had been in the award-winning gorilla-conservation area, surrounded by a 16-foot concave wall, before the attack. Some youths had reportedly teased Jabari shortly before the 5 p.m. escape.
"He had to have scaled the wall," said zoo director Rich Buickerood. But "this habitat is among the best in the country. This blows our minds."
He said he did not know why zoo employees, who were armed with
pepper spray, did not use it on the gorilla.
Reicher says the gorilla suddenly appeared at the top of a staircase her group was climbing. "And myself and my three children and my neighbor started -- we were trapped," she says. "So I threw the children over the little fence that tries to keep the birds in. It wasn't much protection but it was the only thing I could do, except for my 4-year-old son, Logan. He was trapped behind a tree and I couldn't get to him. I told him to stay hidden, that the gorilla had not seen him yet.
"The gorilla paced back and forth," she continues. "He came right up at me and roared and growled at me and he kept pacing back and forth. And then he finally went back down the stairs all the way to the other side of the aviary and I saw a chance to escape.
"So I started pulling the kids over the fence and we started running for the door. But my 4-year-old, Logan, could not get down the steps fast enough and the gorilla saw the door opening and saw his chance to get out and he came running.
"And I reached in and grabbed my son and threw him through the door and slammed the door as the gorilla hit the door. And of course this made him very angry. So he slammed the door back, slamming me against the wall and then he grabbed me and he shook me very, very hard. And then he still had my arm and he just proceeded to bite it over and over again about five or six times," Reicher says.
She suffered injuries to her upper left arm and was treated at the Methodist Central Hospital.
Other zoo-goers hid inside a restaurant and the monorail surrounding the Wilds of Africa exhibit while authorities tried to subdue the animal, which darted through thick bamboo before emerging on a nature trail and confronting police officers at about 5:30 p.m.
The gorilla, holding a pair of white children's sandals, got within 15 feet of two tactical officers before they opened fire, Dallas Police Lt. Anthony Williams said late Thursday. Zoo workers armed with tranquilizer guns had pursued the animal through the forested jungles of the Wilds of Africa exhibit for a half-hour, but could not gain a clear shot.
The zoo has been in financial straits and the nonprofit Dallas Zoological Society recently proposed a county takeover. Buickerood said last month that the zoo staff had been cut and maintenance postponed because of the funds shortage.
In 1998, a 25-year-old zookeeper was mauled by a gorilla at the zoo after the door to the animal's cage was left open.

Thanks for reading CBS NEWS.
Create your free account or log in
for more features.