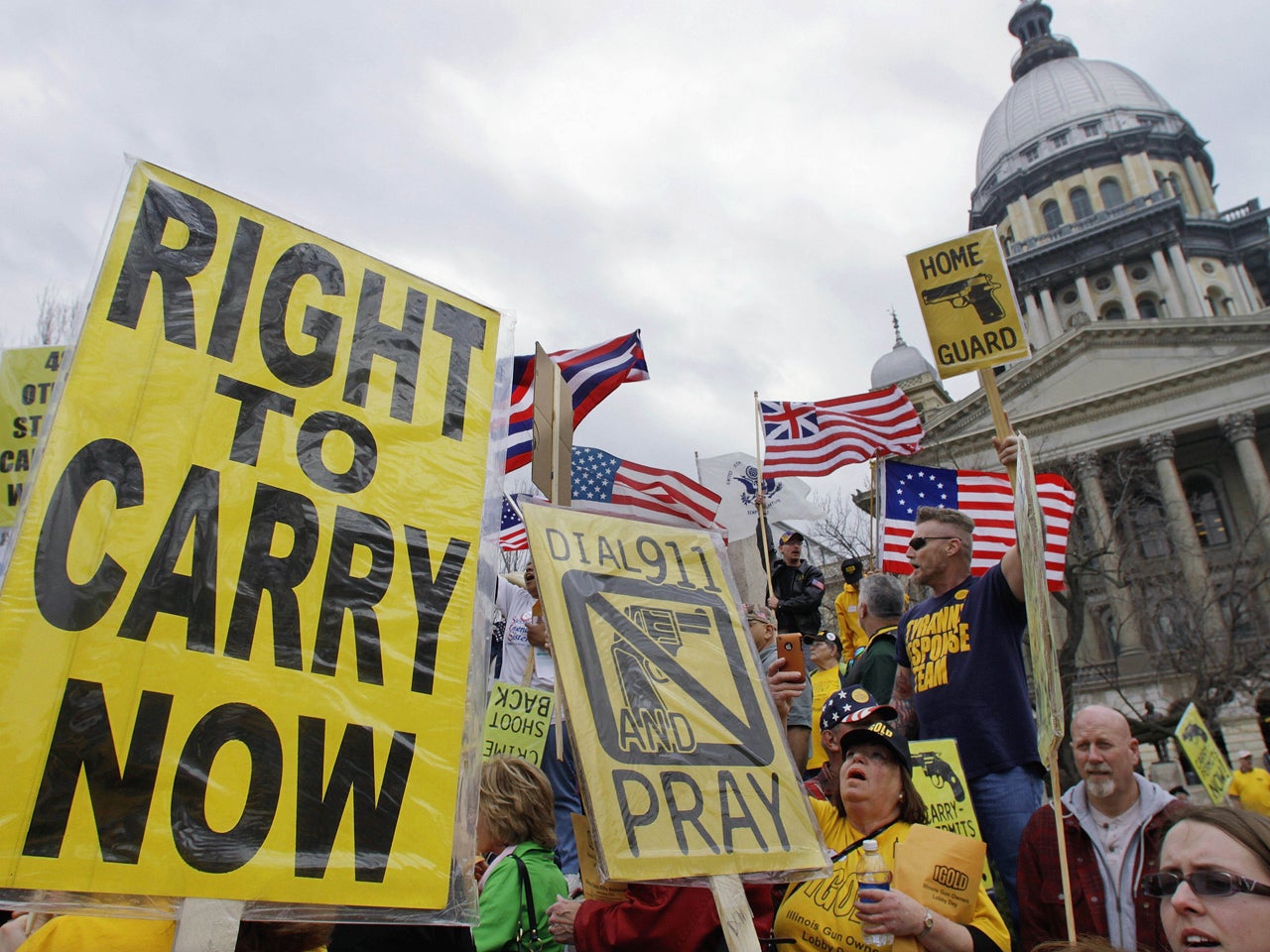 GOP slowly breaking silence on guns
Updated 3:20 p.m. ET

In the days after the mass shooting in Newtown, Conn., advocates for more gun control began sounding the alarm about he proliferation of guns, specifically assault weapons, and calling for tighter controls. Democrats who have previously supported gun rights have also started to soften their stance. And while Republicans historically on the other side of the debate - especially congressional Republicans - have generally laid low in the initial aftermath of the massacre, they're slowly breaking their silence on the gun issue.
Gov. Rick Snyder, R-Mich., governor indicated that he might be breaking ranks with his party on the issue. Monday, Snyder said he is reconsidering his support for a bill passed just before the Newtown shooting by the Michigan legislature that would allow people with concealed weapons permits to carry guns in schools.
"I wouldn't say I'm prepared to sign it by any means," the Synder told Michigan Live in an interview. "I haven't made a decision one way or another on it ... I need to see what it says. But the shooting gives you clear pause to say, 'Would this be appropriate?' That was a terrible thing to happen."
His spokesperson said that as of Tuesday morning, he hasn't yet received the bill but will take a look at it when he does and will make a decision "sooner rather than later."

Meantime, Gov. Rick Perry. R-Tex., is continuing to trumpet his pro-gun rights stance saying Monday at a tea party event that he would support arming teachers in schools. He said, "you should be able to carry your handgun anywhere in the state," if a person has a concealed license, according tot the Dallas News.

And when Perry said teachers in some Texas school districts are already allowed to carry guns in schools, the audience applauded.
"One of the things that I hope we don't see from our federal government is this knee-jerk reaction from Washington, D.C., when there is an event that occurs, that they come in and they think they know the answer," he said. Momentum appears to be growing for gun control legislation in Washington, likely targeting assault weapons and the number of bullets in a clip.
Another Republican governor, Bob McDonnell, R-Va., indicated potential support for arming teachers as well. "I think there should at least be a discussion of that. If people were armed, not just a police officer but other school officials who were trained and chose to have a weapon, certainly there would have been an opportunity to stop aggressors coming into the schools. So I think that's a reasonable discussion that ought to be had," McDonnell said Tuesday during an interview on WTOP radio.

The Texas governor and former Republican presidential candidate also talked about mental health, and that it should be part of the national, post-Newtown discussion. "It appears that this was a young man who was very disturbed," Perry said.
Sens. Chuck Grassley, R-Iowa, and Marco Rubio, R-Fla., also publicly talked about the mental health angle Monday agreeing that any discussion moving forward should not just be about gun laws but about mental health as well.

As Republican lawmakers' post-Newtown comments trickle out, the vocal and influential gun lobby, the National Rifle Association, has been absent from the discussion. The organization has not commented on its Twitter page since December 14 - before the shooting became national news - and the organization took down its Facebook page.
Gun rights advocates who are reconsidering their position might not get as much blowback from the public as one could have previously experienced. A new CBS News polltaken after the rampage shows that the public tide of gun control might be shifting. The poll found that support for gun control is on the rise, reaching the highest level in a decade, with 57 percent of respondents supporting stricter gun control laws. That number is 18 points higher than just seven months ago.

Thanks for reading CBS NEWS.
Create your free account or log in
for more features.