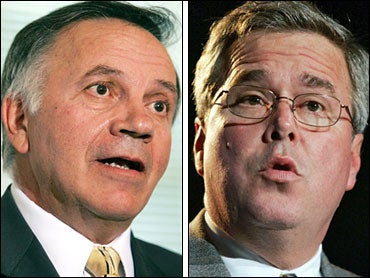 GOP Rep. Calls Miami 'Third World Country'
A Colorado congressman who likened Miami to a "third world country" defended his comments in a letter to Gov. Jeb Bush, saying fewer city residents consider themselves Americans.
Bush had earlier responded to the remarks made by Rep. Tom Tancredo, R-Colo., after the congressman criticized the city's poverty and crime while attending an immigration conference in Palm Beach over the weekend.
Tancredo, a vocal supporter of the anti-illegal immigration movement in the U.S. House, made his initial comments to WorldNetDaily, a conservative online new site, his spokesman Carlos Espinosa said.
"Look at what has happened to Miami. It has become a Third World country. You just pick it up and take it and move it someplace. You would never know you're in the United States of America. You would certainly say you're in a Third World country," Tancredo said.
Bush, who plans to move to Miami after vacating the governor's office, said in his letter, said Tancredo's comments were "disappointing" and "naïve."
"Miami is a wonderful city filled with diversity and heritage that we choose to celebrate, not insult," Bush said.
Late Tuesday night, Tancredo responded with a letter to the governor, defending his view.
"I certainly understand and appreciate your need and desire to create the illusion of Miami as a multiethnic 'All American' city," Tancredo wrote. "I can also appreciate that Miami's schools graduate many outstanding students and that the cultural and ethnic diversity of the city offers many advantages to its residents.
"However, it is neither naïve nor insulting to call attention to a real problem that cannot be easily dismissed through politically correct happy talk," Tancredo wrote.
Tancredo said a growing number of Miami residents don't speak English, one of the few things that holds Americans together.
Bush said he was disheartened by the congressman's "disparaging comments" and touted the city's diversity as a reason Florida leads the nation in job growth and continues to have a bustling economy. He acknowledged crime problems in the city, but noted they have dropped every year since 1999.
"Perhaps your naive comments served as a good reminder for everyone to lessen the anger, frustration and emotion surrounding the issue of immigration," Bush said in the letter. "Overheated rhetoric won't solve this issue. We need a comprehensive solution that will require cooler heads to prevail."
Miami Republican Rep. Ileana Ros-Lehtinen and Miami-Dade County Mayor Carlos Alvarez, also criticized Tancredo's comments. Ros-Lehtinen also invited him to visit Miami.
"I hope you will take Cong. Ros-Lehtinen's offer to come visit our community," Bush said in a handwritten post script.
A spokeswoman for Bush said the governor has a close connection with Miami's Hispanic community.
"He's disappointed," Alia Faraj said. "He takes pride in the diversity in Florida and feels very strongly about Miami. It's his home."
Thanks for reading CBS NEWS.
Create your free account or log in
for more features.