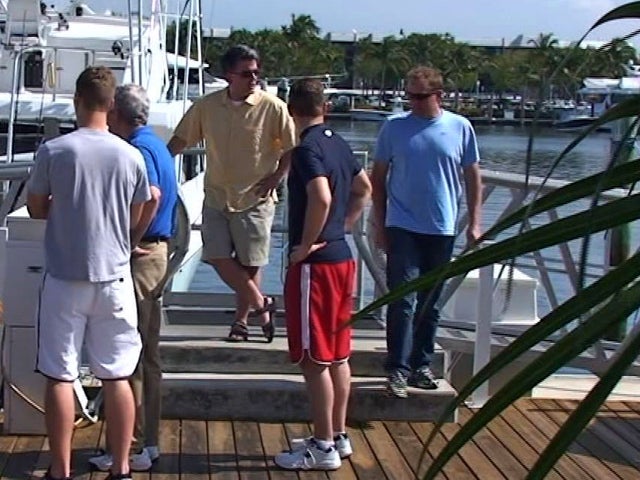 GOP freshmen, big-bucks donors hobnob at resort
(CBS News) There are 468 congressional campaigns going on right now.
That means a lot of serious fundraising.
Much of it is behind closed doors, except on a recent weekend at a South Florida resort, where CBS News got an inside look at what goes on behind the scenes.
It was the first Campaign 2012 fundraiser for a group of freshmen Republicans. All face tough, well-financed races against Democrats, and need to come up with big dollars to buy TV time. They get that by wooing special interests willing to pay a lot of money for special access.
In 2010, many freshmen Republicans were swept into Congress on the promise of doing things differently.
But fast-forward to 2012, and the Ocean Reef Club in Key Largo, Fla. -- an exclusive seaside resort and home to 54 holes of championship golf and a private marina full of luxury yachts.
That's where we caught up with a select group of Republican freshmen, engaged in business as usual. But they didn't come alone. They invited big campaign donors and lobbyists to join them - for a price. And we secretly sent our cameras along for a unique inside look at their first joint fundraiser, where special interests got the kind of access ordinary Americans can only dream of: on the golf course; over drinks at the resort bar; at a private beach lagoon.
"Book your Key Largo getaway now," reads the invitation, obtained by CBS News. The hosts are veteran congressmen Spencer Bachus, of Alabama, Pete Sessions, of Texas, "and 12 of your favorite Republican freshmen!"
The 12: Sandy Adams (Fla.), Quico Canseco (Texas), Rick Crawford (Ark.), Bob Dold (Ill.), Sean Duffy (Wis.), Stephen Fincher (Tenn.), Mike Fitzpatrick (Penn.), Daniel Webster (Fla.), Mike Grimm (N.Y.), Nan Hayworth (N.Y.), Jim Renacci (Ohio) and Cory Gardner (Col).
Congressmen Canseco and Gardner were seen on camera heading in to host happy hour. To get in, donors had to pay at least $10,000.
During his campaign, Gardner promised average voters would inspire his actions. One ad said, "I will always put Colorado families before the Washington special interests."
But in Key Largo, Gardner appeared to offer special interests lots of face time. He was seen on camera talking to an attendee who said he works for a bank. In another shot, he's seen going charter fishing as part of the fundraising package -- they head out on a group of boats including one named "Good Life."
It appeared Rep. Webster was going fishin', too.
Back in 2010 at a Tea Party rally, Webster criticized Washington's ways, saying, "America's not broken, Washington is!"
Then, there's Congressman Renacci manning a golf cart -- donors got time on the links as part of the deal.
Some congressmen brought their spouses and special interests got to share lively dinner conversation at a restaurant with gourmet delights such as braised baby octopus and crispy duck confit.
Another shot shows Gardner and Canseco again.
And Rep. Bachus, who recently became the subject of an ethics investigation into whether he used his position for personal gain, which he denies.
Later, we found Canseco mingling over drinks at the resort's burgee bar.
Then, Congressman Sessions joins the conversation. An individual can legally give up to $46,200 to the joint fundraiser; the money's split among the freshmen.
It's perfectly legal for members of Congress to have a getaway at a Florida resort. The question is: Why do lobbyists pay thousands of dollars to be here with them? What are the lobbyists getting in return?
None of the members of Congress agreed to an interview. They referred us to Paul Lindsay at the National Republican Congressional Committee, which organized the getaway.
Asked what the donors are getting out of the weekend, Lindsay replied, "They're getting a Republican House next year."
Is the public wrong in thinking that something just doesn't look right about this? Even if it does follow the letter of the law and the letter of ethics rules?
"I think," Lindsay responded, "the public has also seen that President Obama has had many high-level fundraisers throughout the country in cities like New York and Los Angeles."
As president, Mr. Obama is the Democrats' fundraiser in chief. "We've got so much more work we have to do," the president told the crowd at a recent event.
He recently headlined eight fundraisers in one week. Tickets can cost upwards of $35,000. The money's split between his presidential campaign and other Democrats.
Watchdogs question whether this high-priced access unfairly influences politicians.
Nine of the Key Largo congressmen are on the committee that regulates banks. Nobody would give us the donor guest list, but we do know it includes at least one bank lobbyist.
We showed Lindsay video of Congressman Sessions, who's chairman of the National Republican Congressional Committee.
"Unless you can guarantee me," said Lindsay, "that President Obama and (House Minority Leader) Nancy Pelosi and Democrat super PACs are gonna unilaterally disarm and not spend any money against Republican candidates in the fall, we are gonna do everything we can to have the resources necessary to compete."
The Republicans refused to give us the donor list for the weekend but, at the end of March, they'll have to disclose it in a report to the Federal Election Commission. Democrats also report their donors regularly under election law.
To see Sharyl Attkisson's report, click on the video in the player above.
Thanks for reading CBS NEWS.
Create your free account or log in
for more features.