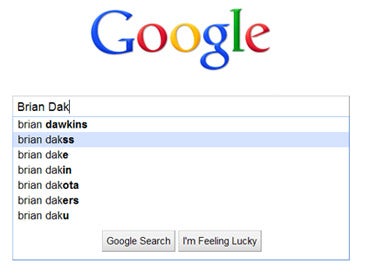 Googling Yourself? Not Liking What Comes Up?
Come on - admit it - you've Googled yourself, right?
If so, you're in the majority. Pew Research says 57 percent of adult Internet users now use search engines to find information about themselves, up from 47 percent in 2006.
And you're not the only one checking you out: Employers, landlords, even possible dates may well be at it, too.
But what can you do if you don't like what comes up?
On "The Early Show on Saturday Morning," CNET Senior Editor Dan Ackerman said there are ways to influence the results. He offered pointers on managing your online image.
If you Google yourself and see information that is either negative or personal, how do you get it removed?
Finding information about yourself online, whether it was uploaded by you or someone else, can be very distressing. There are steps you can take to minimize the impact, especially if you think potential employers, landlords, or the like will be Googling you in the near future.
But let's not sugarcoat this - there's really no way to completely erase something once it's online.
Google provides a set of tools for removing URLs from its index, but these are mainly for the owners of those sites who want to replace outdated pages or information.
You can find Google Removal Tools here.
If you're trying to get rid of some photos or blog posts that are on someone else's site, it's generally their call, and you'd have to contact the site owner and ask them to remove whatever it is (but I wouldn't get too optimistic about that happening).
If you do manage to remove any pictures or Web pages you'd prefer to have hidden, Google will note these changes when it next searches that particular site - meaning the information will eventually vanish from the search results on Google. But it would take weeks or months.
To see Google's Guidelines on such matters, click here.
What happens if the other party doesn't remove it?
Keep Online Info Current and Positive
Chances are you're not going to be able to get those ill-advised party photos or blog post comments removed from someone else's site.
Instead, you should focus on making sure there's new, updated, positive information about yourself out there that will, hopefully, come up on a Google search higher up than any older links you'd prefer people not see.
There are companies that can help you with this - such as Brand Yourself or Reputation Defender - they can perform a more detailed search of Google results related to you, see how you rank when people search for various keywords (like, "best electrician in Denver..."), and even build a personalized Web site for you - but these are all things you could do yourself for free, or close to it, if you take the time.
Your goal is to create and keep current your own list of Web pages that pertain to you and, hopefully, these sites will become the top search results that come back when someone Googles you.
How do you create the online presence you want?
Build Your Online Identity with a Google Profile, Twitter, LinkedIn, Facebook
Start by filling out a Google profile page. You can include a photo, job history, contact info if you want, and link to other profile pages you may have - these Google profile pages are useful, because they rank highly in search engine results.
You can also start, or update if you already have, other Web sites.
Start a Twitter account - it's a good way to maintain an ongoing stream of content relating to you and your interests.
LinkedIn is a social network for business - people mainly use it to post their job history online and connect to people in the same field, or friends at other companies. Think of it as a permanent online resume.
Facebook can be used the same way - we've heard a lot about Facebook privacy issues lately, and while you do have a lot of control over who can see what on Facebook, I still wouldn't post any photos or links I wouldn't want associated with me in polite company. Someone else on your friends list can always copy pictures or posts and repost them elsewhere - so once it's on Facebook, consider it open season for anyone Googling you.
What happens if your name is very common, like John Smith? How will all these profiles help?
Be Easy To Find
I've always recommended that everyone try to get their name as a domain name, like danackerman.com. If you have a common name, this may not be easy, as it's probably already taken - but you can look for easy to remember variations. Like danackerman.net, or dan-ackerman.com, or DanAckermanElectrician.com.
If you don't have any grand plans for a personal Web site, I'd just make that personal domain name a one-page site with your resume, CV, and contact info. That's easy to set up through either the domain name registrar you buy the domain name from, or through a free blogging service such as TypePad or WordPress.
You can also consider a Google Me button from Vizibility. They will help you create a personalized Google search results. You can put a button on your online profile page or in your e-mail that brings up those results in a Web browser. It will also alert you when your search results change. And it's free!
How important is it to put your personal details online? Can you just use your Google profile?
Keep All Profiles Identical and Linked
Once you have your LinkedIn, Facebook, personal Web site, etc., it's important to make sure these sites are updated with new information - if you change jobs, for example. I'd also make sure the information on them all matches up - you don't want a potential employer to see job histories with different dates or job titles on your different Web pages. You should also link from each of these pages to the others - so someone on Facebook can click through to your LinkedIn profile for more detailed resume info, for example. This will also help each of these pages rank better in Google.
How much privacy can you maintain?
While there are a lot of privacy tools in Facebook, Twitter, etc., it's good to be overly cautious. Just assume that if it's online, someone could find it, perhaps even accidentally. If you don't want it to show up in the New York Times, or during a job interview, don't upload it.
One often overlooked, but very important note: We're all used to speaking in Internet shorthand, with texting and instant messages, but go over all your Web content with a fine-toothed comb for spelling, grammar, and general readability. There's nothing worse than seeing spelling mistakes in an online profile if you're considering someone for a job - you may only have a few seconds to make an initial impression on someone online, so make sure it's a good impression.
Thanks for reading CBS NEWS.
Create your free account or log in
for more features.