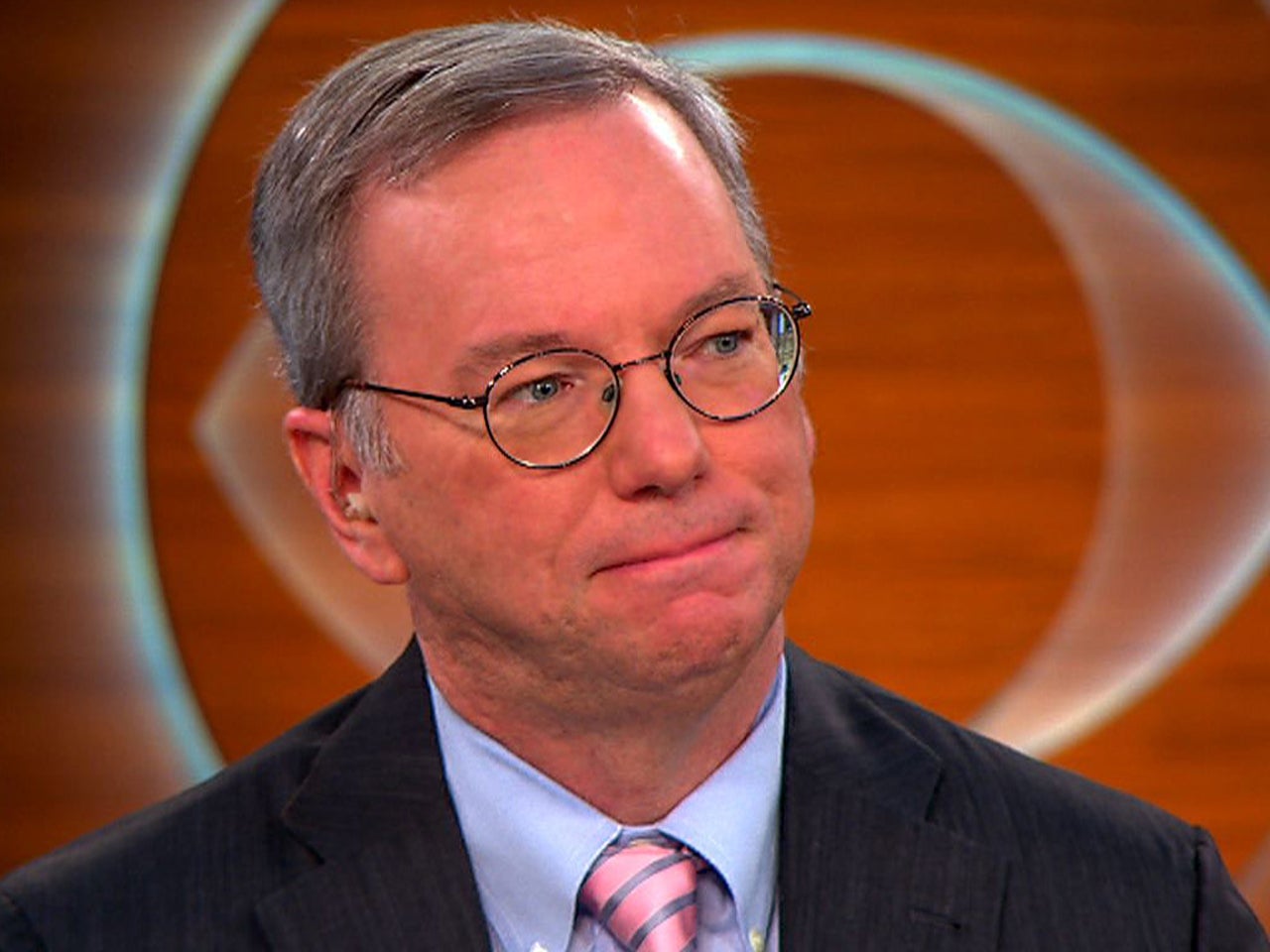 Google's Eric Schmidt announces $1M donation to award tech grants
Google executive chairman Eric Schmidt and Jared Cohen, Google's ideas director, announced on "CBS This Morning" "New Digital Age Grants" for groups or individuals that use technology to solve problems.
Schmidt said he donated $1 million to the effort to, in his words, "put my money where my mouth is."
The effort is furthering the theme of their best-selling book, "The New Digital Age: Transforming Nations, Businesses, and Our Lives," in which they discuss the future of technology in its various forms. The book comes out in paperback next week.
"The book is about the problem," Schmidt said. "There's lots of people working on the solutions. We identified a whole bunch of companies in different parts of the world (who) try to solve oppressive censorship, empower individuals and make these (things) more useful."
In the future, Cohen argued, dictators and autocrats will have a harder time as technology spreads.
"They're going to be significantly outnumbered," he explained. "Ukraine is an example. Venezuela is an example. We've now moved beyond just the Arab Spring. As billions of people come on line, most of these people come online in parts of the world that have autocratic governments. And they're going to be the largest demographic in the world armed with mobile devices and savvy young populations."
Schmidt added, "We forget how many billions of people there are that work in places that don't have the liberties of America. They want them too, and they're going to use their phones to get them."
Google, Cohen explained, benefits by all this via productivity.
"Google's mission is to connect the world and get that information out," he said. "We want a free open internet for every citizen of the world."
However, while the young, tech savvy population may be making waves by protesting, another population may -- with tech advancements -- be leaving a digital trail.
"So it's very difficult to imagine a terrorist in the future operating out of a cave in Tora Bora being even remotely relevant," Cohen said. "So every terrorist in the future is going to have to opt in to technology."
"CTM" co-host Charlie Rose remarked, "Or they will have a courier…"
Schmidt said, "But they will be found. You can find them -- look at what happened with bin Laden."
Cohen added, "And there's a long tradition of terrorists being young and young people make mistakes. So add technology into the mix and it all gets captured."
Turning to National Security Agency leaker Edward Snowden and his impact, Schmidt said he's been "helpful in alerting everybody to what the government was up to."
"

We are very clear in the book that we do not endorse individual actors leaking such important information," Schmidt said. "We don't think people should just do that. … This is a new problem, the ability to take a single USB card and take a million records of your tax information or your health information. So when governments aggregate that data, it's very important that they either not aggregate that data or they figure out a way that people can't just take it -- especially people who are on the inside."

Cohen added, "One of the biggest problems in the future is the ability for an individual to leak in bulk and do so remotely. First it was Manning, then it was Snowden. The reality is we're going to keep seeing more and more of these individuals."

Turning to Facebook's recent acquisition of WhatsApp for $19 billion, Schmidt dismissed the possibility of there being a tech bubble, saying people have been talking about it for years.

"The price was low if they make gazillions of dollars off the kind of customers they're getting," Schmidt said. "They're getting up to 450 million users, so that's highly valuable. The price is too high if they can't monetize it."

Pressed if Google was bidding for WhatsApp to the reported tune of $10 billion, Schmidt said, "Not in the way in that you're thinking about. Let's just say that we like WhatsApp, but we like some other things, too, including our own products."

One of Google's acquisitions included Motorola -- a company that was purchased at a much higher price than it was sold for. The deal, Schmidt said, is something he is "very, very proud of."

"Motorola was a huge deal for Google because we got all the patents we needed and we got the ecosystem of Android working," said Schmidt. "Look today at Mobile World Congress. You see the announcement of Nokia using Android as part of its platform, distancing itself from Microsoft. Android got stronger because of the Motorola deal and it was a very, very good deal for Google."

Moving on to a recent op-ed addressing hiring at Google, Schmidt said being an ideal candidate is all about "intellectual flexibility."

"Over and over again, people, when they do hiring, say, 'I want a person that did X or Y or Z in their last job.' We want people who can deal with the future changes," said Schmidt. "Businesses change so rapidly. … You're in much better off (position selecting) for people who are quick enough, who say, 'OK, there's a new problem.' I always believed at Google -- and still believe -- I don't know what the future holds, but I have the right people to help me figure it out, and that should be the primary criteria.

"It turns out the smartest people sometimes can't really communicate very well," Schmidt continued. "So we actually select not just for intelligence, but also for the ability to communicate with each other and work as teams. Nobody is a solo actor at Google anymore."

For more with Schmidt and Cohen, including discussion on privacy and children, watch their full "CTM" appearance above.
Thanks for reading CBS NEWS.
Create your free account or log in
for more features.