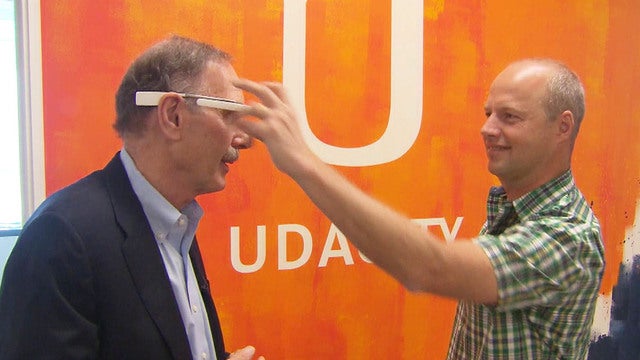 Man behind Google Glass puts new twist on education
Sebastian Thrun is a world-class innovator with big ideas.
The German-born computer scientist is the mind behind the first driverless car and Google Glass.
CBS News' John Blackstone looked at his newest project: creating online courses that translate into jobs.
Thrun is co-founder of Udacity, a Silicon Valley startup with a new twist on the learning curve.
Udacity creates interactive, online classes taught by tech industry leaders.
"I want every single person in the world to have the same chance and be able to learn something amazing," Thrun said.
In an unusual move, Udacity is linking up with other Silicon Valley companies to teach programming skills tailored to specific jobs.
When Blackstone first met Thrun back in 2005 he was a professor at Stanford who had built a self-driving car.
At the time, it seemed impossibly futuristic. But Thrun is a visionary.
"I find it amazingly easy to take something, if you really believe in it, and turn it to reality," Thrun said. "I had this vision that we could make cars safer than human driving, but it wasn't very convincing at the time."
Now he believes within 15 years driverless cars will be commonplace.
He was also instrumental in developing Google Glass, the wearable computer that records the world around you.
The very first image he shared from Google Glass was of his son, who, after all, is the future.
"My son is 6 1/2 years old, and everything he does is an experiment," Thrun said. "He's relentlessly learning, so he might be pouring apple juice over his dinner plate, and it might be slightly annoying to me because I know it's just not a good idea, but he doesn't know. That level of curiosity is just unbelievably tantalizing to me. That level of curiosity is what brings people to Udacity."
Through Udacity, Thrun hopes to inspire people to become addicted to learning just like they get addicted to videogames.
His approach is to ditch convention.
"If you respect your furniture too much, you can't be creative, so you should be able to write everywhere, on your carpet, on your walls," Thrun said. "You can't change the world without a certain amount of healthy willingness to break the rules."
But he doesn't think education should break the bank.
Udacity launched an online master's program in computer science with Georgia Tech that costs $6,600.
On-campus students pay close to $45,000.
The day CBS News visited Udacity was Thrun's birthday.
As a prank, his staff moved his desk, the smallest in the company, to the break room.
Thrun's workers have learned from him that nothing is sacred.
"Most rules that you think are written in stone are just societal," Thrun said. "You can change the game and really reach for the stars and make the world a better place."
From lifelong learning to Google Glass and self driving cars, Sebastian Thrun is a futurist with an optimist's vision of the road ahead.
Thanks for reading CBS NEWS.
Create your free account or log in
for more features.