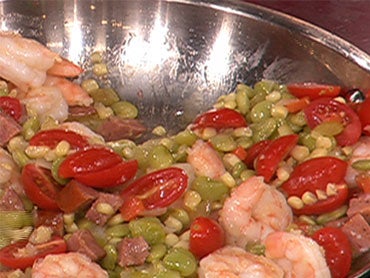 When you are cooking for the holidays, everybody loves comfort food, and nothing says cozy comfort food like grits. Susan McIntosh, author of "Glorious Grits," gave some great holiday grits recipes that will make you think "gourmet."
Grits are a common American corn based food that are easily found in traditional Southern cooking. The dish mainly consists of coarsely ground corn. It's similar to other maize based side dishes from around the world such as polenta or gruel. They can be served hot and cold or as a base for breakfast, lunch, dinner, even as a thickening additive. It is common to add butter, cheese, salt, perhaps shrimp or other various meats.
Grits are most commonly produced by a stone mill. When the corn is ground, it is divided into the finer corn meal, and the coarser grits.
According to Grits.com, three quarters of the grits sold in the U.S. are sold in the South. Texas to Virginia is known as the grits belt. In the Carolinas, shrimp and grits are a traditional breakfast food for the coastal fisherman, often referred to as simply, Breakfast shrimp. Grits also played an important part in allowing the South to survive the Great Depression. Originally, grits were Native American in origin, with the settlers partaking of hominy on some of their first Native American encounters. Grits have always remained a Southern food staple, being a great way to feed a crowd in a huge variety of ways.
Shrimp and Grits with Succotash
SERVES 4
4 cups water
1 teaspoon salt
1 cup uncooked stone ground yellow grits 1/2 cup unsalted butter, divided 1/4 cup (1 ounce) freshly grated Parmesan Cheese
2 tablespoons olive oil, divided
3/4 cup of fresh lima beans
1/4 cup chopped onion
2 tablespoons chopped celery
2 tablespoons chopped carrot
1/2 cup water
3/4 cup fresh corn kernels
24 large raw shrimp, peeled and deveined 1/2 cup diced tasso ham 1/2 cup diced shallot
2 tablespoons white wine
3/4 cup grape tomato halves
1 tablespoon fresh lemon juice
1/8 teaspoon Tabasco sauce
Salt to taste
Ground white pepper
Bring 4 cups water and 1 teaspoon salt to a boil in a medium heavy saucepan; gradually whisk in the grits. Reduce heat; simmer, uncovered, 20 to 25 minutes or until thick, stirring often. Remove from heat, and add 1/4 cup butter and parmesan cheese, stirring until cheese melts, cover and keep warm.
Heat 1 tablespoon oil in a saute pan or large skillet over medium high heat; add lima beans, onion, celery and carrot; saute 2 minutes. Add 1/2 cup water; cover, reduce heat, and simmer 15 minutes. Add corn, cook, uncovered, 3 to 5 minutes. Remove vegetables from pan, keep warm.
Add remaining 1 tablespoon of oil to pan, and heat; add shrimp, and cook 1 to 2 minutes on each side. Add ham and shallot; cook 2 minutes. Add white wine and cook to deglaze pan (stirring to loosen particles from bottm of the skillet). Add lima bean mixture and tomato halves to pan. Cook 1 to 2 minutes or until heated through. Stir in remaining 1/4 cup butter, lemon juice, and Tabasco sauce; season to taste with salt (about 1/4 teaspoon) and white pepper. Serve shrimp and succotash over hot grits.
Grits Bruschetta with Tomato Salsa
YIELD: ABOUT 2 DOZEN
3 cups water
1 cup uncooked stone ground white or yellow grits. Polenta also works here
1 teaspoon salt
1/4 cup (1 ounce) shredded Parmesan Cheese 1/4 teaspoon garlic powder 1/4 teaspoon black pepper Cooking Spray
2 tablespoons extra virgin olive oil, devided Tomato salsa
Combine water, grits and salt in a medium, heavy saucepan. Bring to a boil, stirring constantly. Reduce heat; summer, uncovered, 20 to 25 minutes or until grits are very thick, stirring often. If using polenta, add polenta to boiling water, reduce heat to medium low, and cook 14 minutes or until ver thick. Remove the grits from the heat, stir in parmesan cheese, garlic powder and pepper. Poru out onto a flat, heat resistant surface or baking sheet. Spread to about 3/8 inch thickness (10 inch square); allow to cool completely (about 1 hour) so that the mixture is firm to the touch.
Preheat the oven to 350 Fahrenheit. Once grits are very firm, cut into rounds with a 1 1/2 inch cookie cutter. Place on a baking sheet coated with cooking spray, brish with 1 tablespoon olive oil. Bake at 350 degrees for 15 minutes. Remove from the oven, flip rounds over, and brish other sides with remaining 1 tablespoon olive oil. Return to oven, and bake 10 more minutes. Remove and cook completely. Top rounds with salsa and serve immediately.
Tomato Salsa
YIELD: ABOUT 1 CUP
1 large tomato, finely chopped
1/4 cup minced basil
1 teaspoon minced fresh garlic
1 teaspoon fresh lemon juice
1 teaspoon balsamic vinegar
1 teaspoon extra virgin olive oil
1/4 teaspoon of salt
1/4 teaspoon black pepper
Combine all ingredients in a small bowl, cover and let stand 1 hour. Drain before spooning atop the bruchetta.
Southern Cornbread Dressing
YIELD: 6 to 8 SERVINGS
Old Fashioned Buttermilk cornbread for an 8 inch skillet Buttermilk Biscuits
2 tablespoons butter
1/2 cup chopped red bell pepper
1/2 cup chopped onion
1/2 cup chopped celery
1 cup turkey or chicken broth
1/2 cup whole milk
1 large egg, lightly beaten
1 teaspoon poultry seasoning
1/2 teaspoon rubbed sage
1/4 teaspoon black pepper
cooking spray
Prepare biscuits, and allow to cool until touchable. Coarsely crumble the cornbread and the biscuits. Place crumbs in a large bowl and set aside. Reduce the oven temperature to 350 degrees.
Melt butter in a heavy skillet; add bell pepper, onion, and celery and cook over medium high heat until tender, stirring often. Add vegetables to the crumbs in a bowl. Combine broth and the next five ingredients. Pour over crumb mixture and toss gently to mix. Spoon mixture into an 8 inch square baking dish coated with cooking spray; press down lightly to even out the mixture. Bake dressing, uncovered, at 350 for 40 to 45 minutes or until lightly browned.
Buttermilk Biscuits
YIELD: 4 BISCUITS
3 tablespoons cold butter, cut into small pieces
1 cup soft wheat self rising flour (such as White Lily) 1/4 cup plus 2 tablespoons of buttermilk
Prehat oven to 425 degrees. Cut the butter into flour with a pastry blender until mixture is crumbly. Sprinkle with buttermilk, and stir just until dry ingredients are moistened. Turn dough out onto a lightly floured surface, and knead 3 or 4 times. Roll to about 3/4 inch thickness. Cut with a 2 1/2 inch biscuit cutter, and place on a lightly greased baking sheet. Bake at 425 degrees for 12 to 15 minutes or until lightly browned.
Pecan Grits Pie
YIELD: SERVES 8
1 cup of water
1/4 cup uncooked stone ground yellow grits 1/4 teaspoon salt 1/4 cup plus two tablespoons of butter
1 cup of sugar
3/4 cup corn syrup
3 large eggs, lightly beaten
2 teaspoons vanilla extract
1 1/2 cups broken pecan halves, divided
unaked Pie Crust
Combine water and grits in a small saucepan; stir and let stand 1 minute. Carefully remove husks floating on top of water, using a small strainer. Add salt to grits; place over high heat, and bring to boil, stirring constantly. Cover, reduce heat and simmer 20 minutes or until thick, stirring often. When cooking a small amount of grits, cover pan to avoid losing too much liquid as steam during cooking. Cover and set aside.
Melt the butter in a small saucepan, add sugar and corn syrup, and cook over medium low heat about 10 minutes or until sugar dissolves, stirring constantly. Remove from heat. Whisk cooked grits into butter mixture; cool slightly. Whisk eggs and vanilla into butter mixutre until blended.
Preheat the oven to 325 degrees. Place 1 cup broken pecan halves in bottom of unbaked pie crust. Pour grits mixture over pecans in pie crust. Sprinkle with additional 1/2 cup pecans, and stir pecans very gently to coat with syrup and distribute evenly. Bake at 325 for 45 minutes or until set. Shield the edges of crust with aluminum foil after about 30 minutes to prevent excessive browning if needed.
Thanks for reading CBS NEWS.
Create your free account or log in
for more features.