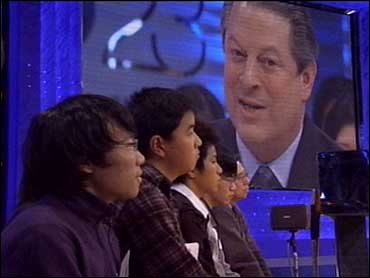 I'm Barry Petersen, and this Letter From Asia comes from japan. Al Gore and his movie, "An Inconvenient Truth", are offered to Americans as a wake-up call on global warming. Now, with the release of the movie here in Japan, he is out to win over a whole new audience.
Within a decade, there will be no more snows on Mount Kilimanjaro. The same heat that evaporates more moisture into the air pulls it out of the soil, and this can be very damaging for farmers and people who depend on the land for their livelihood.
As Vice President, Gore came to the conference in 1997 in Kyoto, Japan, and was instrumental in hammering out a global warming agreement, only to discover his own country would not sign it. Moderator Tetsuya Chikushi asked who disagreed with America's decision, and hands shot up around the room, including Gore himself.
And in Japanese theaters, "An Inconvenient Truth" is making new converts. On Japanese man says, "I feel fear that people are trying to hide this problem." A woman says she wants President Bush to understand that the economy can't exist if the earth is lost. What they're saying in Japan perhaps echoes what many in America also wonder; how different might the world be today, if only.
By Barry Petersen
Thanks for reading CBS NEWS.
Create your free account or log in
for more features.