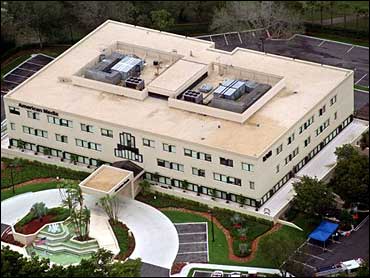 Giuliani Co. Cleaning Up Anthrax
Workers began pumping a potent chemical into the former headquarters of a supermarket tabloid Sunday to clean up the first target in a series of deadly anthrax attacks in 2001.
The cleanup is being led by BioONE, a company established by former New York City Mayor Rudolph Giuliani and Sabre Technical Services, which decontaminated other buildings hit by anthrax attacks.
"It will be a symbol that we can deal with these new risks that we live with in our new world," Giuliani said.
After a call of "Let's go" from Giuliani, workers started the flow of chlorine dioxide, a chemical used to disinfect drinking water, into the American Media Inc. building to kill the spores. A high concentration of the chemical is kept in the sealed building for 12 hours to be effective.
The cleanup is set to last 24 to 36 hours, to be followed by repeated tests to determine the safety of the building before a quarantine is lifted.
BioONE then plans to occupy the space as the headquarters for its new crisis management venture. The company hopes to move in by the end of the year.
The arrival of anthrax in the mail at the building was the first in a series of still-unsolved attacks that killed five people, among them photo editor Bob Stevens of AMI's tabloid the Sun. The attacks emptied Senate offices and a major mail processing center in the Washington area, rattling a nation shaken by the Sept. 11, 2001, terrorist attacks a month earlier.
AMI, which also publishes The National Enquirer, hurriedly abandoned the three-story office after the anthrax was found.
A real estate investor bought the building for a paltry $40,000 and then made plans to lease it to BioONE. The financial terms of the agreement have not been disclosed, though the decontamination at the larger Brentwood Post Office in Washington cost $130 million.
By Jill Barton
Thanks for reading CBS NEWS.
Create your free account or log in
for more features.