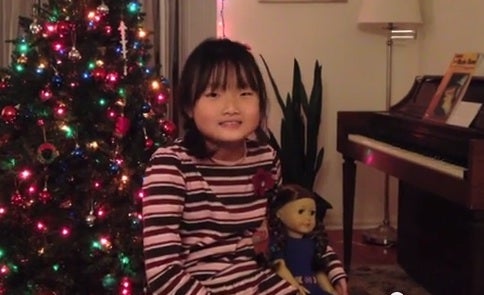 Girl with muscular dystrophy petitions Mattel to release disabled American Girl doll
Updated on Jan. 2 at 1:00 p.m. with a response from American Girl.
An online petition calling on American Girl to release a doll with a disability has been gaining traction and signatures with the help of an on-camera plea by the 10-year-old leading the charge.
Melissa Shang, from Paoli, Pa., has a form of muscular dystrophy called Charcot-Marie-Tooth disease. It has kept her from running or ice skating with her peers. She loves American Girl dolls, the Change.org petition notes, in part because they help her "understand how it feels to be someone else."
In their petition, Melissa and her sister YingYing are asking Mattel, which owns American Girl, to release a new doll that helps other girls understand what it's like to face what Melissa faces. (YingYing has since changed her name to Eva Shang.)
"For once, I don't want to be invisible or a side character that the main American Girl has to help," Melissa writes on her petition page. "I want other girls to know what it's like to be me, through a disabled American Girl's story."
The 45-second
YouTube video
that accompanies the petition opens with Melissa sitting in front of a Christmas tree holding Saige, American Girl's 2013 Girl of the Year doll
described by the company
as "a spirited girl whose passions inspire action."
In less than a minute, Melissa makes a confident, eloquent case for a doll like her.
"Disabled girls are American girls too," Melissa tells the camera. "We face challenges and overcome them every day."
The petition, addressed to Jean McKenzie, the president of American Girl and executive vice president of Mattel, calls for the company to release a "Girl of the Year for 2015 who is in a wheelchair so that all girls can learn about the difficulty of being born with a disability."
It has gained thousands of signatures in less than a week, more than 13,000 by late New Year's Day.
American Girl dolls have long been known for their unique stories - initially historical in nature and more contemporary in recent years. The stories often feature girls overcoming challenges. According to the company's site, the dolls are intended to "help girls grow up in a wholesome way, while encouraging them to enjoy girlhood through fun and enchanting play." Each year, the company releases a "Girl of the Year" with a new story and a new set of challenges.
The petition ends with praise for American Girl: "Thank you so much for telling the stories of so many girls throughout American history - and thank you in advance for telling this one."
American Girl responded to the petition with the following statement:
"We appreciate the enthusiasm and trust our fans have in us to create products and stories that speak to diversity and inclusion, and we applaud Melissa Shang for her amazing spirit and positive attitude.
"American Girl is proud of its positive reputation for inclusiveness, and it is an important area in which we remain committed to exploring and expanding. We receive hundreds of passionate requests to create a variety of dolls and books based on a wide range of circumstances, and we are always considering new ways to enhance our product lines."
Thanks for reading CBS NEWS.
Create your free account or log in
for more features.