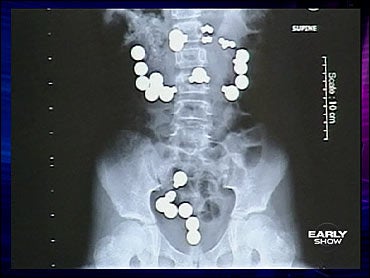 Girl Swallows 30 Magnets, Steel Balls
An eight-year-old Indiana girl swallowed 30 magnets and steel balls from a toy last month and, her father says, needed emergency surgery to save her from what doctors told him were eight gunshot or stab-like holes in her intestines.
Haley Lents told Early Show co-anchor Maggie Rodriguez Monday she ingested the ten magnets and 20 steel balls because they "looked like candy."
Haley's father, Jason Lents, told CBS News he "really" doesn't understand how Haley could have consumed the parts, because she "gets A's and B's, and we taught her not to do stuff like this."
Jason says doctors told him Haley is lucky to be alive. She spent two weeks in the hospital.
He says he and his wife were in the same room as Haley in their Huntingburg home when she consumed the items, and they didn't even realize it. He says they rushed Haley to the hospital two days later when she began experiencing pain so severe she could barely stand up.
The parts came from a toy called Magnetix, made by Mega Brands, which issued a statement about the incident: ""Mega Brands was saddened to learn that a child sustained injury from ingesting a large number of toy parts, some of which apparently contained magnets. While we have not been able to confirm whether the toy involved was a MEGA Brands product, it is clear this was a highly unusual and isolated situation and is not indicative of any problem with Mega Brands' magnetic construction toys currently on the market. In general, if a child swallows 30 pieces of any toy, it is likely that it will result in harm regardless of the toy in question."
Haley told Rodriguez she wants other kids to know they shouldn't eat toy parts.
Jason also wants to get the word out. He pointed out to Rodriguez that, "These are high intensity magnets. There are so many parents out there that have no idea that these toys -- it just takes two magnets to kill someone. ... And because they are so easy to swallow ... (Mega Brands hasn't) done enough. Now, Mega ... has said that, coming out in July of '08, next month, that they have a completely redesigned magnetic set that contains no magnetic parts that can be swallowed. ... They obviously feel that there's an issue."
To see the complete interview of Haley and Jason Lents, click on the video below.
Thanks for reading CBS NEWS.
Create your free account or log in
for more features.