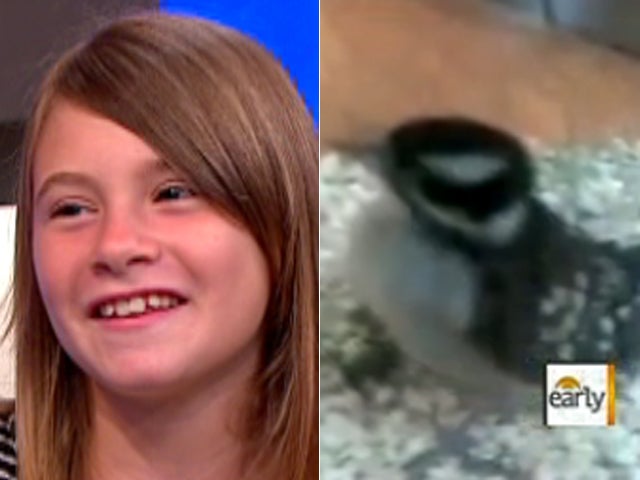 Girl saves woodpecker, but her mom fined $535
While at her father's house near Fredricksburg, Va., on June 13, 11-year old Skylar Capo rescued a baby woodpecker from being eaten by her cat.
An avid animal-rescuer, Skylar was excited when her mom, Alison, agreed that she could nurse the bird back to health.
Alison told CBS News, "She was just going to take care of it for a day or two and let it go."
On the way home, the family stopped at a Lowe's store, bringing the bird with them to shield it from the heat in the car.
Inside the store, a woman confronted them, saying she was from the U.S. Fish and Wildlife Service. What the Capos didn't know was that, under the Federal Migratory Bird Act, it is a crime to take or transport a woodpecker.
Skylar said, "I was a little bit upset, because I didn't want my mom to get in trouble."
However, her mother did get in trouble. Two weeks later, the Capos got an unexpected visit from the same officer they met at Lowe's, accompanied by a Virginia State trooper. Although the Capos released the woodpecker, Alison was issued a $535 citation.
At the time, Alison said, "I feel harassed and I feel angry."
Alison refused to take the ticket because she was no longer in possession of the bird. But last week -- more than a month after her confrontation with the wildlife officer -- she received notice of the fine in the mail.
But according to the U.S. Fish and Wildlife Service, "The citation was processed unintentionally," and the agency apologized for "the clerical error."
On "The Early Show," Skylar and Alison shared their story.
Skylar said she helped the woodpecker because it "was a really, really cute bird."
"I just couldn't see my cat kill it and bring it up to my porch," she said.
Alison said getting a fine for taking in the bird was "the most ridiculous thing" she's ever heard.
She added, "It was also sending a bad message to (Skylar), because she had gone out and tried to do something she thought was a good deed and something that was just natural to her, because she's always loved animals."
Alison continued, "They were basically saying, 'Well, if you do this, we're going to slap your mom with a $535 fine and a year possible jail time,' so (Skylar) was pretty scared."
As for the woman the family met at Lowes who said she was from the U.S. Fish and Wildlife Service, Alison Capo said, "I don't know if she thought it was going to be in a cage in our kitchen and it was our family pet. I have no idea. I didn't want a woodpecker for a pet, for sure."
Skylar added, "I knew we had to let it go. I don't want big holes in my room in the drywall everywhere."
Though Skylar says she was surprised by all the controversy, she says she will continue to save birds, if the occasion calls for it.
"I know that it's saving something's life," she said. "I'd rather pay than let something die."
Thanks for reading CBS NEWS.
Create your free account or log in
for more features.