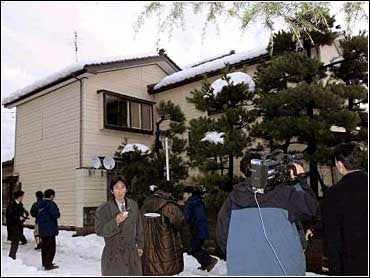 Girl Appears After 9 Years
For nine years since she vanished in northwestern Japan, Fusako Sano, now 19, says she never ventured outside the second story of her captor's house, too afraid to escape.
The man suspected of confining her brought her meals, cut her hair and gave her men's clothes to wear, Japanese media reports said Saturday. She spent much of her time watching TV and later gave up trying to escape, the Asahi newspaper said.
Sano, then a 9-year-old fourth grader, was last seen watching baseball in a school yard. All efforts to find her had been in vain.
She turned up Friday after police answered a call that an unemployed man was causing a disturbance at a hospital. Sano, who was with the man, approached the officers and identified herself, Mizuno said.
Police were investigating Saturday whether the 37-year-old man who had brought Sano to the hospital had kidnapped her.
"I was abducted near the school by a man who forced me into a car," Kyodo News service quoted her as telling police. "For nine years, I did not take a step out of the house. Today, I went out for the first time."
Sano had no injuries but was hospitalized for exhaustion, said a police officer who only gave his surname Mizuno.
Sano was later reunited with her parents, Mizuno said. When the mother saw her, she called out her name and hugged her.
Police would not say why the man, whom they would not identify, came to the hospital. He is also being hospitalized, Mizuno said without elaborating.
The house is in an ordinary residential area, in Niigata, 160 miles northwest of Tokyo, just 600 yards from a police station, Kyodo said.
The man's mother, who also lived in the house, said she did not know her son was holding anybody upstairs. Her son was violent and she was afraid to go up to the second floor, the media reports said.
Niigata police set up a 45-member investigative team, but there were no arrests as of Saturday.
Thanks for reading CBS NEWS.
Create your free account or log in
for more features.