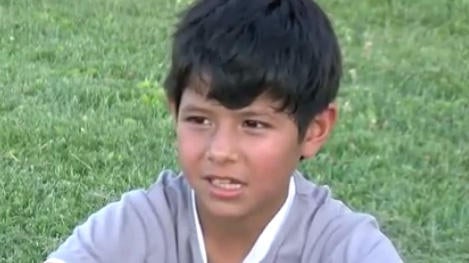 Girl, 8, booted from soccer tournament for "looking like a boy"
OMAHA, Neb. -- Milagros 'Mili' Hernandez, an 8-year-old girl from Omaha and her team were disqualified from a soccer tournament over the weekend after officials allegedly insisted Mili was a boy, reports CBS Omaha affiliate KMTV.
Mili has been playing soccer for years and is part of the Azzuri Cachorros Chicas club team in Omaha.
Her team played three games at the Springfield Soccer Club tournament Friday and Saturday and was scheduled to play in the semi-finals Sunday.
However, Mili's team never made it onto the field.
Mili's coach, Mario Torres, says he got a call from an organizer of the tournament Sunday morning, informing him Mili was listed as a boy on the roster. He said they told him Mili and the entire team were disqualified.
"I was mad," said Mili. "There was no point in everybody getting kicked out."
Torres told KMTV he immediately called Mili's dad and told him to take Mili to the soccer fields and bring identification.
"We showed them all different types of IDs," Alina Hernanderz, Mili's sister, told KMTV. "The president of the tournament said that they had made their decision and he wouldn't change it. Even though we had an insurance card and documentation that showed she is a female."
"They just weren't listening," said Mili. "They said I looked like a boy. My brother says it's only because of my looks. So when they look at me they think I'm a boy but I'm really not."
Torres said he believes there was a typo with Mili's gender on the roster, but says tournament officials handled it inappropriately.
"We had already paid to play, we had already played three games – why was this not resolved before the semi-finals?" asked Torres. "Even if it was a mistake, they did not need to humiliate her or kick the entire team off the field."
Parents of Mili's teammates are now upset with tournament officials.
Torres held a special meeting after practice Monday night to address concerns.
"There needs to be justice," said one parent.
Torres said what they did to Mili was gender discrimination, but he thinks this also had to do with race.
"The president of the tournament hounded me all throughout the tournament. He disqualified three of my four teams in the tournament for bogus reasons. He caused a lot of problems and for that reason, we feel this had to with race," said Torres.
The Cachorros team filed a complaint with the Nebraska State Soccer Association (NSSA).
Mili says she will continue to keep her hair short and play soccer.
Officials from the Springfield tournament and the NSSA didn't immediately respond to KMTV for comment.
Former Team USA stars Abby Wambach and Mia Hamm weighed in on Twitter:
Thanks for reading CBS NEWS.
Create your free account or log in
for more features.