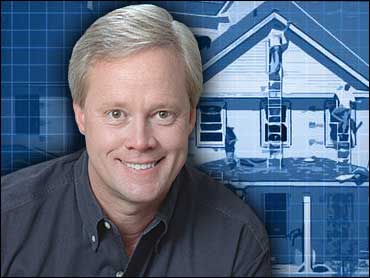 Gifts For Home Improvement Gurus
Scratching your head, trying to figure out what to get for the holidays for that do-it-yourself, home improvement enthusiast on your list?
Danny Lipford, host of "Today's Homeowner," stops by The Early Show Friday with practical suggestions. Most sell for under $100.
They include:
The Tradesman Gift Stocking: Stick a few tools and gadgets into this stocking, and you're likely to please anyone. The stocking is made of 12 ounce fire hose material and includes leather trim, red elastic suspenders, and a hanger enabling you to place it above your fireplace. The stocking is 19 inches deep. $19.50 duluthtrading.com
Skil® iXO Power Screwdriver: Compact enough for small hands, yet powerful enough for some serious home improvement. The iXO runs on a lithium-ion battery that holds 80 percent of its charge even after 18 months of non-use. The iXO comes complete with a 34-piece bit set, battery charger and carrying case. $39 homedepot.com
Precision Knife Sharpening Kit: For use when sharpening pocket, kitchen or hunting knives. Just select the diamond stone (400, 600 or 1200 grit) for the type of sharpening you need, clamp your knife in the holder, screw in the guide rod, and start sharpening. Your knife will be razor-sharp in minutes. The kit includes knife clamp, angle guide, guide rods and three diamond sharpening stones in a carrying pouch. $34.99 woodcraft.com
Old Time Whittling Kit: "Old Time Whittling, An Introductory Text," by Keith Randich, and a few essential carving tools are included in this beginners kit that has what you need to learn the basics of whittling. The book includes step-by-step instructions to learn the basics of whittling, plus carving knife, leather bench strop, thumb guards for safety and kiln dried basswood. $52.99 woodcraft.com
Black & Decker Storm Station(tm) All-in-One Emergency Power Station: You can stay informed and be prepared when the next emergency hits with the new portable Storm Station all-in-one weather radio, power inverter, detachable flashlight and more. This station offers three sources of light that automatically turn on when the power goes out. To be prepared for an outage, keep the Storm Station plugged into an electrical outlet to maintain its charge. $99.99 blackanddecker.com
Husky Portable Power System: This portable power system is for roadsides, camping, boating and emergencies. It's a take-anywhere source of power for 110/120-volt AC products (fans, power tools, TVs, battery chargers, etc.) and 12-volt DC products (lights, radios, camcorders, etc.). It also has a built in air inflator and jumper cables to jumpstart vehicles, boats, etc. $89.99 homedepot.com
Warmrails Heatra Classic Towel Warmer and Drying Rack: A towel warmer and drying rack keeps towels dry, warm and fresh all year 'round. This rack uses less energy than an average light bulb. Not only can it be used to warm your towels, but also for drying delicate clothing. The unit can be portable or mounted to a wall. It's easy to begin warming or drying your towels: Simply plug the rack into a standard electrical outlet. Available in chrome, polished brass or satin nickel finishes. $69.99 warmrails.com
Weber Flame Outdoor Fireplace: If you're looking for a fireplace for your outdoor living area, Weber has a new outdoor gas fireplace called the "Flame." The Flame includes lava rocks and eight movable fiber/ceramic logs to provide a natural looking flame that completely eliminates flying embers. The fireplace features a heavy-duty base, two crack-proof wheels for easy movement, and a push button igniter. LP tank and natural gas line models are available. $649.00 weber.com

Thanks for reading CBS NEWS.
Create your free account or log in
for more features.