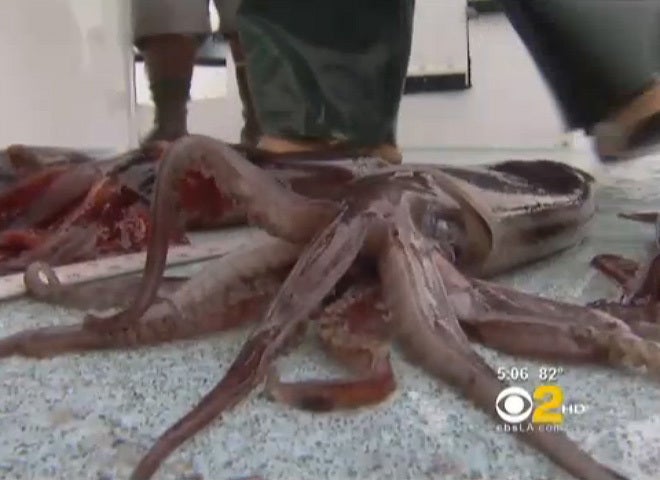 Giant squid carcasses invade Calif. coastline
Giant squid - some weighing as much as 20 pounds - have been washing up on beaches in Orange County the past few days delighting (or perhaps horrifying) locals.
There are hundreds of squid carcasses washed up on beaches all over San Clemente and Oceanside.
While people walking on beaches might not be fond of stepping on the squid, or trying to dodge them, fisherman in Newport Beach couldn't be happier with their catch of the day.
"They're hauling in bagfuls of jumbo squid," reports KCBS correspondent Michele Gile.
One sports fishing expedition on Wednesday came back with 990 of the large creatures.
Dave Schmitt of Davey's Locker Sportsfishing describes the scene as "pure mayhem ... and they're just everywhere."
Dan Phillips, a fisherman, told Gile the squid are not an easy catch. "It's hard work," he says, "they fight hard. You've got to remember, you're working a mechanically, manually-worked reel ... and they're jet-propelled."
The squid, known as Humboldt squid, were last seen in Orange County two years ago. They are usually found in deeper waters, so it's rare for locals to encounter them - on sea or land.
A state Fish and Game warden told the Orange County Register the squid most likely died after spawning, a natural occurrence.
Cleanup crews were working Thursday to remove the carcasses.
Click on the video player below to watch the report by CBS Station KCBS.
Thanks for reading CBS NEWS.
Create your free account or log in
for more features.