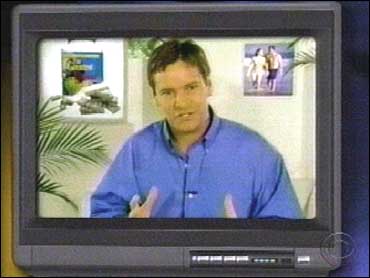 Get-Rich-Quick Plan A Scam?
He's been on TV for years selling his schemes for making money with tiny classified ads or 900-numbers.
Now, Don Lapre has a new scheme, with what he calls the "greatest vitamin in the world," a scheme CBS News Correspondent John Blackstone reports may be the worst deal on earth.
"I've created the easiest way in the world that can make you an absolute fortune," says Lapre at the beginning of a TV infomercial.
Lapre, a get-rich-quick infomercial master, is now peddling wealth through vitamins.
"You get just 20 people to try the greatest vitamin in the world, we will send you a check for a thousand dollars," Lapre promises in the infomercial.
"I was interested because everything sound so good," says Kelly Phu, a 27-year-old immigrant from Vietnam. "I signed up the same day," she says.
What Lapre is actually selling is Web sites that advertise his vitamins. You buy a Web site then hope somebody shows up to buy vitamins.
Lapre offers the Web sites for $35. But Kelly Phu didn't pay just $35.
Lapre's company kept selling her extras and the total sum she paid to the company added up to $5,175.
Lapre says the extras were designed to bring more buyers to Kelly Phu's Web site, but Phu says only one person ever visited her site.
But Lapre says he sends out big checks every week in amounts ranging from $3,500 to $22,782, which he says was earned by a single person.
But even some on Lapre's money maker list, like Susan Kraut in Spokane, Washington paid more for their Web sites than they made selling vitamins.
Kraut says she has put about $5000 into her Web site and as sold about 23 bottles of vitamins.
And then there's Igor Somda who also says he hasn't made any money selling the vitamins so far.
Lapre says CBS News picked out the weak testimonials, but the catch is that Somda is shown claiming success in one of his ads.
He is featured in an infomercial making claims like, "This is the easiest thing I've ever done and I'm making over $100 an hour."
Somda told Blackstone he sold six bottles of vitamins.
"Igor was one of our weakest testimonials," says Lapre.
Somda did make $600 convincing others to buy Web sites from Lapre. Lapre insists that those who are determined, can profit, but when it comes to making money, few can be more determined than Don Lapre.

Thanks for reading CBS NEWS.
Create your free account or log in
for more features.