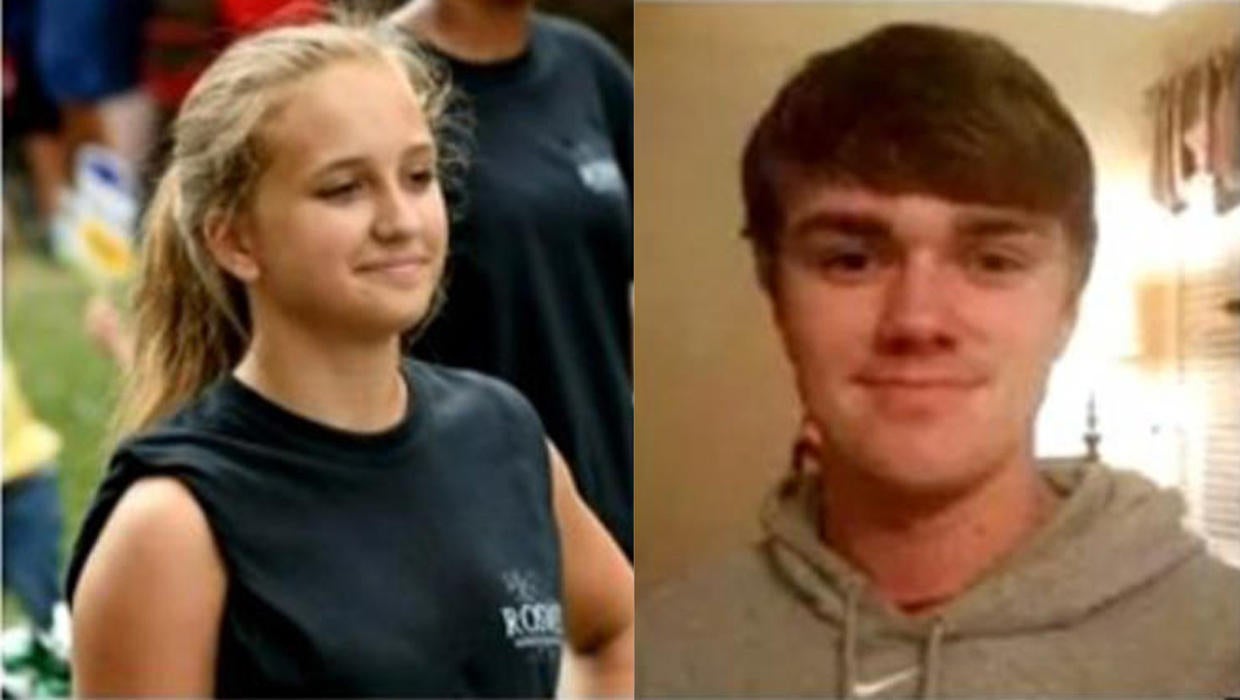 Suspect enters plea in fatal shootings of Ga. teens behind grocery store
ROSWELL, Ga. - The man accused of killing two Georgia teenagers as they sat inside a vehicle behind a grocery store entered a not guilty plea Thursday morning, reports CBS affiliate WGCL.
Jeffrey Hazelwood, 20, is charged in the deaths of 17-year-old Carter Davis and 17-year-old Natalie Henderson, whose bodies were found behind a Publix supermarket in Roswell in early August.
Detective Jennifer Bennett of the Roswell Police Department testified in August that Hazelwood eventually admitted to detectives after his arrest that he watched the victims as they were together in the back seat of Henderson's car at about 3 a.m.
"He admitted when he originally saw the vehicle, he became curious as to why they were going behind the Publix so he followed them back there," said Bennett. "He admitted to watching them from behind an electrical box for some time. He then told me he climbed to the top of the store and watched them from the top of the store."
According to Bennett's testimony, Hazelwood said he approached the car and pointed a gun at the victims, forcing them out of the car. Hazelwood said he became scared of Davis, so he shot him in the head, Bennett testified.
The detective said Hazelwood then said he forced Henderson, who was partially clothed, to remove the rest of her clothing. He claimed he then sexually assaulted her. The autopsy report, however, said there was no sign of sexual trauma.
"He said at that point he got the female out of the car and made her lean over the hood from the side of the car," said Bennett. "He said that he spanked her."
As Bennett testified, she reportedly became emotional and had to take a moment to compose herself. Bennett went on to say Hazelwood said he then shot Henderson in the head and that she fell next to the car.
In court on the day after his arrest, Hazelwood's hands reportedly shook constantly, and he looked around oddly at the courtroom ceiling. At one point he made a stroking movement, as if he was petting an animal in his lap.
Hazelwood's defense attorney said his client has a history of mental illness and has been diagnosed with schizophrenia, bipolar disorder, sensory disorder and has Asperger's Syndrome.
"This is about mental illness, and he's ill," said attorney Lawrence Zimmerman.
The Atlanta Journal-Constitution reports that in his brief appearance on Thursday he was calm, not shaking.
Hazelwood is charged with two counts of murder, three counts of felony murder, two counts of aggravated assault, kidnapping, aggravated sexual battery, fraud and two counts of possession of a firearm during commission of a felony.
Thanks for reading CBS NEWS.
Create your free account or log in
for more features.