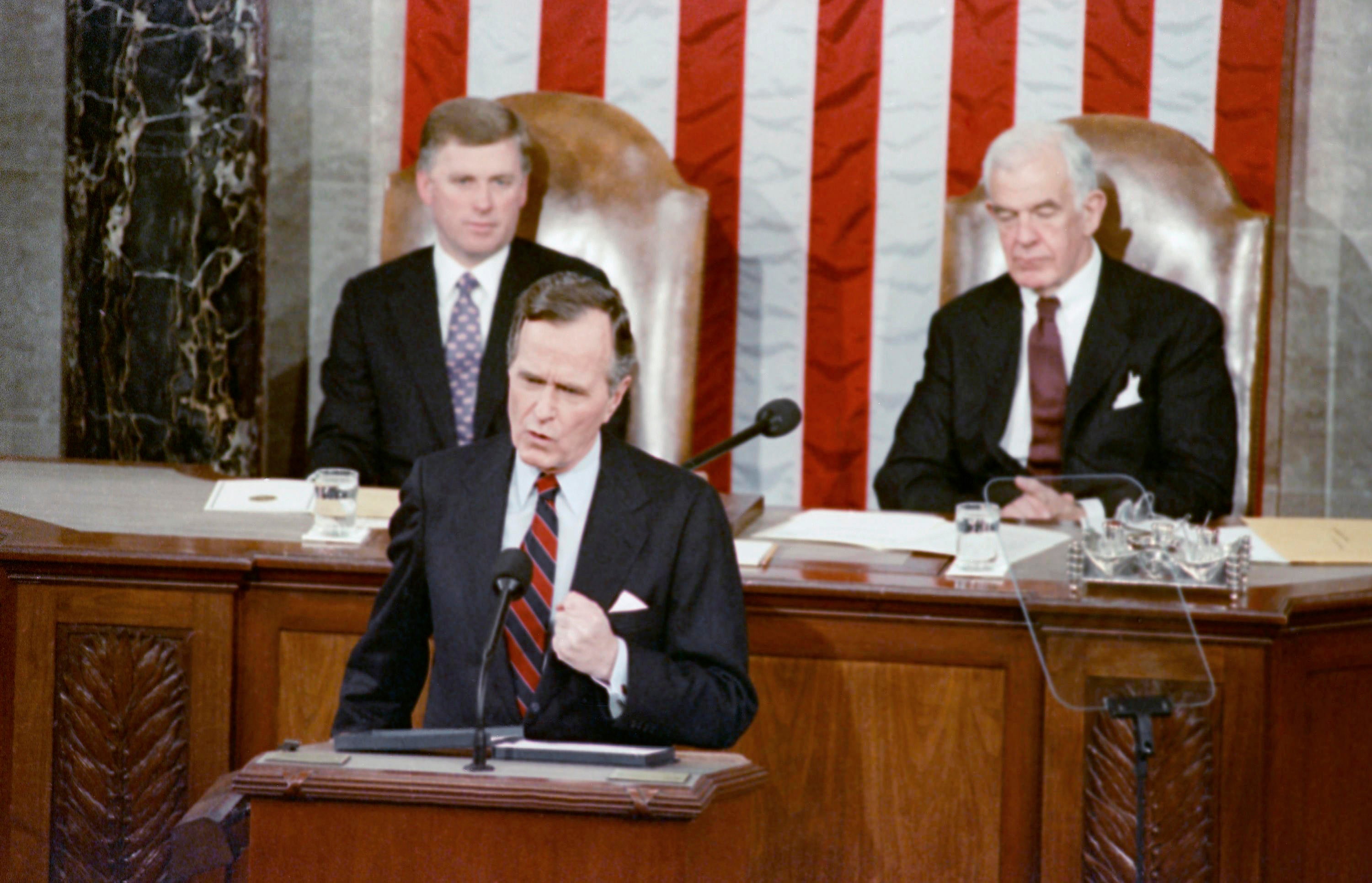 George H.W. Bush's life of public service
George Herbert Walker Bush has died at 94. Although Bush is best known as the 41st president, and the father of the 43rd president, his life was defined by public service long before he entered the White House.
"It's a remarkable American story," Susan Page, Washington bureau chief for USA Today who covered Bush's entire presidency, said of his life on "CBS This Morning Saturday."
President of the United States
1989-1992
Although he only served one term, Bush's presidency helped shape American foreign policy in the decades to come. Most notably, Bush oversaw the first Gulf War in 1991, after Saddam Hussein and Iraqi forces invaded Kuwait.
Bush assembled a global coalition, waging an air and ground campaign known as Operation Desert Storm. Kuwait was liberated in just six weeks. Bush didn't order U.S. troops to press on to Baghdad, fearing a long war.
U.S. forces returned to the Gulf a decade later under his son, President George W. Bush.
Bush also oversaw negotiations for the North America Free Trade Agreement, which was then ratified under President Bill Clinton. He was the president during the dissolution of the Soviet Union, and signed the first Strategic Arms Reduction Treaty.
"With the benefit of a little bit of hindsight with George H.W. Bush's presidency, he looks bigger than he did at the time he left office. He looks more successful, more consequential, because of the skill with which he handled the end of the Cold War," Page said.
Bush also appointed two justices to the Supreme Court: David Souter and Clarence Thomas.
Page said that he also was "a groundbreaker when it came to AIDS," and recognizing the problem in U.S. culture.
Vice President of the United States
1981-1989
After unsuccessfully seeking the Republican nomination for president in 1980, Bush was chosen by President Ronald Reagan to serve as vice president. Bush served as a loyal surrogate to Reagan throughout his two terms, representing the U.S. in trips abroad. Bush chaired two special task forces, on deregulation and international drug smuggling.
"When you read Ronald Reagan's diaries," said presidential historian Douglas Brinkley, "you'll get to see how much he relied on George Bush. And when Reagan left after two terms, he was very much for George Herbert Walker Bush becoming his successor."
In a speech accepting the 1988 Republican presidential nomination, Mr. Bush described America as a nation of communities, "A brilliant diversity, spread like stars,
like a thousand points of light in a broad and peaceful sky."
CIA Director
1976-1977
Bush served as CIA director in the last year of President Gerald Ford's administration. Bush inherited oversight of an agency which had been rocked by scandal, after a congressional committee detailed abuses by the CIA abroad. Bush helped to boost morale within the agency. While he was in office, the U.S. supported right-wing dictatorships in South America.
Envoy to China
1974-1975
Ford appointed Bush to be chief of the U.S. Liaison Office of the People's Republic of China shortly after he took office. As the U.S. still recognized Taiwan as the Republic of China, Bush was not technically ambassador, although he functionally served as one.
Bush's work strengthened the burgeoning relationship between the U.S. and China.
Chairman of the Republican National Committee
1973-1974
Ever willing to take one for the team, Bush accepted President Richard Nixon's request for him to become chairman of the RNC amid the Watergate scandal. Bush was initially a strong defender of Nixon, but his true loyalty was to the Republican Party, and he later formally requested that Nixon resign in his capacity as chairman of the party.
Ambassador to the United Nations
1971-1973
After losing his race for the Texas Senate — which he had run at Nixon's request — Nixon appointed him ambassador to the United Nations. He was ambassador during the waning years of the Vietnam War.
Congressman from Texas
1967-1971
In 1966, Bush was elected to be the first Republican to represent Houston in the House of Representatives. Although his voting record was generally conservative, he supported the Civil Rights Act of 1968 and access to birth control.
Naval Aviator in World War II
1942-1945
Bush enlisted in the U.S. Navy immediately after graduating from high school. At age 19, he was the youngest pilot for the U.S. Navy at that point.
In 1944, Bush's aircraft was hit and his engine caught fire during an attack, but he completed his mission despite the fire. After he and another crew member bailed out of the plane, he waited four hours in an inflatable raft to be rescued.
The experience had a profound influence on Bush, especially since others involved in the attack had died, leading him to ask, "Why had I been spared and what did God have for me?"
Thanks for reading CBS NEWS.
Create your free account or log in
for more features.