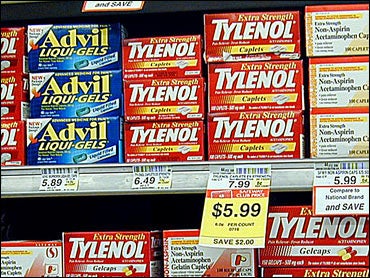 Generic and Store Brands vs. Brand Names
The security of buying a name brand product may cost you a little extra, but is it worth it when the generic or store brand version of the same item is sitting right there on the store or supermarket shelf?
Lifestyle expert Robyn Moreno, author of "Practically Posh," said on "The Early Show on Saturday Morning" that -- it depends on the product.
Pain Relievers
When it comes to pain relievers,if there's a generic version available, go for it.
To be certified a "generic" by the Food and Drug Administration, a pain reliever hasto have the same "active ingredient" as its brand name equivalent. For instance, the "active ingredient" in Advil is ibuprofen. The generic also has to have an efficacy rate similar to that of a name brand, usually within a 20 percent range.
Name brands cost more because those companies spend money on research and development, as well as advertising, and generics ride their coattails, so to speak.
All this means if you have a headache and want ibuprofen, you can get a store brand, such as Equate from Wal-Mart, at a cheaper price than Advil, and they'll work essentially the same.
The main difference between the two is that store/brands can contain additives, like caffeine, which will have side effects. And generics might be absorbed differently in the body (gel caps compared to pills, for instance), which affects efficacy. So, check with your doctor and try out the more affordable versions for yourself to see if they work for you.
To find out if there's a generic version of a drug you take, check here.
Fashion
When it comes to "trend-of-the-moment" items you'll only wear one season, there is NO point is spending hundreds of dollars. For instance, cargo pants are always popular for summer. Intermix stores have some great ones for $255, but you can save money on less expensive cargo pants from TJ Maxx for only $55. The styles are similar, but the savings are huge.
For classic fashion pieces you'll wear year-after-year, invest in quality items like leather wallets and shoes, and cashmere sweaters. They can be paired with less expensive clothing, but give a more chic look. The quality stands out with these items, because the leather is often hand-made, as opposed to a factory-produced, and will last for many years, saving money in the long-run.
Makeup
There are specific items you can buy at the drugstore that are just as good as prestige brands at the department store. Items such as Maybelline the Colossal Volumn Express Mascara work just as well as a high-end one. With higher-end brands, you pay for the name. Makeup artists consistently call out Maybelline as their favorite mascara.
But splurge on higher-end department store foundation, such as Laura Mercier, which has more pigment, and comes in more varieties for skin type (oily/dry) and skin tone. Plus, it's not as irritating to the skin as some less expensive drugstore cheaper brands. Another benefit of buying high-end foundation is that you can try it at a department store to get right shade, as opposed to a drug store, where you can't. You can save money there alone in time and frustration.
Toiletries
When it comes to hand soaps, the cost of name brands, such as Soft Soap for $2.49, isn't much more than their store name counterparts, such as Walgreens liquid hand soap for $1.99. Plus, the packaging is more attractive, which is better for aesthetic purposes.
For toilet paper, some store brands aren't much cheaper than name brands, so why not go higher-end for them? Brand names are better quality and more absorbent.
Manicure kits are ideal to keep in the bathroom for the whole family. The Kiss brand version is great for men and women for $9.99, while the Walgreens store brand, Studio 35, is $10.79. So the brand name is cheaper here. So, when it comes to toiletries, go for quality, since the savings aren't too huge.
Gasoline.
The price difference between the gasoline at the name-brand stations, such as Exxon/Mobil, and "off-brand" stations can be about 20 cents a gallon. That amounts to $14 a month for the average driver, and that adds up to more than $170 per year.
Studies have shown, in essence, that "gas is gas" -- that the gas at the two types of stations is essentially the same.
Moreover a recent report showed that off-brand stations often receive their delivery from the same tank trucks that deliver to the name-brand stations, and even name-brand stations can receive gasoline from a different name-brand refinery!
Some people are brand-loyal because they might have credit cards with a name brand store, but if you want cheaper gas, go off brand.
Thanks for reading CBS NEWS.
Create your free account or log in
for more features.