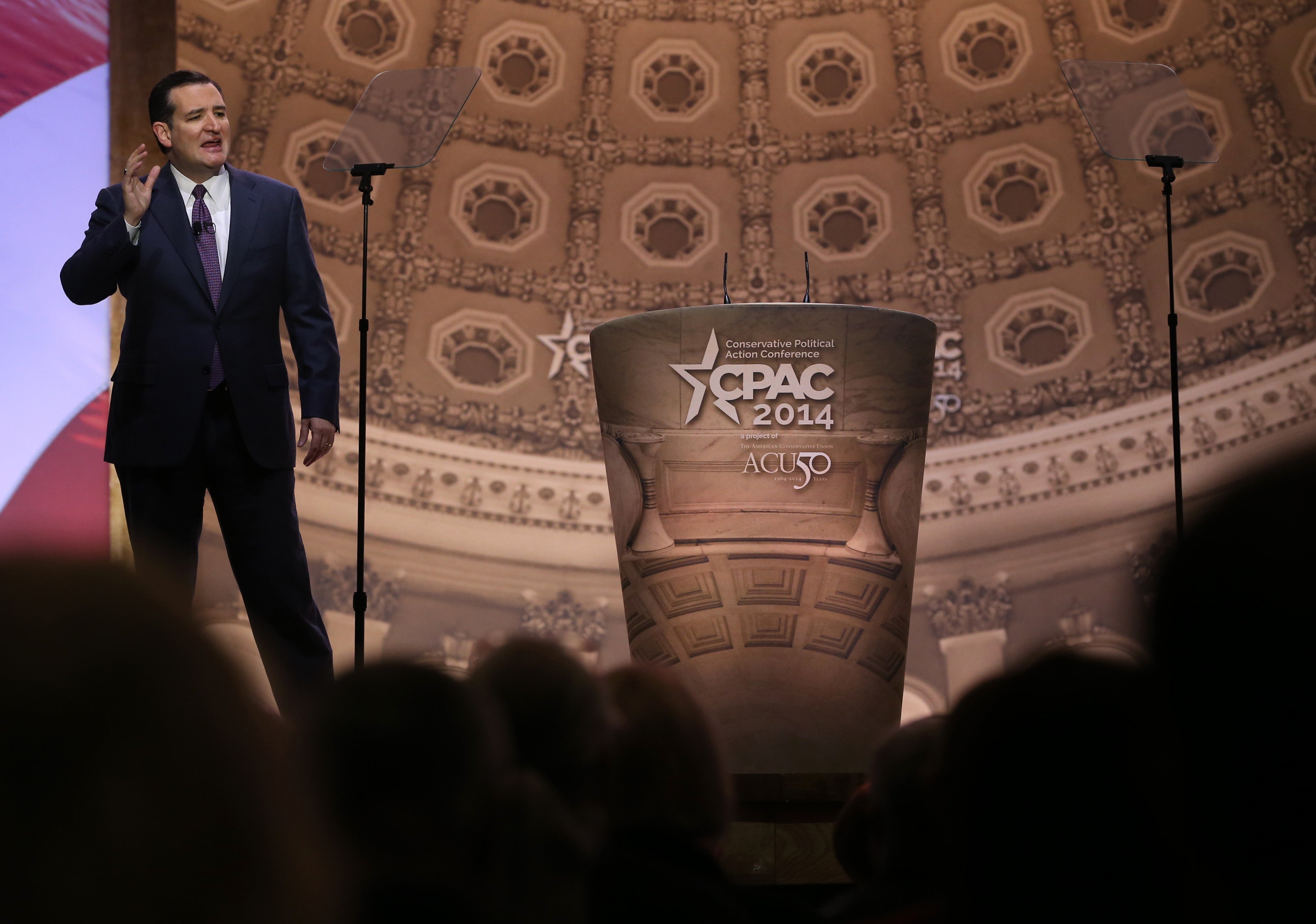 The Log Cabin Republicans (LCR), a gay GOP group, say they have been excluded from next week's Conservative Political Action Conference (CPAC), and they're not at all happy about it.
"Make no mistake: LCR is actively being prohibited from sponsoring CPAC," said the group's executive director, Gregory T. Angelo, in a statement on Thursday.
The American Conservative Union (ACU), the group that spearheads CPAC, says the Log Cabin Republicans never applied to be a sponsor of the conference this year.
"Had they applied, they would have been subjected to the same review as every other application. We do not bar any groups or individuals based on sexual orientation," ACU Chairman Matt Schlapp said in a statement. "All conservatives, including gay conservatives, are welcome to be at CPAC."
Schlapp also pointed out several gay panelists who are scheduled to address the conference this year. But Angelo said that's simply not the point.
"The ACU is fond of hiding behind a fig leaf stating gay people are welcome as guests, but the ability to buy a ticket to CPAC was never what our debate was about," he said. "This has always been about contributing to CPAC as sponsors or in some recognized capacity. Time and again, when we showed the ACU that we met their criteria for sponsorship, the reasons for our exclusion changed."
Angelo said his group began coordinating with CPAC's organizers in July 2014 about participating in this year's conference, and the organizers told the group it would be difficult because the Log Cabin Republicans are a "Republican" organization, not a "conservative" one. When Log Cabin Republican leaders pointed out a number of other nominally Republican groups who've participated in CPAC, Angelo said, his group was told they aren't "conservative enough." They fired back with a list of conservative positions they've taken in recent years.
"The American Conservative Union has the right to invite or not invite whoever they want to the Conservative Political Action Conference, but they should be honest about the reasons why," Angelo said. "The only conclusion that can be made is that the organizers of CPAC do not feel gay people can be conservative--a position opposed by the thousands of Millennial CPAC attendees who have been asking Log Cabin Republicans for months if we would be participating at this year's event."
"We are just as conservative as anyone else at CPAC--I dare say even more conservative than many; the only difference is that we are gay," he added.
Schlapp alluded to concerns about the Log Cabin Republicans' conservative credentials in his statement.
"Our standards for any group are the strength of their conservative principles," he said. "If the Log Cabin Republicans want to take a leadership role in the conservative movement, they need to start advocating for conservative policy solutions and siding with conservative candidates in primaries, even when it means taking on moderate Republicans. We encourage them to do just that."
Angelo said one of the "greatest ironies" of the whole kerfuffle is the fact that CPAC organizers plan to bestow a "Freedom of Speech Award" this year on Phil Robertson, the star of popular TV show "Duck Dynasty" who came under fire in 2013 after he disparaged gay people in an interview with GQ.
Angelo pointed out that the Log Cabin Republicans extended the hand of friendship to Robertson in the wake of those remarks. "If anyone should be honored with a Freedom of Speech Award at this year's CPAC, it should be Log Cabin Republicans," he said.
Though the war of words between CPAC and gay Republicans seemed to boil over this year, it's only the latest salvo in a fight that's been going on for some time. 2015 will mark the third year the Log Cabin Republicans say they've been excluded from participating in CPAC in an organized capacity.
Before that, the group sponsored some side events, but not the main conference, and they were provided with space in the main exhibit hall to push their message and hand out swag. Even that level of participation by gay groups in CPAC, though, was too much for some conservatives to stomach.
In 2010, Ryan Sorba of the California Young Americans for Freedom used a brief speech at the conference to condemn CPAC's organizers for providing gay groups with space in the convention hall. When some in the crowd began to jeer Sorba, he became visibly agitated. "You sit down," he ordered his hecklers. "The lesbians at Smith College protest better than you do."
The episode was emblematic of a quandary facing the conservative movement (and, by extension, the Republican Party). While wide swaths of conservatives, particularly on the religious right, continue to oppose same-sex marriage and legal equality for gay people, polls show society as a whole moving in favor of greater acceptance.
Young, libertarian-friendly conservatives -- who play a big role in CPAC -- are inclined toward the latter group, and Republicans are trying to find a way to win over these voters without alienating traditional conservatives.
Thanks for reading CBS NEWS.
Create your free account or log in
for more features.