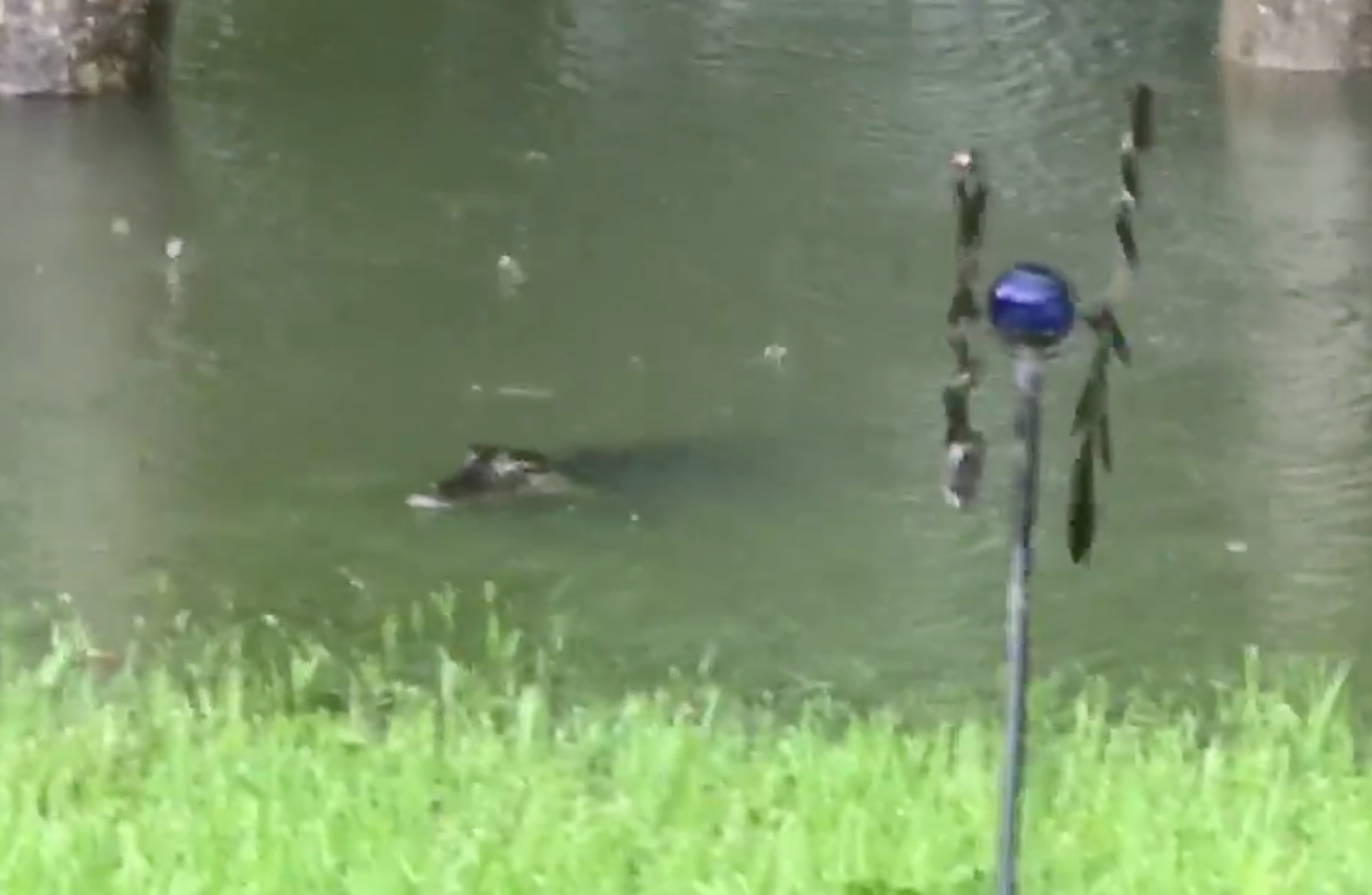 Gators take up residence in Texas woman's fenced-in yard during Harvey
Arlene Kelsch was scanning her flooded backyard Sunday morning when she spotted two beady little black eyes staring back at her.
The woman from Missouri City, Texas, thought it was just a speck of dirt on a piece of wood, floating in the nearly 10 feet of water that poured into her fenced-in yard as Tropical Storm Harvey, downgraded from a hurricane, dumped historic levels of rainfall on the area.
"There was just enough movement so you could see the curvy eyeball and you knew something was different about it," Kelsch told CBS News.
She quickly realized it wasn't a log at all -- it was an alligator.
Missouri City is just a short distance outside of the Houston metro area, so many people were surprised by Kelsch's discovery. But it's nothing new for Kelsch.
"There's a lot of deer and wildlife around here," said Kelsch, who lives near Lake Olympia. "When springtime rolls around, you do see the occasional baby alligator in the neighborhood. We even have little alligator crossing signs."
But Kelsch had never seen an alligator quite this size before. She estimated the gator to be roughly 8 feet long.
"It was slightly creepy, but we knew we weren't going to open our doors," Kelsch said. "It looked at me as if it spotted me in the window."
Kelsch kept a close eye on the gator, checking her backyard every 30 minutes or so. When she took another peek outside her glass door around noon on Sunday, the gator was in the same spot.
When she turned to walk away, she spotted something else move out of the corner of her eye. It was a second gator, this one around 6 feet long, resting a few feet away from her patio.
"It's a good reminder that people shouldn't just play around in the water, which sometimes they do," Kelsch said.
Texas officials warned residents to be on the lookout for alligators and other displaced wildlife due to the storm.
"Gators and flooding advice via @txgatorsquad: Expect them to be displaced," the Fort Bend County Sheriff's Office tweeted on Thursday. "Simply looking for higher ground. Leave alone until water recedes."
Heeding officials' advice, Keslch said she'll wait to report the gators until the water in her backyard drains.
"When water starts to go down they may stay in our backyard," she said.
Monday afternoon, Kelsch left her house due to a mandatory evacuation in the area. Last time she checked, the gators were nowhere in sight.
There's always a chance they could return. And if that's the case, Kelsch said she'll be ready.
"I have a turkey burger in the fridge I'm prepared to throw to lead them back out to the lake," Kelsch joked. "I'm prepared to give that up."
Thanks for reading CBS NEWS.
Create your free account or log in
for more features.