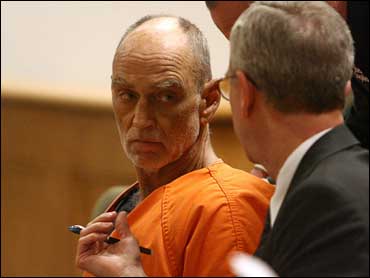 Gary Michael Hilton, suspected serial killer, gets death penalty in Fla. for 2007 beheading murder
(CBS/WCTV/AP) TALLAHASSEE, Fla. - After an hour of deliberations, a jury unanimously recommended Monday that Gary Michael Hilton, the drifter found guilty in the 2007 slaying of a nurse whose beheaded body was found in a national forest, should get the death penalty.
Circuit Judge James C. Hankinson said he will give "great weight" to the jury's recommendation.

Hilton was found guilty last week of killing 46-year-old Cheryl Dunlap, a Sunday School teacher and Florida State University nurse, who was found dismembered in a national forest in the Florida Pandhandle, where the 64-year-old drifter used to camp.
"We are extremely pleased with the death verdict and even more so that it was unanimous. Obviously the jury saw what needed to be done to bring justice and that's what Mr. Hilton got today and Ms. Dunlap and her family got," prosecutor Georgia Cappleman told CBS affiliate WCTV as she left the courtroom.
State Attorney Willie Meggs said he was surprised by the unanimous verdict, but said if there were ever a case for it, this was it.
However, the decision was bittersweet for Dunlap's close friend, Gloria Tucker, who was satisfied with the decision, but said it would not bring justice for the loss of her dear friend she knew as "Sherri."
"I don't think any family members got justice," Tucker said. "He's no equal for Sherri. She grew up with a bad home life and grew up to be a lovely person."
Hilton's defense attorneys sought to persuade the jury that his unhappy childhood, a lifetime of emotional abuse and drug abuse contributed to a "perfect storm" that led to the killings.
Hilton had already been sentenced to life in prison in Georgia for pleading guilty to killing 24-year-old hiker Meredith Emerson of Athens, Georgia, about a month after Dunlap disappeared.
Hilton is also a suspect in at least three other killings, two in North Carolina and one in Florida.
Thanks for reading CBS NEWS.
Create your free account or log in
for more features.