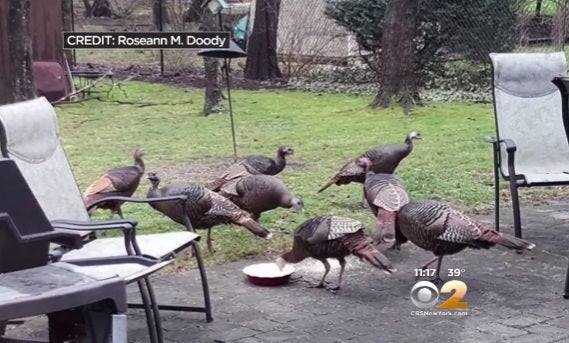 Gang of wild turkeys trap N.J. mailman in his truck
HILLSDALE, N.J. -- A mailman in New Jersey was terrorized by a group of wild turkey's so badly he had to call the police for help.
CBS New York reported that the gang of turkeys surrounded a mailman's truck in Hillsdale, New Jersey earlier this week.
"He was concerned that once we left they were going to go back after him," Tom Smith of the Hillsdale Police Department told CBS New York. "I don't know if he's had a run-in with these turkeys before."
Smith ended up blasting his police car's sirens, causing the birds to scatter.
On Wednesday, police released the 911 call they received.
"You're not going to believe this, but I got a carrier being attacked by wild turkeys who won't let him deliver the mail," the Hillsdale postmaster said on the call. "This has been going on. It's crazy. They're actually attacking, biting, they chase the trucks, everything."
Before this incident, the birds were never known as trouble makers, and would frequent residents' backyards.
"They've been pretty mellow the last couple of months I've lived here," Hillsdale resident David Margolin told CBS New York.
Search the internet and you will find video after video showing that turkeys have a thing for mail trucks.
Doug Cody in Grand Haven, Michigan, carries a stick to keep the birds at bay as a result.
"They run after you -- they actually attack you!" he said.
Back in Hillsdale, Margolin was just glad his mail made it through.
He joked about the postal service's motto, "Neither snow, sleet, rain, or turkeys, I guess, kept them from delivering the mail today."
Thanks for reading CBS NEWS.
Create your free account or log in
for more features.