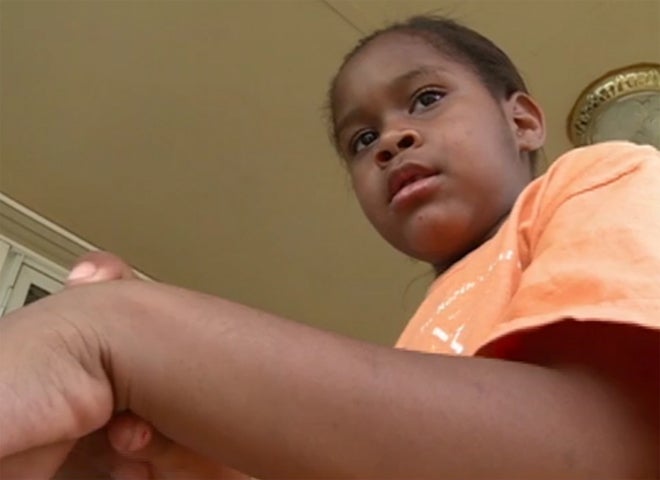 Ga. police handcuff, arrest kindergartner for tantrum
(CBS News) MILLEDGEVILLE, Ga. - A six-year-old kindergarten student who threw a tantrum was placed in handcuffs for her safety, police said.
According to CBS Affiliate WMAZ, kindergartner Salecia Johnson is accused in a police report of tearing items off the walls and throwing furniture at Creekside Elementary School last Friday. The report also said the girl knocked over a shelf, injuring the principal.
She was crying in the principal's office at Creekside Elementary before police arrived Friday. The report says when the officer tried to calm the child, she resisted.
She was handcuffed and taken to the police station, where she was charged with simple assault and damage to property, reports WMAZ correspondent Judy Le.
Speaking to WMAZ, Milledgeville Chief of Police Dray Swicord defended putting the girl into handcuffs.
"Our policy states that any detainee transported to our station in a patrol vehicle is to be handcuffed in the back. There is no age discrimination on that rule," he said.
Because of her age, she will not have to go to court.
Salecia's father, Earnest Johnson, told WMAZ, "A six-year-old in kindergarten! They don't have no business calling the police and handcuffing my child."
Police said they tried to contact Johnson's mother, Constance Ruff, but were unable to reach her.
Ruff told WMAZ her daughter was suspended and cannot return to school until August. "She has mood swings some days - all of us have mood swings some days," Ruff said. "I guess that was just one of her bad days."
WMAZ's Le spoke with several other Central Georgia police and sheriff's departments, none of which could remember handcuffing a child that young. They said the use of handcuffs is at the officer's discretion, based on whether the child is a threat to herself or to others.
Salecia's aunt told WMAZ, "She might have misbehaved, but I don't think she misbehaved to the point where she should have been handcuffed and taken downtown to the police department."
Thanks for reading CBS NEWS.
Create your free account or log in
for more features.