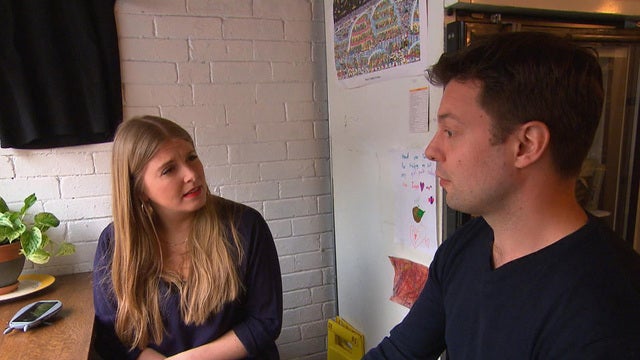 Company encourages inter-office "dating" for employees
A recent study showed an employee's relationship with coworkers ranks first when asked what makes them feel connected to their job.
With a growing workforce of over 250, Toronto-based accounting firm "Freshbooks" emphasizes creative thinking. They bring their pets to work and stand instead of sit.
But the company is now taking workplace satisfaction to a whole new level, setting up "blind dates" for its employees, reports CBS News correspondent DeMarco Morgan.
"I like to meet everyone that shows up. And as the company grew, I noticed that more and more people just didn't know each other's names anymore, which, for me, I thought that was crazy cause I love this really tight-knit community that we built at FreshBooks, and I wanted to keep that up," said manager Mary Grace Antonio.
The eight-year veteran with the company launched the program last summer. "There's a lot of talking and a lot of communication going on. Sometimes it's not with everybody and that's what kind of blind dates is about - trying to get people who would never really work with this kind of team to just meet," Antonio said. "It's really just to get to know people."
So Antonio began playing matchmaker, first by asking for volunteers who are then grouped together and sent on lunch or coffee dates. "There's people from all different departments that sign up--even execs sign up for these blind dates," Antonio said. "Then I try and mix and match people who wouldn't usually be working together."
That means top level executives can be matched with newly-hired college graduates. Company co-founder and CEO Mike McDerment said the program is well-suited to a work culture centered on fun and innovation.
"We believe culture is strategy and having people connect with folks they don't necessarily work with actually helps build the ties that keep the organization strong and keeps information and ideas flowing," McDerment said. "Two Freshbookers went on a blind date and actually they're both in charge of hiring people, so they ended up discussing a lot of different methods that they use to asses talent."
When CBS News visited, a finance manager named Marcus was paired up with Shannon, a newly-hired copywriter. Both sit at opposite sides of the open concept office.
It might look like a real blind date, but the employees say it is "all business."
At the end of their date, we checked in to see how it went.
"It wasn't as awkward as I expected," Shannon said. "It was awesome and I think that it really did hold my initial idea that it would encompass all our company values and I think that really held true."
Antonio said that despite those first-date jitters, the program has been a win-win for everyone involved.
"After the first round, we sent out a survey to see how many people liked it and 100 percent of people who joined said they liked it," Antonio said. "Some said it felt awkward... like a real first date!"
Thanks for reading CBS NEWS.
Create your free account or log in
for more features.