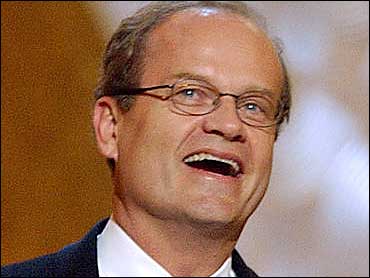 Kelsey Grammer, Emmy award winning actor and Television Hall of Fame inductee, is best known for his role as the quirky radio psychiatrist Dr. Frasier Crane. It is a role he first created on the sitcom "Cheers" and continued on the current NBC hit comedy "Frasier."
But this Sunday, he stops by the CBS set of "Becker" to pay a visit to Ted Danson, an old friend from "Cheers" and the star of "Becker."
In an interview on The Early Show, Grammer says Danson is a good friend and the "Becker" star asked him to make an appearance on his show. It really is a return favor, he said, because Danson appeared on the second season of "Frasier."
Danson stars as Dr John Becker, an outspoken physician, who is extremely devoted to his medical practice in the Bronx, New York. But he sometimes finds himself in odd situations because of his strong opinions.
In "Becker," Grammer plays a former college roommate who, after years of alcohol and drug abuse, attends an Alcohol Anonymous program and decides to reconnect with people he had wronged in the past. Becker happens to be pretty high on that list.
The actor says it was an enjoyable experience to act in "Becker," although he may have gotten some heat for agreeing to do a television show on a rival network.
Grammer says the role mirrors his own life but he had no reservation taking the role on because the character was funny. He says the episode is about a guy who wants to straighten out his life.
Some Facts About Kelsey Grammer

Allen Kelsey Grammer was born in St Thomas, Virgin Islands, Feb. 21, 1955
Grammer attended Crest Preparatory High School in Fort Lauderdale, Fla. and began performing in school plays
Grammer attended the Juilliard School's Drama Department in New York for two years, but he was expelled for not attending classes; classmates included Christopher Reeve, Robin Williams, Diane Venora and Mandy Patinkin
Worked in menial jobs while pursuing acting career in Manhattan in mid-1970s
Grammer performed for three years at the Old Globe in the late 1970s
In 1981, Grammer made his Broadway debut as Lennox in "Macbeth," understudied the title role and took over when Philip Anglim abruptly withdrew from the show after receiving negative reviews
In 1982, he had featured role of Cassio in a Broadway revival of "Othello" with James Earl Jones and Christopher Plummer
Grammer appeared as Dr. Canard on the NBC daytime series "Another World"
In 1984, Grammer joined the cast of the NBC sitcom "Cheers" — playing Dr. Frasier Crane; the show's creators originally wanted John Lithgow, but he was unavailable
In 1985, Grammer was asked to join "Cheers" as a regular
Grammer was arrested for driving under the influence of drugs in 1987
In 1988, Grammer failed to show up for two arraignments for a cocaine arrest
Grammer was sentenced to community service and 30 days in prison in 1990
Grammer lends his voice to the character Sideshow Bob on Fox's "The Simpsons"
In 1993, Grammer starred in the hit NBC comedy "Frasier", reprising his role from "Cheers"
In 2001, Grammer appeared as a television newsman in "15 Minutes," starring Robert De Niro and Edward Burns
Thanks for reading CBS NEWS.
Create your free account or log in
for more features.