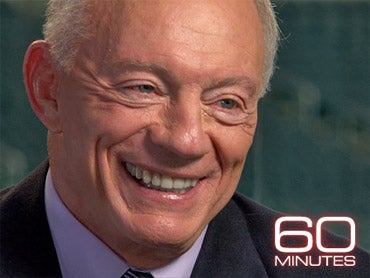 Frank Talk from the Cowboys' Jerry Jones
If everything's bigger in Texas, that goes double for the state's true passion: football. Which means if you own the Dallas Cowboys, you don't own just a team - you own America's Team.
You don't just build a stadium; you build the biggest in the land. In Texas you dream big, and in the mind of Jerry Jones, this was to be the year of the Cowboys.
The team is celebrating its 50th anniversary, and the Super Bowl will be played in Cowboys Stadium. But there's one thing the 68-year-old Jones hadn't imagined - his team won't be there.
The snake-bit Cowboys never got in the saddle this season, and their high-flying owner told correspondent Scott Pelley this may be the lowest year of his life.
Pelley followed Jones through a season from hell. Winning is a lot more fun, but losing reveals more of a man's character - especially when he's the most innovative, controversial and bombastic owner in the NFL.


---
Will There Be An NFL Lockout?
The 2011 season might be in jeopardy. Jerry Jones, the outspoken owner of the Dallas Cowboys, explains why.
---

Full Segment: Jerry Jones
Extra: Jerry Jones' Accomplishments
Extra: What Kind of Boss is Jerry Jones?
Extra: Romo, Austin on Jerry Jones

The future felt warm and sunny in August as the Cowboys walked through the last snaps of training camp. Even in Oxnard, Calif., fans thronged the sideline to touch the Cowboys' star owner.

Jones is the only owner in the league who is also a celebrity, and he's one of only three owners who actually runs his team. He is the general manager, who picks the players, hires the coaches and runs the business.

He earned three Super Bowl rings doing that, and, preseason, he told Pelley how he liked his chances of slipping on a fourth.

"What do you see out here?" Pelley asked.

"This I could argue is one of the best teams on paper that I've been associated with in 22 years," Jones responded.

But as the season unfolded, no high hopes could defeat the picks, the fumbles and the rotten breaks that beset the Cowboys.

"You had the No. 1 offense in the league, the No. 4 defense in the league. Why can't you get the ball past the pylon?" Pelley asked him during an interview in the middle of the season.

"Stats are for losers," Jones answered. "They relish in them. The stat is the score. And when you don't win that score, nothing good happens. Have we gotten too full of ourselves? Possibly."

"You were the best general manager in the league in 1992, you were the best general manager the next year, you were the best general manager two years after that," said Pelley. "What happened to that guy?"

Jones responded, "He's very much here. I think he's smarter than he was then. I know he's more experienced. That guy is getting a real going-over and a real looking at during the season we're having right now, and he should be."

"George Steinbrenner was a great friend of yours," Pelley said.

Jones nodded. "He was. He was someone I really admired."

"If you were Steinbrenner's GM he might have fired you by now," Pelley remarked.

"Of course he would have," Jones said. "There is no doubt in my mind he would have."

In late October, high in his private perch in Cowboys Stadium during a game against the Jacksonville Jaguars, Jones looked like a parent watching his child dart through traffic. It isn't a game, it isn't a business - it's his life.

"There's a certain edge to you up here," Pelley observed.

Jones told him, "What you're seein' right now is agony."

Agony that ended with a score of Jacksonville - 35, Cowboys - 17. The general manager took the hit at a press conference after the game, telling reporters he had "never been more disappointed or surprised."

"You broke a sweat in there. I've never seen you sweat before," Pelley said.

"Well, I think it's time to sweat," Jones replied.

In the perch, postgame, he was wrung out.

"I'm makin' a big F or a D-minus," he said. "So maybe this butt-kickin' I'm gettin' will produce some B's or A's."

Pelley remarked, "It's got to be somebody's fault."

"Well, it's mine. It is mine. The way this thing is structured, it's mine," Jones said.

"Is it time to step away from being the manager of the team?" Pelley asked.

Jones replied, "Well, if it is, then it was time to step away 22 years ago because it was the very same thing, the criticism of coming in and being the day-to-day manager of the team."

Those memories of how it used to be make him hold on all the more.

"What I know is I've been through it before, and if I was going to be in the foxhole with somebody, I'd be there with me," he said.

Jones jumped in the foxhole, buying the Cowboys in 1989. He had made a fortune drilling oil wells and spent nearly all of it - $150 million - to buy the team. The Cowboys were in terrible shape, losing a million dollars a month, and Texas was in a depression.

"What was it about that that looked like a good business deal to you?" Pelley asked.

"Well, it didn't," Jones replied. "I think you would not be impressed with my business judgment. If you saw those financial statements, and if you saw the time, it was really about passion. The Cowboys were my devil, and I just couldn't resist it. I wanted to be a part of the NFL, and I wanted to be a part of the future with the Cowboys."

"Were you worried you'd lose it all?" Pelley said.

"Well, I was, but more importantly I was worried that I would be viewed as a fool," Jones answered. "And it really motivated me. My father called me right after I had bought the team and said, 'Son, you're a young guy.' And he said, 'I don't care if you have to do it by mirrors, smoke screens, or baling wire, you've got to make this be a success, or look like a success, or you'll never be able to do anything for the rest of your life. There's too much visibility here.' I said, 'Dad, gee, thanks. You know how to make my day.'"

There wasn't enough baling wire in Texas to hold it together at the start. Firing coach Tom Landry was a fan fiasco, and the team went 1 and 15 that season.

"You were vilified in this town," Pelley said. "These are some of the things the sports pages of the time called you - a hick, a hillbilly, a know-nothing. What did you think in those days?"

"It hurt to see those personal criticisms," Jones responded. "It hurt, but it inspired me. It made me really want to show 'em, it made me want to have success in the face of that. Strap all that on, and that'll motivate you to win a Super Bowl in three years. "

He won by forcing the NFL to change the way it did business. The league controlled sponsorships, but Jones sold his own. The NFL sued him, but he countersued and came out on top. Next, Jones led negotiations that forced TV networks to pay a lot more for the rights to games. Cash bought talent, and talent won Super Bowls in '92, '93 and '95.

But in the 15 years since, there have been only four division championships. Fans blame Jones for chasing away strong coaches like Jimmy Johnson and Bill Parcells with his insistence on running the team himself.

What created this ego, and this drive? Jones offered to show "60 Minutes," but it would take a trip on his $50 million Cowboys team jet. Onboard, images of his Super Bowl heroes fly forever in first class - players whose paychecks broke records.

"Do you ever question yourself about the size of the checks that you're writing?" Pelley asked.

"Of course I do," Jones said. "For instance, shortly after buyin' the Cowboys, I wanted to sign Deion Sanders. It was so substantial relative to where we were at the time financially - $13 million dollar bonus - that my son, at 2 o'clock in the morning, was so concerned about that kind of commitment he actually pushed me up against the wall with the agent in the next room and said, 'Dad, think about what you're doing here, this is-'"

"He tried to physically stop you?" Pelley interjected.

"And I asked him, I said, 'Stephen, what are you gonna do, hit me?'" Jones continued. "I said I want to do this."

Forty-five minutes from Dallas is Little Rock, Ark., and the remains of his father's grocery store. The family lived upstairs.

"My father, one time, told me that that's his blood in that mortar between those stone, those bricks," he said, touching the facade of the building. "He said, 'Son, that's my blood in there.'"

"How old were you when you lived here?" Pelley asked.

"Probably 6, 7, 8," he replied. "I used to stand right outside this building with a little bow tie on that my mother put on me and greet the customers that would come in the grocery store. And the ones that'd tip you, I'd be sure and push their cart for 'em and move 'em around the grocery store."

His dad, Pat Jones, had show business in his blood. Selling groceries, he wore a white cowboy suit and a Stetson. In the middle of his store was the coolest entertainment technology of the day - a disc jockey broadcasting on radio. Customers loved it.

Little Jerry caught on quick - give 'em a show. Better yet, make it a spectacle.

Today, it takes a big top - and a P.T. Barnum - to transform the greatest show on turf.

The successor to the grocery store is the largest cathedral to entertainment. Cowboys Stadium is three million square feet, holds 111,000 fans and cost $1.2 billion. Jones and his wife of 47 years, Gene, saw to every detail.

High roller suites sell for $5 million. A regular fan still can get a ticket for less than $30. Heading to his seat, he's sure to glide past millions of dollars in artwork.

And, like his dad's grocery, in the middle of this store, once again, the coolest entertainment technology of the day.

"It is astounding. I mean, it's as big as a building," Pelley marveled of the giant screen towering above the field.

"You're a good lookin' man, 70 feet tall," Jones joked, as they both appeared on it.

Jones was like a neighbor showing off his new flat screen. But don't try keeping up with the Jones' - his high-definition TV costs $40 million and weighs 600 tons. You guessed it: it's the biggest in the world.

"It goes from the 20 yard line to the 20 yard line, and it creates a perspective from the fan standpoint that frankly, they've never seen before," he explained. "You can see their baby blue eyes when they're in that helmet on this screen."

The picture may not be pretty on the field, with a record of 4 and 8, but the Cowboys are still riding high. With 32 teams in the league, one quarter of all NFL memorabilia has Cowboys all over it. Forbes ranks the Cowboys just ahead of the Yankees as the most valuable American sports franchise - worth more than $1.6 billion.

That's why Pelley was so surprised when Jones told him he's haunted by hard times.

"These aren't even my hardest days in Dallas, Texas," he admitted. "About 25 years ago, I came here at Love Field, handed a credit card to get a car, and they went down a list and cut my card in two in front of me, and looked up and said, 'Young man, you need to learn how to pay your bills.' That's hard times in Dallas, Texas."

"You were broke?" Pelley asked.

"Let's say this, I hadn't paid that - I hadn't paid that bill. And - certainly, I was operating on fumes, and not on a full gas tank," Jones replied, as he tried to compose himself.

"You're terrified of being broke," Pelley remarked.

"Yes," he responded.

"You're worth $2 billion," Pelley noted.

"Yeah. Yeah, but, Scott, unlike a professional there's no doctor's degree to fall back on," he said. "There there's no job to fall back on. What's out there is to keep your voice from breakin', grab a briefcase, jump in a car, and go try to sell somebody. I don't want to go back that far. And so, yeah, I run scared."

A week after that interview, a beatdown in Green Bay, Wis., scared him - or embarrassed him - into firing head coach Wade Phillips and promoting offensive coordinator Jason Garrett. Now, the Cowboys have won a few, but there's no way they can make the playoffs this season.

But there's always next season. An owner who's already won three Super Bowls wants only one thing, and when it's American's team, there's only one authority he can negotiate with.

"I made a deal with the guy above, if he'd give me that third one, I'd never ask again. I've been tryin' to figure out how to make another trade," Jones said, laughing.

"The guy above may be telling you a deal's a deal," Pelley told him.

Jones replied, "Well, as long as I know where he is, and I do, then maybe we can re-craft the deal a little bit. We need another Super Bowl."

Produced by Henry Schuster
Thanks for reading CBS NEWS.
Create your free account or log in
for more features.