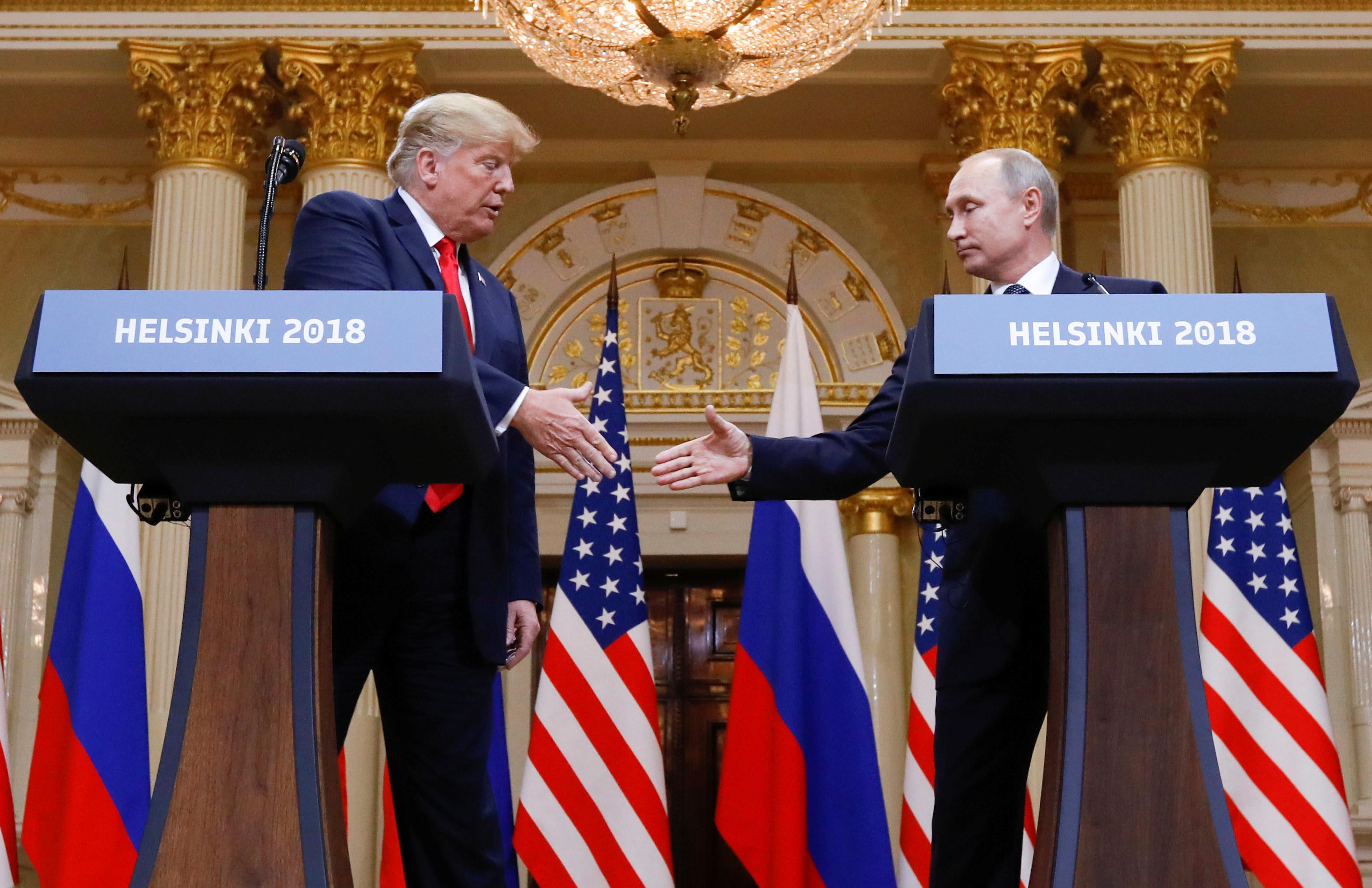 Fox's Sean Hannity praises Trump as "very strong" at Putin presser
Sean Hannity, a close ally of President Trump, praised his performance at the close of the Helsinki summit with Russian President Vladimir Putin. "You were very strong at the end of that press conference," Hannity told Mr. Trump during an interview following the press conference. "You said, 'Where are the servers?' 'What about what Peter Strzok says?' 'Where are the 33,000 emails?'"
The interview, which aired on Fox News' "Hannity" Monday night, followed an appearance by the president that appalled even some of his staunchest defenders when he seemed to side with Putin over U.S. intelligence on whether the Russian government interfered in the 2016 election.
Mr. Trump talked with Hannity about special counsel Robert Mueller's Russia investigation and said it had driven "a phony wedge -- a phony witch hunt rigged deal" between U.S. and Russia.
The president also said he's intrigued by Putin's idea of involving Russian investigators with the Mueller probe, perhaps sending special counsel investigators to Russia to investigate the 12 GRU agents accused by the Justice Department of hacking the Democratic National Committee and Hillary Clinton's campaign. "I was fascinated" by the idea, Mr. Trump told Hannity, but he doubts that Mueller and Democrats would be willing to cooperate.
Hannity also revisited a question that came up during the news conference -- whether or not the Russians had compomising information on him. Mr. Trump strenuously denied that Putin possesses any compromising material on him.
"If they had, it it would have been out," Mr. Trump said, adding again that he "thought Putin was very, very strong."
Hannity's positive view of the president's remarks starkly differed from the opinions of other conservatives, as well as several of his Fox News colleagues.
Fox contributor and former House Speaker Newt Gingrich, who advised Mr. Trump during and after the campaign, called on him to "clarify his statements in Helsinki on our intelligence system and Putin."
"It is the most serious mistake of his presidency and must be corrected—-immediately," Gingrich tweeted.
Guy Benson, Townhall.com editor and Fox News contributor was less restrained. "Appalling moral equivalence & equivocation — rooted in an embarrassing, juvenile, insecure, consuming obsession over his own legitimacy," he said in a tweet. "Easily one of his worst days as president."
Conservative columnist Michael Graham noted in a CBS News column that after the joint presser, "Even die-hard Trump supporters knew something had gone wrong."
The president had told reporters, "I have great confidence in my intelligence people, but I will tell you that President Putin was extremely strong and powerful in his denial today."
"Dan Coats came to me, and some others, they said they think it's Russia," he said. "I have President Putin -- he just said it's not Russia. I will say this, I don't see any reason why it would be," the president said. This contradicted the fact that all 17 U.S. intelligence agencies concluded that the Russian government directed cyberattacks on members of the Democratic Party, a view shared by bipartisan committees in the House and Senate and the president's own director of national intelligence, Dan Coats.
On Friday, the Justice Department announced the indictment of 12 Russian intelligence officers for hacking, fraud and conspiracy in the 2016 political cyber attacks, the most detailed and Kremlin-focused account yet.
Thanks for reading CBS NEWS.
Create your free account or log in
for more features.