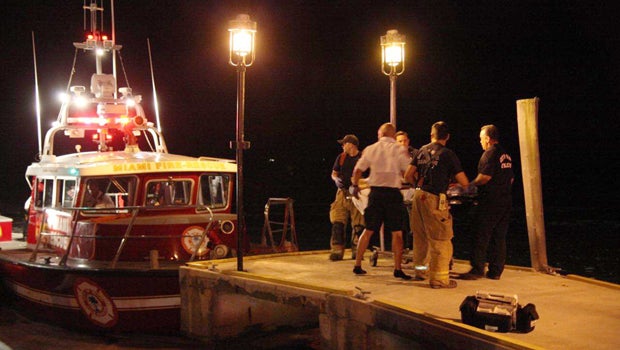 Four confirmed dead in July 4th boat crash in Florida
MIAMI - Four people have been confirmed dead and at least a dozen injured in a Florida boat collision, authorities said Saturday.
The boaters are believed to have been out celebrating the Fourth of July holiday when the crash happened late Friday near the Dinner Key Marina in Miami.
Rescuers were alerted by one of the boaters at about 10:45 p.m. He said he'd been hit by another vessel and that his 36-foot pleasure craft was taking on water, the Coast Guard reported.
"The man reported the vessel that struck his boat did not stop following the collision," the Coast Guard said in a statement.
Multiple law enforcement agencies responded to a chaotic scene. Officers plucked several people out of the water while struggling to determine how many were still missing.
"We kept getting report after report of more people in the water," Miami Fire Rescue Lt. Ignatius Carroll said.
Eight people were initially transported to Miami hospitals. Two adults, a male and a female, later died.
Commercial salvage crews located a second vessel believed to have been involved in the crash. Two unconscious females were found on board and transported to a nearby boat ramp.
Coast Guard officials said they contacted the second boat's owner. They were told the owner's son had taken the vessel out Friday evening.
The search for the missing boater and any other possible passengers continued into Saturday.
Relatives of a female victim found her body in the water on Saturday, Jorge Pino, a public information officer with the Florida Fish and Wildlife Conservation Commission said.
Investigators located the body of another person later Saturday morning, Carroll said.
Names and ages of the deceased and injured were not immediately released.
"My understanding is they may have been out there enjoying the fireworks display, and typically after the fireworks are over, everyone makes a mad dash for the nearest marina," Pino said. "And unfortunately in the past we've seen where accidents have occurred during that time."
Pino said the time of the crash coincides with when boaters are typically making their way back to the marina, though the exact circumstances were still under investigation.
He said three boats in total were involved in the crash.
Carroll recounted how anxious relatives waited for news of their loved ones at the dock. One man, he recalled, worried about his two grandchildren. Both arrived safely to shore.
"We were relieved to be able to let him know that they were OK," Carroll said.
Thanks for reading CBS NEWS.
Create your free account or log in
for more features.