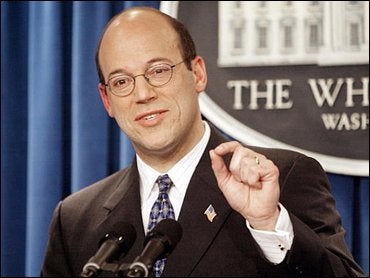 Former White House press secretaries advocate no live coverage of briefings
Former White House press secretaries Ari Fleischer and Mike McCurry said in a "joint tweet" Wednesday that they oppose live TV coverage of the daily briefing with the White House press corps.
"We support no live TV coverage of WH briefing. Embargo it & let it be used, but not as live TV. Better for the public, the WH & the press," Fleischer tweeted, which he said was a "joint tweet" with McCurry.
Fleischer, who served as press secretary to President George W. Bush from 2001 to 2003, didn't elaborate further. McCurry was President Clinton's press secretary from 1994 to 1998.
Their statement comes as President Trump's White House has been shifting away from on-camera press briefings and instead doing them off-camera in what's called a "gaggle" with reporters. Some TV news networks, including CBS News, have been sending professional sketch artists to cover them to make up for the lack of a visual.
On-camera press briefings began in the 1990s when McCurry started allowing networks to broadcast them live.
The White House Correspondents' Association (WHCA), which seeks to protect journalists' access to the White House, has opposed the against the changes made by Mr. Trump's communications team.
"The WHCA's position on this issue is clear: we believe strongly that Americans should be able to watch and listen to senior government officials face questions from an independent news media, in keeping with the principles of the First Amendment and the need for transparency at the highest levels of government," WHCA Presidnt Jeff Mason said in a statement last week after meeting with press secretary Sean Spicer and deputy press secretary Sarah Huckabee Sanders.
"...We have urged the White House not to replace on-camera briefings with "gaggles," not-for-broadcast question and answer sessions," Mason continued. "Though they are useful and can play an important role in informing the press and the public, gaggles are not a substitute for the open back-and-forth between reporters and administration officials that regular televised briefings allow."
Thanks for reading CBS NEWS.
Create your free account or log in
for more features.