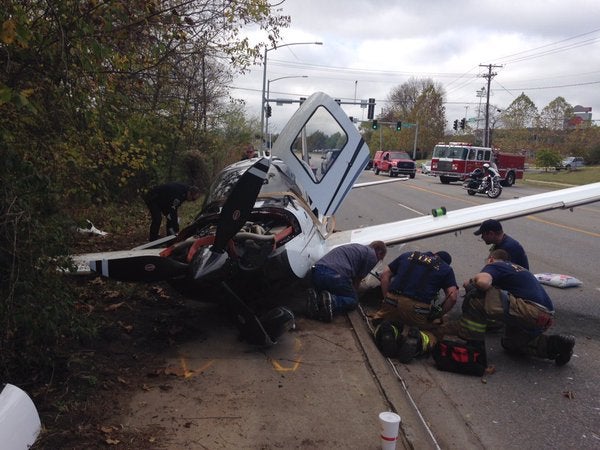 Ex-Wal-Mart CEO crash-lands plane with help of parachute
Federal investigators are trying to determine what caused Tuesday's dramatic scene in the sky over Arkansas.
Former Walmart CEO Bill Simon was piloting a plane, heading from Bentonville, Arkansas to Waco, Texas, when he ran into engine trouble shortly after takeoff. The Cirrus SR22T began to lose altitude, prompting Simon to make a split-second decision that saved lives, but could have gone much worse, reports CBS News correspondent Kris Van Cleave.
"I'm going to need an all-crash here. We're going to try to find a place over here that's clear," Simon says in Air Traffic Control audio recordings.
Witnesses watched in amazement as the single-engine plane deployed a parachute, glided to the ground and landed on a stretch of road, the entire aircraft still visibly intact.
"When we looked up, there was a plane that was like free falling for a second and then popped a parachute," said one witness, So Rouhnavaz.
Seconds before touching down, the plane struck a pickup truck carrying a female driver and two children. That driver and all three people on board the plane, including Simon, walked away with just minor injuries.
"They were losing altitude ... so they popped the emergency chute on the plane, which brought them down slowly," said Craig Sout of the Fayetteville Police.
That emergency ballistic parachute is built into the plane's fuselage - a standard feature on the Cirrus aircraft since the 1990s.
"The idea of the Cirrus aircraft and the Klapmeier brothers who designed it was there should be another option -- that the penalty for bad judgment, for bad luck shouldn't be death," said James Fallows, national correspondent for The Atlantic, also a pilot who flies a Cirrus.
"It certainly is a future for smaller planes. I think people on your Boeings and Airbuses probably are not going to be needing these, and shouldn't because they are so safe," Fallows said. "But for the smaller planes, I think the evidence becomes clear -- why would a plane not have this kind of safety system?"
In January, a pilot landed his Cirrus in the middle of the Pacific Ocean after it ran out of fuel en route to Hawaii.
And in 2009, mechanical problems forced the pilot of another Cirrus to deploy his chute over a Washington, D.C. suburb. Both pilots survived.
Cirrus parachutes have been used more than 50 times. More than 30,000 parachutes have also been installed on a variety of other planes, credited with saving more than 200 lives.
The FAA and NTSB are investigating Tuesday's incident.
Thanks for reading CBS NEWS.
Create your free account or log in
for more features.