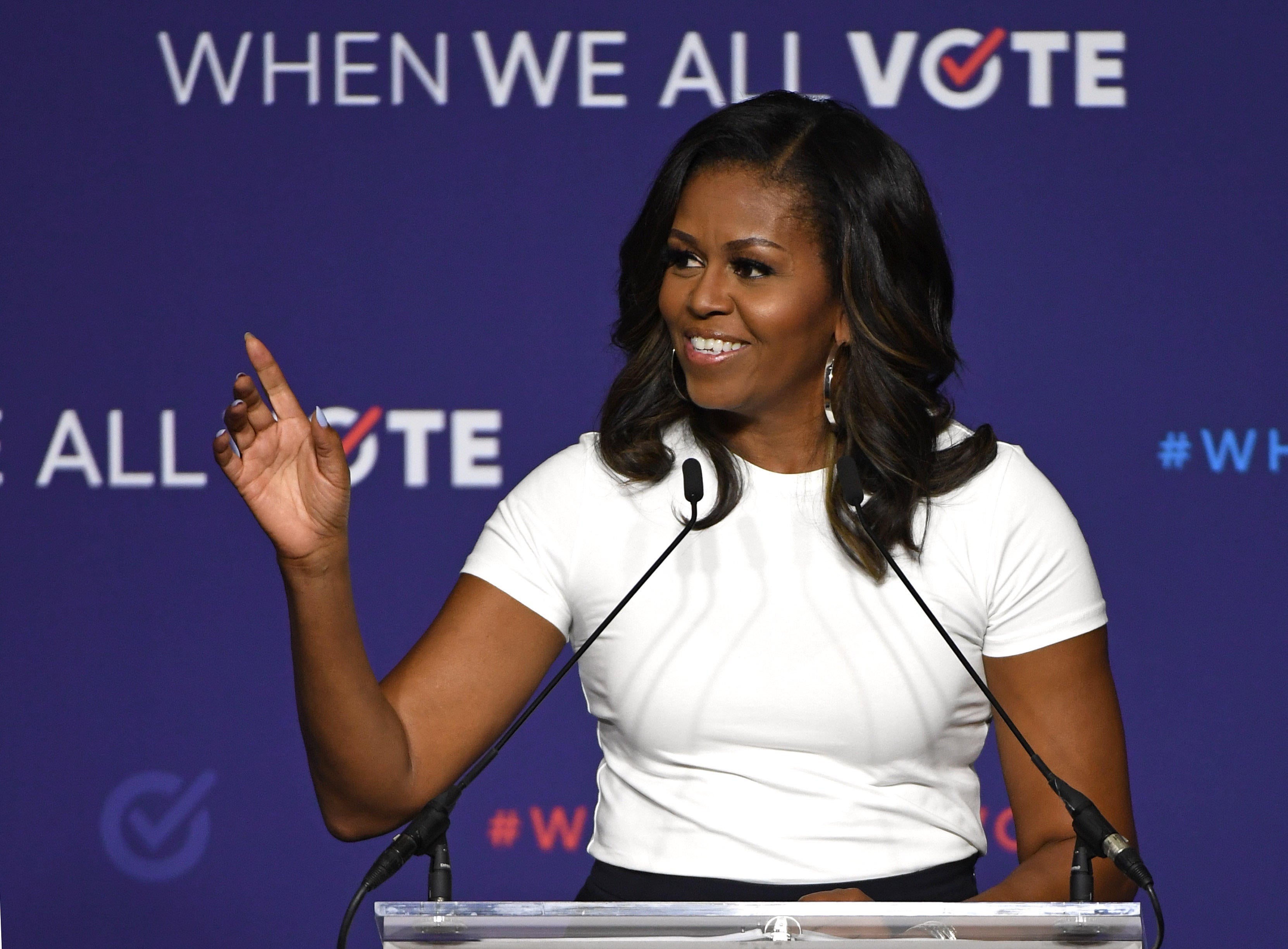 Former first lady Michelle Obama rallies supporters in Nevada, urges them to vote
LAS VEGAS -- Former first lady Michelle Obama held a campaign-style rally Sunday in Las Vegas to urge Nevadans to register to vote and cast ballots this fall, warning them that sitting out means someone else will make decisions for them. The event was the first of two rallies the former first lady is scheduled to headline for the nonpartisan, nonprofit organization she co-chairs, When We All Vote.
"We get the leaders we vote for. We get the policies we vote for. And when we don't vote, that's when we wind up with government of, by and for other people," Obama told about 2,000 people inside a high school gymnasium.
She has long been one of the most popular draws among Democrats. But she has kept a low profile since leaving the White House in January 2017. Obama has limited her political commitments for now to helping When We All Vote, which says it encourages participation regardless of political affiliation.
It's unclear whether she will stump for Democratic candidates this year, but former President Barack Obama has made appearances in California and Ohio to support Democrats. He has also endorsed more than 80 Democrats up and down the ballot in more than a dozen states.
Michelle Obama did not make any overtly partisan appeals Sunday, telling people she didn't care who they vote for as long as they participate. She drew loud cheers and applause from the crowd when she mentioned her husband and when someone in the crowd suggested she seek the presidency herself.
Obama laughed and shook her head, saying, "Stop this."
You can watch Obama's speech in the video provided here by CBS affiliate KLAS-TV.
Other speakers at Sunday's event did not mention partisan politics. But they spoke about issues that are particularly key to Democratic electoral wins, like harnessing the political power of Latino communities and ensuring voter participation even in off-year, midterm elections, when Democratic turnout tends to lag behind Republican participation.
Actor and comedian Keegan-Michael Key came closest to delivering a partisan message, telling the crowd that America is at "a very, very interesting time."
"I'm sure many of you out here have been experiencing, let's call it, 'mild frustration,' " he said.
He then urged the crowd to "translate our outrage and our passion" into change.
Other speakers included actress Kelly McCreary of ABC's "Grey's Anatomy;" actress Lana Parrilla of ABC's "Once Upon a Time;" journalist Maria Elena Salinas; and local first-time voters.
Mrs. Obama is scheduled to appear at another When We All Vote rally in Miami on Friday, while other celebrity co-chairs like country singer Faith Hill and actor Tom Hanks are scheduled to headline similar events around the country.
When We All Vote is holding the events to mark the 53rd anniversary of the Voting Rights Act, which prohibits racial discrimination in voting.
Thanks for reading CBS NEWS.
Create your free account or log in
for more features.