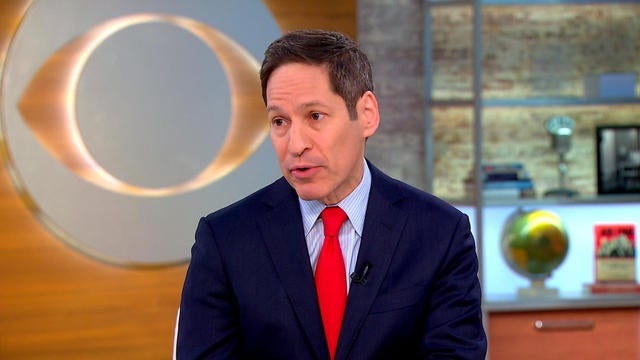 Former CDC director Dr. Tom Frieden on the challenges of tackling the flu
Forty-eight states are reporting widespread flu activity and hospitalizations are higher than any other year since the CDC began keeping track. Dr. Tom Frieden, former director of the Centers for Disease Control and Prevention, told "CBS This Morning" that while we've known for some time this season's flu strain could be hard on vulnerable populations like the young and the old, the "only thing predictable about flu is it's unpredictable."
Adding to the threat is that this year's vaccine "doesn't appear to be working as well as we would like," Frieden said.
A company in Japan says it has developed an antiviral treatment that kills the flu in a day, but Frieden is skeptical. "I'll believe it when I see rigorous studies that show it," he said.
Frieden, who is now the CEO of Resolve to Save Lives, a nonprofit that focuses on preventing epidemics, says this year's flu season, while worse than expected, didn't totally catch us off guard.
"We expect that when it's this type of flu strain it's gonna be a tough year for flu and that's one of the real challenges," he said. "We're still at the peak of flu season. It'll be a few more weeks or months until flu season recedes for this year."
In terms of how to combat the problem in the long run, Frieden said a universal vaccine is necessary but could still be a decade or more away.
"There are things that we can do in the interim to figure out which vaccines work better. There are now cell-based vaccines, high-dose vaccines…. We don't know if any of those are better but we should rigorously study that so we can know and have the best products."
For those reasons, Frieden feels it's imperative that CDC funding not be cut back.
"That's why I'm so concerned that the administration proposed a 20 percent cut in the CDC's budget just earlier this week. That would bring CDC's budget back to nearly 15, 20 years ago — when 'Finding Nemo' was released. This is not the way to protect Americans. It risks more cancer, more outbreaks, less safe Americans."
Thanks for reading CBS NEWS.
Create your free account or log in
for more features.